Here at Permagard, we stock a wide range of Netwon membranes for your basement waterproofing. If you are in the trade and carrying out basement waterproofing for one of your clients, Newton are one of the most well known manufacturers. Here, we look at their four steps to a Dry Basement, and find out how they guarantee a dry basement or cellar when applied to a new or existing build.

Steps to Creating a Dry Basement
Stage 1 – Wall Membrane
Choosing the right membrane for your surface is the first stage, and will form the backbone of your basement-waterproofing project. If we take Newton Membrane as an example, we stock everything from Newton 410 Geodrain to 805 Newtonite.
Newton 400 System – Vertical Drainage down to land drain
Netwon 500 System - Internally applied waterproofing system; cavity drain waterproofing when ingested water is captured and diverted by the membrane out of the property
Newton 600 System – Flooring membranes
Newton 800 System – Damp proofing membranes ready for plaster or render.
Netwon 500 is a full basement waterproofing system and it one of the leading membranes in the country for a range of waterproofing systems.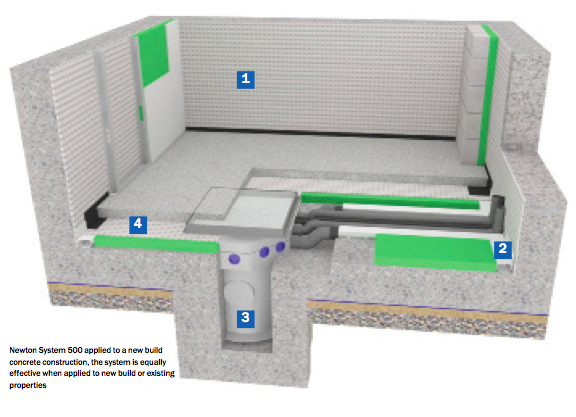 Stage 2 – Drainage
Once you have a wall membrane sorted, you need to choose how the water leaves the property and choose a drainage system. Channels of Newton Basedrain is a popular solution, and we stock a range of options and sizes.
Stage 3 – Sump System & Pumps
When the membrane and drainage systems have removed the surplus water from the property, you need to choose a system to physically remove it. Contact our expert team for more information about how to select the right sump systems or browse our full range of sump pumps.
State 4 – Floor Membranes
The final stage and element of your waterproofing project – the Newton 600 range is floor membrane – click here to view the Newton 601 Slimline Flooring Membrane which is currently only £160 ex VAT for 40m2
If you would like any more information about the range of waterproof products Newton provide, or what we at Permagard can do to help in your decision process, contact us today.
Return to the basement waterproofing page for more information about damp proofing basements and cellars or find out about BS8102 Waterproofing Regulations.
Find out more about Newton as a manufacturer.