What is rising damp?
Rising damp is caused when moisture from the ground is absorbed into a masonry substrate through capillary action (like a sponge). The water then travels up the capillaries in the masonry where it normally deposits ground salts on the internal or external surfaces known as the tide line. Rising damp usually occurs when the original damp proof membrane has deteriorated or if there was never one installed.
How do I know I am suffering from rising damp?
Rising damp is usually found in the bottom metre of a wall - if it goes untreated, rising damp can spread further up the wall normally to a maximum of 1.2-1.5m. You may see stained or curling wallpaper, softening plasterwork that is damp to touch, and salt staining. On the external wall, you may find that mortar has crumbled away and evidence of salt stains.
It is important to first rule out other causes of damp such as leaky guttering, faulty plumbing or condensation before damp proofing.
How do I stop rising damp?
The first step to resolving an issue with rising damp is to hack back the render / plaster work to 1 metre or 30cm above the highest sign of rising damp.
You then have two main options when it comes to damp proofing to protect your home from rising damp:
Physical Damp Proof Membrane
A new Physical Damp Proof Membrane is the most reliable method to prevent rising damp. By installing a new membrane, you can isolate damp and salt-contaminated walls and prevent damp from rising.
To install you need to take out each brick along the failed mortar course in sections of 3 bricks, installing the new Physical Damp Proof Membrane and re-installing the bricks as you go.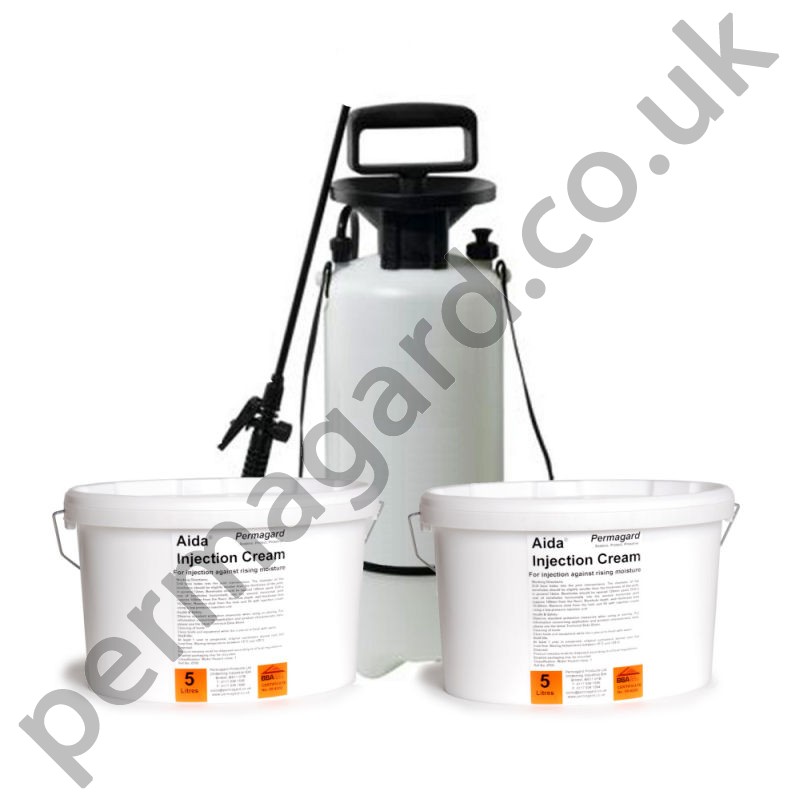 Damp proof creams are a quick, easy and long-lasting way to treat rising damp. You inject the cream containing a water-repellent chemical into the mortar joint which then lines the capillaries or the substrate. The damp proofing cream seeps through the brick and the mortar penetrating in all directions to form a new water repellent barrier against rising damp.
To install you need to drill into the mortar joint and then inject the damp proofing cream into the brickwork. You can use a low pressure sprayer or a cartridge gun. You then fill the holes with cream and then wait for the chemicals to penetrate the substrate and the active ingredients to form your new damp proof course.
Regardless of which of these methods you choose, you have to get your walls re-plastered with sand and cement containing a waterproof additive. This ensures that your plasterwork around ground level is damp and salt resistant.
If you're home or business suffers from rising damp, you should speak to a damp proofing specialist. At Permagard, we have a variety of high-performance damp proofing products. In addition to Permagard's large range of rising damp treatments our technical staff are able to advise you on all aspects of waterproofing and damp proof injection. Whether you need a specialist contractor in your area or help with a specification our technical advisors are here to help. Call us on 01179 381 596.