When it comes to making your garden and outside areas look their best, you will want to focus on attractive paths, paving stones, and patios. The biggest and most common grievances in these areas are weeds, algae, moss and lichen that grow on and around paving, making it look untidy. As well as being unattractive, these growths can become extremely slippery with any rain. Ultimately, you want to create a good impression on the approach to your home and ensure you and your family stays safe.
In order to tackle algae, moss and lichen you will need a specialist product that can remove them without damaging your paving. In our guide to How to Clean and Maintain Paving and Patios, we will first look at Algae, Moss and Lichen individually.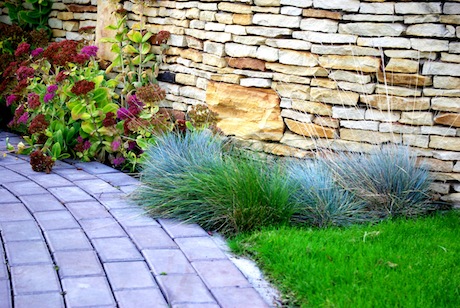 Algae, Lichens and Moss
In the UK, algae, lichens and moss are all fairly common in our gardens. This is not surprising considering they all thrive in humid and shady conditions where moisture is present. If you have poor drainage then this can provide the damp conditions that these plants need to grow and reproduce.
Algae and moss are not always unwelcome – they can really help stone features blend in and give your garden a warm and mature look. It is on the paths, paving and patio areas that they are both unattractive and potentially dangerous. When people judge their paths and paved areas to be looking grubby or dirty this is often due to the growth of algae as opposed to actual dirt.
In this section, we are going to look at identifying each and how to get rid of them from your patios. For more information, then we recommend looking at the Royal Horticulture Society that has a section of its website dedicated to Algae, lichens, liverworts and moss on hard surfaces.
Algae
What Is It
Algae are simple plants that grow on permeable surfaces, especially in damp and shady areas. With any amount of rainfall, they can make paths, patios and driveways very slippery and a hazard. Algae growth is particularly common on imported sandstone.
Appearance
Algae are a greenish growth that you can find on paving and stones as well as garden furniture. It thrives in damp, humid and shaded areas.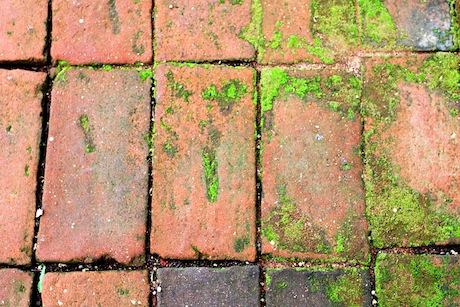 How Do I Get Rid of Algae
With most simple algae colonies, bleach can be used but to deter any re-colonisation and effectively remove algae then an algae, mould and moss killer product is recommended.
Lichen
What Is It
Lichens are composite organisms – this means they are two organisms growing together, in this instance fungus and alga. There are nearly 2000 species of lichens in the British Isles. They need clean air in order to grow.
Appearance
Most lichens are silver-grey, grey-green, yellow or orange. They appear as rounded spots on paving and can look like stains.
How do I Get Rid of Lichen
Lichen works its way into the hard surface, making it very hard to remove. Many methods involve scrubbing your paving with a stiff or even wire brush, but this will damage the paving permanently. Look for a lichen remover that effectively removes lichen without damaging your paving.
Moss
What Is It
Mosses are small vascular flowerless plants, with leaves that go all the way around the stem.
Appearance
Moss is often found in the recessed joints between paving slabs, where detritus and debris is allowed to collect.
How Do I Get Rid of Moss
In order to deter moss growth, you need to prevent the build-up of detritus on and around your paving. This is most definitely easier said than done. You can remove most moss by sweeping and scraping out the recessed joints in your paving, however, if you are looking for an effective long-term solution then a moss killer product might be required. Be warned that some products designed to tackle moss contain Ferrous Sulphate, which as Paving Expert explains "can re-colour the paving to a less than fetching shade of orange, regardless of what colour it may have been originally."
How Do I Remove Algae, Lichen and Moss from Paving Slabs?
Cleaning and maintaining paving slabs manually is hard work and quite often the hard work goes unrewarded with algae and lichen coming back. Lichen is particularly hard to remove by hand without damaging your paving. Pick a product that effectively removes algae, lichen and moss and stops them from growing back for a significant period.
What
algae & moss killer should I use

?

Look for a product that is really easy to apply and that doesn't require scrubbing, brushing, pressure washing or rinsing the affected area to remove the algae, moss and lichen. Sprays can be convenient.

Avoid products that use acid as this can discolour your paving - this can occur when acid-based weed killers are used.

Make sure the product can be used on all hard outdoor surfaces, including:
Paved areas
Patios
Drive ways
Fencing
Walls
Terracotta pots
How do moss and algae killers work?
Most moss and algae killer products are based on benzalkonium chloride, which effectively kills algae, moss, and lichens. Ideally you want a systemic moss and algae killer, meaning that it gets absorbed into the whole plant, and not just the superficial above-ground leaves and stems.
How to Use A Moss & Algae Killer Spray
You will need to follow the specific instructions on the product. However, these are common steps:
1. Remove all loose leaves, debris and weeds from the area
2. Choose a dry day with no rain forecast for at least 4 hours.
3. Spray liberally or pour onto the problem surface
4. Leave for 1 to 3 days
5. On very heavily soiled surfaces a second application may be required
Should I Be Worried About Nearby Plants?
Patio cleaners that use hydrochloric acid or bleach are not recommended for use near plants and can also discolour certain types of stone. However, if you select the right product, it will not affect the colour of your paving or if applied correctly, harm any of your bedding plants or lawn areas.
Tips
Do not spray any product on windy or very sunny days.
It's best to test a smaller, out of the way area before tackling the larger areas to ensure the product doesn't react with your paving
Clean all equipment after spraying. DO NOT use apparatus that have contained herbicides for the application of other substances such as fertilisers or water.
Avoid acid-based cleaning products - these can have a very bad affect on certain types of paving, in particular hydrochloric acid, which can ruin some paving types.
General Tips on Preventing Algae, Lichen and Moss Growth
Make sure that your drains are clear of leaves and any other debris that can block it
Make sure patio and paved areas have sufficient drainage – the Royal Horticultural Society advises that you: "dig out shallow channels along the edges of paths, patios and drives and fill with coarse gravel to absorb run off water"
Make sure that you regularly brush paved areas with a stiff broom - this disturbs newly emerging weeds and prevents growths from fully establish themselves
Permagard
Permagard are proud to stock a range of garden wood treatments to match your garden needs. If you have any questions then speak to one of our experts today on 0117 982 3282.
Related Posts