Our homes are prone to damp because too much moisture in the atmosphere reaches a saturation point which then condenses onto a cold surface in the property, causing condensation and mould growth. Kitchens, bathrooms and living rooms are the main areas affected by these damp problems.
Perma-vent Standard is an environmentally friendly ventilator which works to tackle the damp and condensation problems in the home. The clever vent understands that when the room temperature and humidity are greater internally than those externally, moist air is ventilated outside the building due to vapour air differences.
The Perma-vent contains a vapour permeable membrane which reduce humidity levels, transferring the vapour outside, without letting any draught air back in.
New Design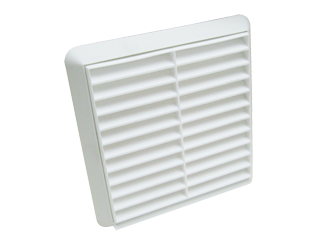 The New features include -
New look internal and external grilles
New external integrated fly screen
Easier to fit due to new "easy fit" grille adaptors
Same high performance & long lasting protection against condensation.
Perma-Vent Standard reduces condensation and the risk of future outbreaks of mould. However, the ventilator cannot remove residual black mould stains themselves. Using a mould wash concentrate will kill and sanitise mould spores, leaving the surface clean and clear for an application of anti-mould paint, designed to reduce the risk of future outbreaks of mould and other fungi.
The Perma-vent can be positioned anywhere, but will work most effectively rooms where the damp problems are most prevalent. This simple and inexpensive vent guarantees to perform as well as, if not better than the previous model.
For further information on the Perma-vent Standard redesign and how it can protect your home against damp and condensation, contact us on 0117 938 1596.