We are always the optimists here at Permagard and we do believe that the sun will shine for us this summer. So when it does, we want everyone to have their gardens looking their best. There is nothing worse than inviting friends and family over for a garden party, when your shed is in tatters, your fence has faded and your garden furniture looks like it has seen better days. Give your garden furniture a refreshing new look by investing in some of our high-performing restoration products.
Timber Treatments for the Summer
Useful for attacking fungal infestations, this water-based fungicide is ideal for treating fungus in furniture, flooring, structural integrities and other timbers. The preserver oozes in mirco emulsion technology enabling high- penetration into the substrate for a deeper and long-lasting protection. The high- strength liquid is completely clear and is designed for either brush, spray or drip application. It may be strong, but it's completely solvent free. Lignum Universal Wood Preserver is a suitable alternative.
As well as treating already infected surfaces, the technology-enhanced preserver will also prevent against reinfestation in the future. It's a handy product to own.
Suitable for a range of wood products, Aidol HK Stain is preservative and decorative liquid which guarantees to protect non-load-bearing timber without ground contact in outdoor areas, against soft rot and blue stain according to DIN 68 800, part 3. The stain is a multi-tasker! Not only does it preserve wood products, the stain protects against the wet and dry weather, guaranteeing no tearing or flaking. The high-performing liquid protects wood fibres through a higher solid content and acts against nesting wasps. Its coating consists of a film preservative which prevents mould and algae growth.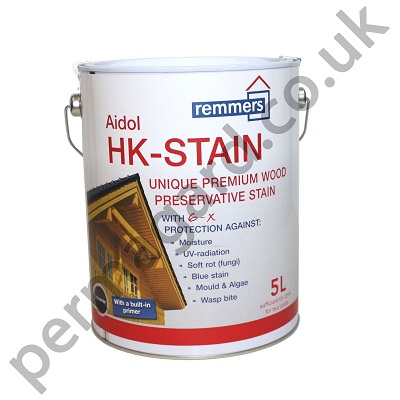 Available in a range of colours to best suit your wood, this preservative stain will be sure to give your garden furniture a refreshing new look.
Designed to protect and stain decking in one application, HK Stain is an effective decking treatment. It helps prevent decking timber cracking and peeling. The stain guarantees a superior finish to a range of wood products including decking boards and decking tiles as well as fences, sheds and huts.
Path and Patio Cleaner
Don't neglect your paths and patios! These need some attention too and Permagard has the perfect solution. The Green Gone path and patio product is a highly-effective cleaning agent, suitable for cleansing paved areas, patios, driveways, block pavers and many more surfaces. This strong product will shift green growth, moss and algae from any hard surface. Aside from this, the cleaner can also be used on delicate surfaces, guaranteeing no stains or deposits.
This is a simple quick fix with long-lasting results to ensure that your paved areas are looking their best. The cleaning agent is available in one sachet which when dissolved in water makes 5 litres of ready to use product, ideal for cleaning large surfaces which need refreshing.
For further help or advice on any of our timber treatments or garden maintenance products ideal for refreshing garden furniture, give us a call on 0117 982 3282.