As we are stepping into spring, it's that time of year again to prune the garden and treat wood outdoor furniture which would have taken a hit during the winter. To help everyone's green-fingers this spring, we want to share with you some new and exciting timber treatments which will restore your wood outdoor furniture just in time for the BBQ season. We are pleased to stock these high-performing and reliable timber treatments that will guarantee long-lasting protection.
Timber Treatments for Wooden Garden Furniture
Wood Stains
First up is Aidol HK Stain, a decorative liquid wood preservative suitable for wood outdoor furniture. The advanced timber treatment protects non-bearing timber without ground contact in outdoor areas.
Aidol HK Stain can be used on wooden gates, fences, boarding, garden pavilions, gables, roof eaves and facades. This unique timber treatment doesn't just coat and protect the outdoor furniture. Due to its high-performing substances, the stain protects wood fibres through a higher solid content which prevents wasps nesting on or near the surface.
The advanced protective coating contains a film preservative which protects against algae and mould. Aside from this, the timber treatment also protects wood outdoor furniture from wetness and the sun, preventing the wood from tearing and flaking.
Awarded as 'RAL Wood Preservative' of quality after official evaluation of its effectiveness, Aidol HK Stain is the timber treatment you need this Spring to protect against a range of outdoor issues.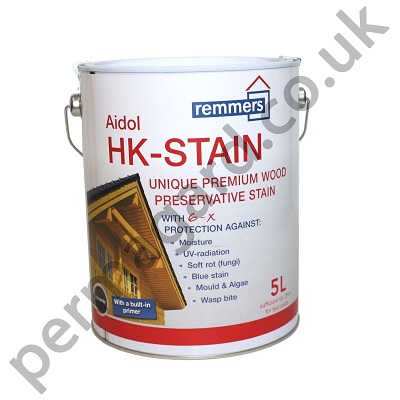 Treating Wood Decks
Wood decks are becoming increasingly popular every year, establishing themselves as a trendy piece of outdoor furniture. Often the hosting place for summer dinner parties and BBQ's, it is really important to keep wood decks looking flawless. In the past, wood decks needed to be protected every spring, however thanks to HK Stain, protection lasts longer. Protecting against harsh weather and preventing wood from turning grey, these unique timber treatments will save garden owners a lot of time and work, most importantly protecting outdoor decking for longer. Read our guide to treating garden decking.
What makes the long-protection possible is the product's deep penetration of the wood, while also creating a hardwearing film which acts as a barrier against green growth and UV-rays. As well as wood decks, HK Stain can also be applied to other outdoor furniture.
There are a variety of shades available to match different species of wood, so look at the colour card to find the shade which best suits your wood.
Removing Green Growth from Wooden Furniture
Now for an effective and high-performing cleaning agent, Green Gone removes and controls green algae, mould and moss on hard surfaces. It can help protect masonry, concrete, roof tiles and flag stones as well as outdoor furniture.
As always full details of our timber treatments are on our individual product pages, so take a look. However, if you would like to speak to one of the team about any of our top wood treatments for wood outdoor furniture, don't hesitate to contact us.
Read our post for more timber treatments for your garden.