The client: Pople Associates Ltd
A prominent design and construction company based in East Sussex, Pople Associates provide a unique service to clients covering conception all the way through to build.
The brief: Attractive and low maintenance green roof to a new extension
Pople Associates Ltd were tasked with the design and build of a new, large extension to a domestic property in East Sussex. Their client requested a relatively low maintenance green roof to create an aesthetically appealing finish to the modern building design. The green roof needed to be installed to a high standard to ensure that minimal ongoing drainage maintenance would be required. A reliable drainage system was extremely important in order to achieve a long lasting and attractive green roof vegetation layer.
The challenge: Achieving a thriving green roof that blends into the surrounding greenery
The challenge was to provide enough water storage for the native wildflower to thrive through drier months, while at the same time providing fast and effective drainage of excess water through the wetter months. The green roof build-up needed to be designed correctly, otherwise the vegetation could struggle to establish itself and fail to flourish over the coming years. The overall look of the green roof had to be sympathetic to the existing tree lines and surrounding fields, keeping a predominantly green colour throughout.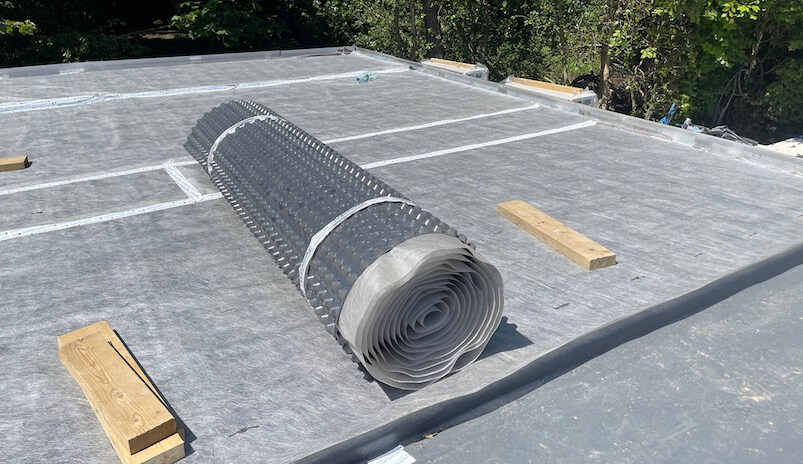 The solution: PermaSEAL PRO 20P Drainage & Storage System
With all of this in mind, our PermaSEAL PRO 20P Green Roof Drainage & Storage Membrane was specified to cater for the changeable weather conditions. This 'all-in-one' style membrane offers 20mm deep storage cups, protected from soil fines by a full bonded, high strength geotextile filter layer. With a 20mm drainage cavity between the studs, the membrane allows for fast, safe drainage of rainwater to the guttering.
Design is always key when it comes to creating an established green roof. And the importance of a high quality green roof membrane with high quality geotextile cannot be overlooked. Poor quality geotextiles on the market are responsible for many failed installs. If the growing medium/substrate sinks into the storage cups, the roots can become waterlogged and the storage capacity reduced, leading to a dull and unhealthy looking roof.
PermaSEAL PRO Root Barrier & Separation Membrane was installed over the waterproofing layer, before the 20P membrane was installed. This provided extra protection against root damage.

With our high quality green roof products, Pople Associates Ltd achieved a fantastic looking extensive green roof. The thriving native wildflower provided the perfect finish to a well designed, well installed green roof system that the client will enjoy for many years to come.
Products used: PermaSEAL PRO Green Roof System including: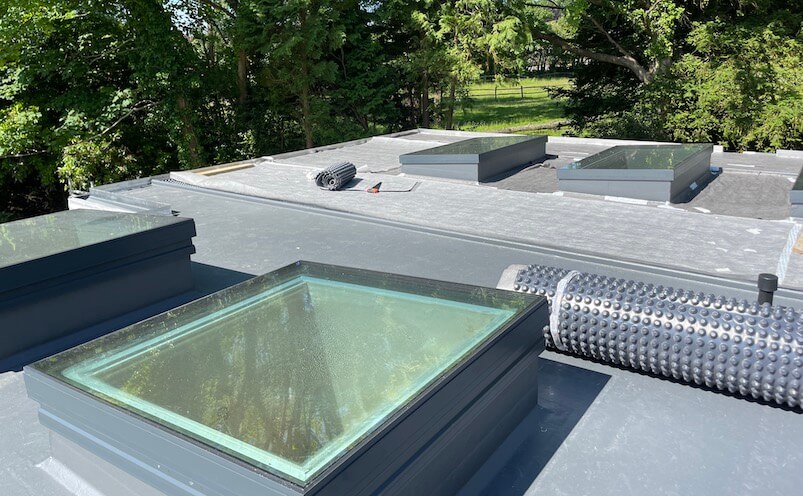 The confidence
Our range of PermaSEAL PRO Green Roof Membranes is the highest quality on the market. With the highest strength geotextile filter fabric available and a HDPE drainage membrane made from recycled plastic, we achieve the perfect balance between performance and sustainability.

This means clients are confident that our membranes will do the job to a very high standard, providing ongoing peace of mind for many years to come.

You can contact Pople Associates Ltd via their website.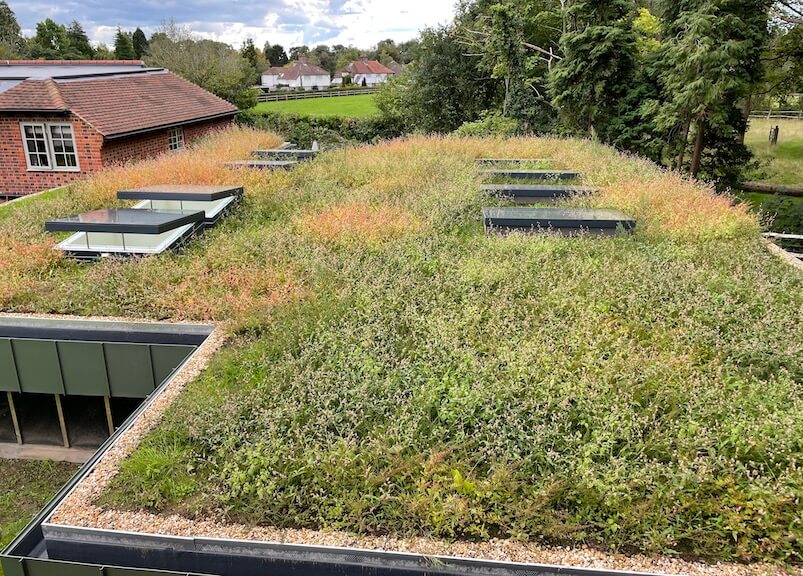 Permagard – Providing Solutions. Inspiring Confidence.
Contact our expert team to discuss your next domestic or commercial green roof project. Alternatively, browse our green roof systems or download a PRO Green Roof brochure and find out more about our systems on the Professional Green Roof page.