Timber Treatments
Learn more about
Wet and Dry Rot Treatment
Many of these wood rots are superficial and do not affect the strength or integrity of the timber, such as surface moulds which form greenish or black, occasionally yellow, powdery growth which are easily brushed or planed away. These superficial fungi do not confine themselves to just timber, they can occur on damp plaster, wallpaper and carpets, their main significance is that their presence indicates very damp conditions. To treat these superficial rots and moulds, we suggest the application of a wood rot treatment for example Multicide which is a surface biocide that will kill the rot/ mould that is present and prevent the re-occurrence if the damp is solved.
If the timber remains very wet for longer periods of time, there is a high chance of soft wood rot fungi developing, causing softening of the surface of the timber to a progressively increasing depth. However, if the timber has a moderate moisture content but is also freely accessible to air, a much more serious form of wood rot can develop.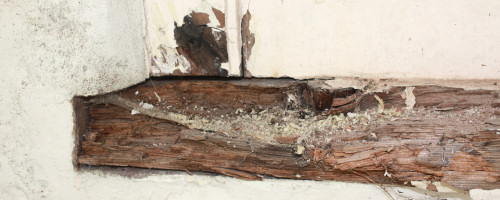 Treating Wood Rot
Wet rots are able to develop when timber is wetted by moisture from a source such as leaking plumbing or roofing, or by absorption of damp from structural materials such as damp walls etc. In these cases it is important to stop the cause of damp or isolate the timbers from the damp source before treating the timber with a wood rot treatment. When treating wood rot it is important to also use wood rot treatment on timbers that do not have the wood rot present - this is to prevent future outbreaks on untreated timbers.
Treating Dry Rot
One species of wood rot represents a far more severe decay hazard to timber. This wood rot is the dry rot fungus which presents special problems for a number of reasons. Once the dry rot fungus has become established in the wet timbers, it is able to generate moisture through the digestion of woods. This means it can maintain the atmospheric relative humidity under poorly ventilated conditions allowing the dry rot to spread even without a source of moisture.
When fungal decay and wood rot is found in buildings, it is essential to firstly fix the damp issues and any defects that may be leading to damp ingress into the building. Timber that has rotted causing problems with structural integrity should be replaced with sound timber, treated with a wood preservative as a precaution against future wood rot. If dry rot is encountered, it will be necessary to remove and replace all infected timber. Infected plasterwork will also need to be removed. Then all of the masonry surfaces will need to be sterilised with a masonry dry rot treatment and all remaining sound timber should be treated with a dual purpose dry rot treatment fluid.
Permagard - Providing Solutions. Inspiring Confidence.
For further advice or help selecting a wood rot treatment to suit your requirements please feel free to contact one of our technical advisors on 0117 982 3282. Alternatively, read our guide to identifying dry rot and wet rot.
Best Selling
Wet and Dry Rot Treatment

Products