Basement Waterproofing
Load More
Learn more about
Membrane Fixing Plugs
Membrane Plugs
At Permagard, we stock a wide range of membrane fixing plugs. These high quality membrane plugs allow you to quickly and securely fix membranes to various substrates including brick, concrete, stone and even friable surfaces. Our range spans mesh plugs and clear membrane plugs for both above and below ground scenarios. It's worth pointing out that some people refer to these fixings as tanking membrane plugs.

If you're looking to plug holes left by DPC injection then you'll need our DPC Injection Plugs

Our PermaSEAL membrane plugs are quick and easy to use, providing a secure fixing and preventing water seeping through. When a membrane fixing plug is hammered home with a rubber mallet, the seal is compressed and the plug is firmly embedded into the substrate. For friable surfaces, we offer Cob Fixing Plugs.
Membrane Plugs with or without seals
We offer membrane fixing plugs with and without washers / seals depending on your requirements and preferences. Some plugs come with rubber grommets in-built for convenience, others take separate washers or are more suitable for sealing by rope to provide that all important waterproof seal.
Membrane fixing plugs
These PermaSEAL membrane fixing plugs are designed to secure clear membranes to your wall or substrate:
PermaSEAL Quick Membrane Plugs - ideal for non-mesh damp proofing and cavity drain membranes such as PermaSEAL 8 Clear. Features an in-built rubber grommet that creates a compression seal against the membrane to prevent any water ingress. Also, features a preformed hole in the head of plug allowing battens or tracking systems to be secured to it.
PermaSEAL Brick Membrane Plugs - generally used for securing clear membranes directly into brickwork, will also work with mesh membranes. We also stock PermaSEAL Brick Membrane Plugs with Seals already integrated.
PermaSEAL Cob Plugs - 60mm, 90mm, 110mm, 130mm - generally used on either mesh or clear membranes for fixing into friable substrates. Features an expansion pin to provide the most secure fixing. We recommend using Cob Membrane Plugs with PermaSEAL rope for the best seal.
We also stock Plug sealing washers for use with our membrane fixing plugs.
Mesh membrane fixing plugs
Mesh plugs, also known as plaster membrane plugs, are used to fix mesh membranes and therefore designed to take a plaster finish. Our PermaSEAL mesh membrane fixing plugs are ideal for PermaSEAL 3 and PermaSEAL 8 Mesh Membranes.
PermaSEAL Plaster Plugs - for the effective installation of mesh membranes above and below ground. These plaster membrane fixing plugs provide maximum grip in a wide range of masonry surfaces. Compatible with our standard washers but for vaulted ceiling or undulating substrates use with PermaSEAL rope.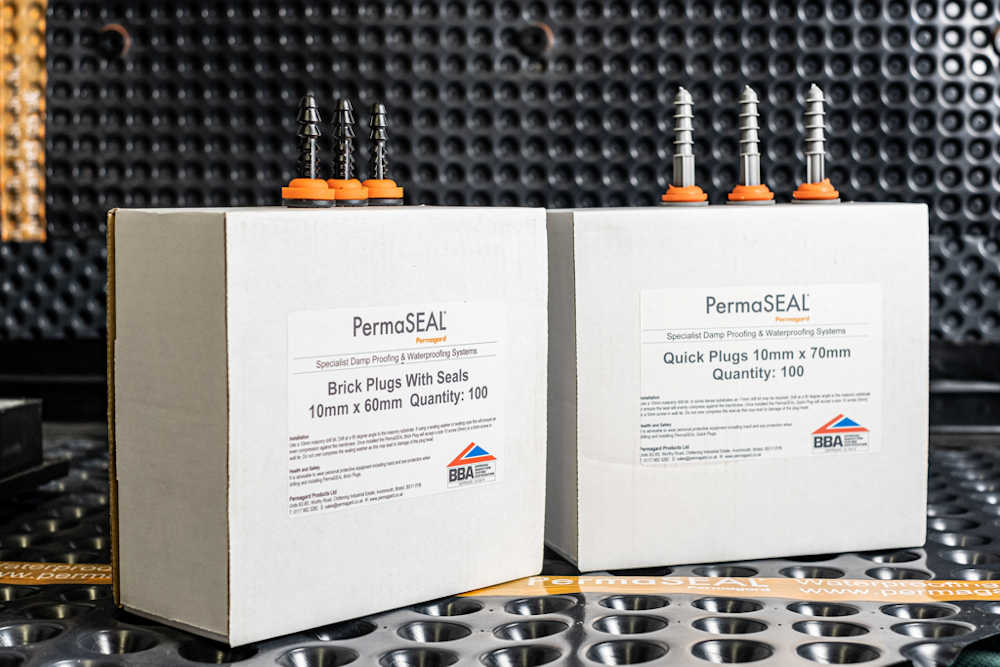 Newton membrane plugs
Permagard stock a range of Newton membrane fixing plugs including:
Platon membrane plugs
We stock a range of Platon membrane fixing plugs including:
Membrane Tapes
As well as plugs and ropes, we also stock a wide range of membrane sealing tapes to provide seals between membranes.
Permagard – Membrane Plug Suppliers
Permagard offer a wide range of membrane plugs to meet your precise needs. Our technical team is here to support you and answer any questions you may have about fixing membranes. Call us today on 0117 982 3282.
Best Selling
Membrane Fixing Plugs

Products