Rising Damp Treatment
More information on Rising Damp Treatment
What is Rising Damp?
Moisture from the ground rises through the masonry substrate of a building through capillary action. The height to which the water will rise depends on several factors including pore structure of the bricks and mortar and the rate of evaporation. Masonry containing a high proportion of fine pores will allow the water to rise higher than a coarse pored material.
Generally rising damp is often first noticed by the damage it can cause to buildings. The unwanted moisture enables the growth of various fungi in wood, causing rot. Plaster and paint deteriorate and wallpaper loosens. Stains from the damp, salts and mold all marks the surfaces. Externally, mortar may crumble and salt stains may appear on the walls. Steel and iron fasteners rust. It may also cause respiratory illness in occupants. In extreme cases, mortar or plaster may fall away from the affected wall.
Rising Damp Treatment
Rising damp treatment can be achieved by installing new damp proof membranes (which consists of taking out each brick along the failed mortar course and installing new physical damp proof membranes). Alternatively you can treat rising damp through chemical damp proof injection. Damp course injection is the method of injecting a water repellent chemical into the brick or mortar joint which lines the capillaries in the substrate, once cured it creates a continuous water repellent barrier. This prevents damp from rising up the wall.
Permagard manufactures many types of damp proof injection chemicals ranging from water-based concentrates, solvent-based ready to use fluids, to the latest damp proof cream technology. All damp proof injection chemicals are highly effective and have been used by our specialist contractors for over 20 years.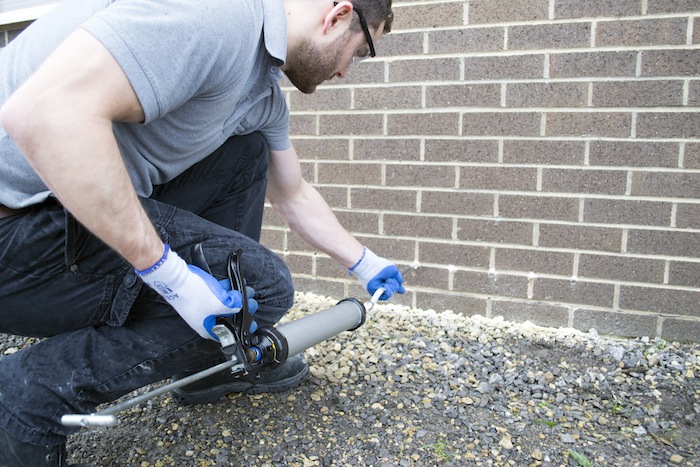 Aida damp proof Injection Cream is a highly effective damp proofing injection cream and treatment for rising damp that is injected into a 12mm hole in the mortar course at intervals of between 100mm -120mm depending on the wall structure. Aida damp proof injection cream is easy to install with low pressure application either directly from the cartridge or from a low pressure injection unit. Once inserted into the mortar course, Aida damp proof injection cream reverts to a liquid phase resulting in complete absorption of the product into the substrate providing superior penetration and highly effective damp proof coursing. Aida cream has many advantages over traditional damp proof injection methods and has become recognised as the leading rising damp treatment.
Damp course injection will work as a treatment for rising damp but it is extremely important that the re-plastering specification is strictly adhered to and that the plasterer carrying out the work is made aware of the importance of the re-plastering being carried out to specification in conjunction with the insertion of the Chemical Damp Proof Courses. Permagard Waterproofer should be used in the re-rendering of the affected areas and any salt contamination should be treated with Permagard Salt Neutraliser before the re-plastering takes place. Failure to carry out the re-plastering specification after the damp course injection may lead to any contaminated decorations to remain damp.
Rising Damp Advice from Permagard
In addition to our large range of rising damp treatments, our technical staff are able to advise you on all aspects of waterproofing and damp proof injection for any job large or small. Whether you need a specialist contractor in your area or help with a specification our technical advisors are here to help. Simply call us on 01179 823282.
For more information read our How To Guide on Using Damp Proof Cream Injection to Treat Rising Damp
More
Best Selling Rising Damp Treatment Products
HOT ITEM

RRP £30.00 Excl. VAT

£17.80 Excl. VAT £21.36 Incl. VAT

RRP £20.00 Excl. VAT

£11.95 Excl. VAT £14.34 Incl. VAT