External Waterproofing
More information on External Waterproofing
Conventional barrier tanking that is subjected to water pressure from the surrounding ground will fail unless the barrier is 100% defect free. Even a land drain cannot effectively deal with perched or trapped water higher up against the water retaining wall. With the rise of local water tables, more and more basements and earth retaining foundation walls are being subjected to hydrostatic water pressure leading to water ingress into the building.
If a system is put in place to alleviate the hydrostatic pressure from the waterproofing system, the risk of failure is significantly reduced.
The Permagard External Structural Waterproofing System is designed to firstly waterproof the substrate with a brush or trowel applied liquid waterproofing material then remove hydrostatic water pressure from the building with a specially designed Cavity drain membrane - the PermaSEAL Geo Drain.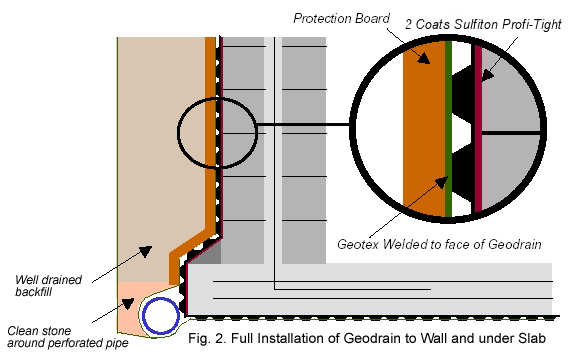 Priming:
A spray application of Aida Kiesol silification spray causes the masonry pores to narrow making the surface water repellent. This also chemically binds the bitumen waterproofing product to the substrate.
Primary waterproofing:
Two coat application of one of the external waterproofing coatings to create a flexible high build waterproof coating.
Secondary waterproofing:
Cover the surface with Geodrain cavity drainage membrane, this product allows water from the surrounding media to freely drain through the filter fabric into the cavity created by the 10mm studs. The water then drops down to the land or French drain situated below floor level, which in turn takes the water away to a suitable drainage point. This cavity drainage membrane immediately elevates the hydrostatic water pressure from the building.
The advantage of this external masonry waterproofing system is that a primary and secondary waterproofing barrier is created, thus absolutely minimising the risk of defects. Also the Structural waterproofing system is highly flexible so if the building settles or moves in the future you can be safe in the knowledge that the external masonry waterproofing will move with the building and remain water tight.
If you require further information on External Structural Waterproofing please do not hesitate to contact one of our technical advisors on 0117 982 3282. We're here to help!
If you would like to find out more then read our Guide to External Waterproofing.
More
Best Selling External Waterproofing Products