Basement Waterproofing
Load More
Learn more about
External Waterproofing
External Waterproofing Systems for Basements
It's vitally important to install an external waterproofing system that meets the BS8102:2022 standard and delivers for decades to come. At Permagard, we stock high quality external waterproofing systems for various applications including new build construction, such as ICF buildings, along with many retrofit applications.

External Structural Waterproofing Systems
Choosing the right primary waterproofing product is the key to long lasting protection. The primary waterproofing provides the barrier that will keep your basement dry. It needs to be installed to a high standard with careful consideration given to its suitability to the type of substrate it's being applied to.
We currently stock two types of Type A (Barrier) waterproofing products for use externally below ground level:
MB2K+ Flexible Waterproofing Compound
Liquid applied waterproofing
Trowel or brush applied
Fully bonded waterproof layer
Requires Kiesol MB Primer
Highly flexible and radon resistant
Primarily used on existing and new build structures
Not suitable for ICF construction
PermaSEAL® Self Adhesive Tanking Membrane
Self adhesive bitumen tanking membrane
Fully bonded waterproof layer
Quick and easy to install
Highly flexible and instantly waterproof
Primarily used on new build construction
Suitable for ICF structures (requires PermaSEAL ICF Primer)
It's important to note that both of these primary waterproofing products are highly flexible and capable of moving with the structure, through any settlement or future movement. This gives peace of mind that the external waterproofing will remain watertight for years to come.
Once installed, both of the above systems are covered and protected by the PermaSEAL Drainage Membranes to alleviate water pressure against the building and reduce the risk of failure.
PermaSEAL External Drainage Membranes
The type A barrier system will protect the building from water ingress.t is common practice however to install a drainage and protection membrane that will quickly alleviate water pressure from the surface of the primary waterproofing, whilst also protecting it from damage. This significantly reduces the risk of failure.
An external drainage membrane features a dimpled membrane sheet with a high quality geotextile filter fabric bonded to the studs. The geotextile fabric filters out any fines, allowing water to pass freely into the cavity created by the studs. This water then falls to the land drain to be safely drained away.
Installation of an External Waterproofing System
Surface Preparation:
As with all waterproofing systems it is imperative that the surface is fully prepared to receive the waterproofing layer.
Priming:
It is imperative with all bonded products that the correct primer is used to help consolidate the surface and aid the adhesion of the waterproofing compound to the substrate.
Primary Waterproofing:
Install either MB2K+ or PermaSEAL Self Adhesive Tanking Membrane as per the relevant technical data sheet or installation guide.
Protective Drainage Barrier:
Depending on the anticipated volume of water, cover the surface with PermaSEAL 8 Geodrain Membrane or PermaSEAL 20 Geodrain Membrane.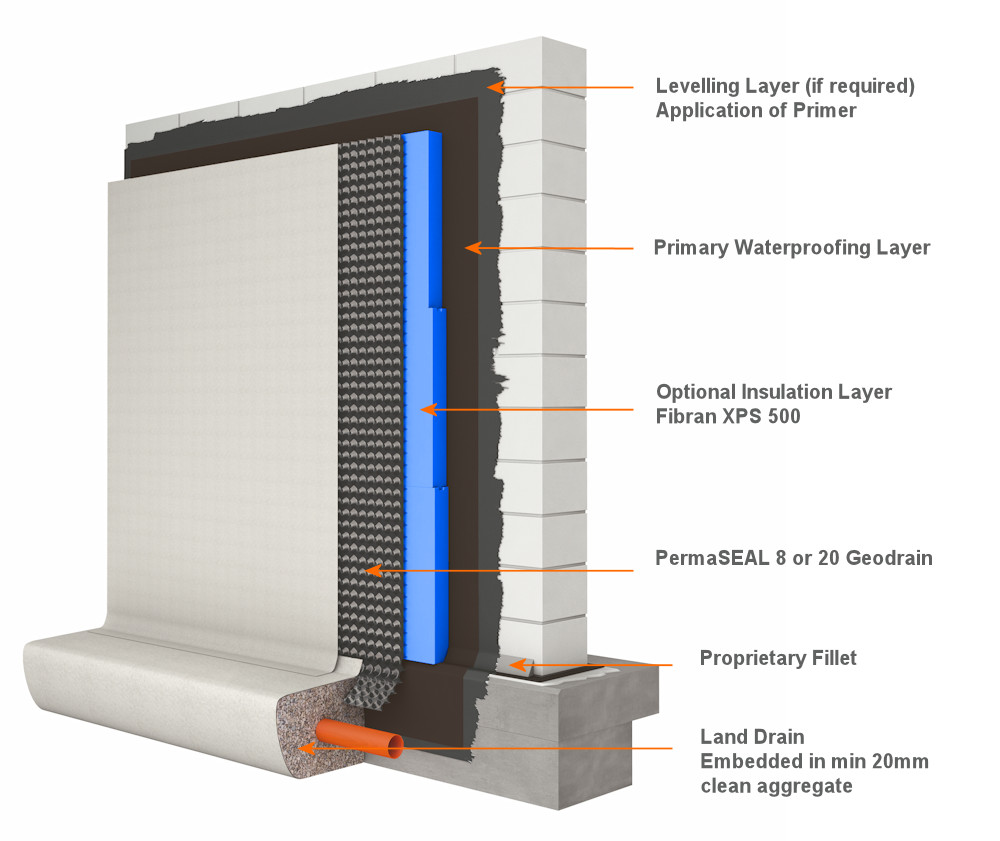 Permagard - Providing Solutions. Inspiring Confidence.
If you require further information on External Structural Waterproofing please contact one of our technical advisors on 0117 982 3282. We're here to help!
You can also benefit from big savings when you buy our PermaSEAL Geodrain Membranes in bulk.
To find out more then read our Guide to External Waterproofing.
Best Selling
External Waterproofing

Products