The summer is a great time to paint and treat your fences – not only are the conditions favourable to complete the job but you also get some time to sit back and admire your handy work.
Once your garden fences are in, you want them to last a long time and look good. Not only do they give you and your family some privacy but they can really contribute to an attractive garden space. They can also be used to effectively divide and fence off certain sections of the garden.
Now the British weather is not always kind to outdoor timbers. Fences are often in the firing line, taking a battering from the elements so when you treat fencing, it has to be with a product that can cope.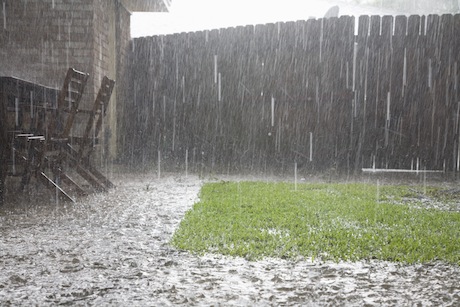 Our guide on how to treat fencing, covers how to prepare your fence, what to treat it with and how to apply any wood treatment. We've also included plenty of practical information and tips to answer your other fencing-related questions.
Whose Responsibility is the Fence?
Before you start to paint your fence, you may want to make sure that it's your fence to paint. Many people are not entirely certain which fence is their responsibility and which is their neighbour's responsibility. So when it comes to repairs and general maintenance of the fence who is responsible for what?
In regards to fence boundaries, the Gov.uk site states that there is no law about who owns the boundaries around your property and which side of the fence you're responsible for. They suggest checking the deeds to your house to find out if there are any boundary agreements.
Elsewhere, the Boundary Problems website provides answers to many of the frequently asked questions around fence boundaries and responsibility. They suggest that the conveyance/transfer deed may state which property owner is responsible for which fence. If nothing has been agreed, you can set up an agreement with your neighbours.
With this in mind, if your neighbour owns the fence and is unwilling to maintain and treat it then you can offer to do it on their behalf. They must give you permission to stain or paint your side of their fence otherwise anything you do will amount to criminal damage. Alternatively, you can erect your own fence directly adjacent and do as you wish.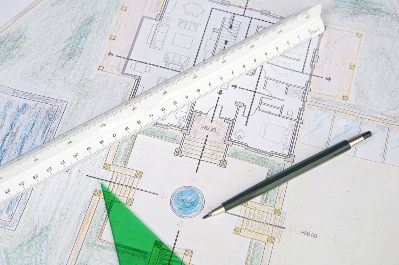 Preparing your Fence for Wood Treatment
Old Fence
If the fence has been previously stained and treated, painted or varnished then you will need to strip it back to the bare wood. You can do this by sanding down the fence.
All of the fencing surfaces should be free from any dirt and dry. A stiff bristle brush is a useful tool for getting rid of general dirt and cobwebs, weeds and any bird droppings - to remove algae, lichen, fungi or moss you will need to use a fungicidal wash or a decking cleaner concentrate.
New Fence
Mask off any areas that you don't want to be treated like any non-wood fence posts. You can use old newspaper to protect these areas. Also, you should add a protective sheet on the grass or again a few sheets of newspaper.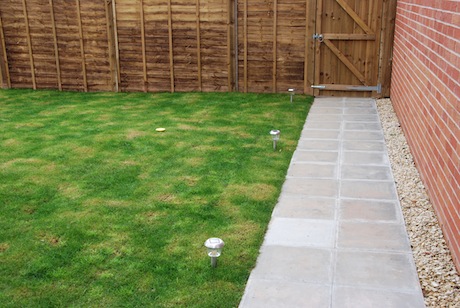 Types of Garden Fencing
There are several types of fence including those with trellises. The most common are lap/overlap fences and closeboard panels. Many timber fences will have had some form of treatment in the factory – these can either be dip treated and or sprayed at high pressure.
When to paint a garden fence?
You want a dry day but not an overly hot or humid day. Working in direct sunlight on a very hot day can make the paint or wood treatment dry out too quickly and not offer full protection. If there is any risk of rain then leave it until the forecast is better.
What paint is best for fences? What fence timber treatment should I use?
There are many products available on the market that can be used to paint and treat fences. There are clear wood treatments, over-the-counter stains, varnishes and timber paints. Look for a very high quality timber stain and preservative that offers better protection for the timber itself or use Microshield Wood Protector - this will allow your wood to age / grey but protect it against water damage.
Consider preservation rather than just colouring the timber for a decorative finish. You want the active ingredients to penetrate deep into the fencing to provide long-term protection. You may want to consider protection against the following:
Blue stain
Rot
Insects
Mould & algae
UV-rays
Moisture
For larger fencing jobs, you may want to consider a dipping grade fence treatment - this concentrated product is available in three colours.
How to paint a Garden Fence
Painting Your Fencing
How much paint will I need?
Most fences come in 6ft /1.83 metre wide panels. They vary in height from 0.9M (3ft), 1.2 M (4ft), 1.5M (5ft), 1.83M (6ft). The smaller 3ft fences are ideal for front gardens and to section of separate areas like flowerbeds in your garden. The most common size of fence is 6ft x 6ft / 1.83 M x 1.83 M.
Any product you use to paint or treat your fence will have an application rate or coverage information somewhere on the packaging.
If your product has an application rate of 200-250 ml/m² and it is recommended to apply at least 2 coats, then this means that for a 1.83M x 1.83M fence panel (a 3.35 m2 surface area) you would need around 2.5 litres to do both sides with two coats.
What Colour to Paint my Fence?
Many people want the colour of their fence to appear natural and blend in with the garden. However, it really comes down to a matter of personal taste and there is always the opportunity to get creative with your garden colour scheme.
It's worth considering how the colour of your fence will tie in with other timber in your garden in particular summer houses, sheds and any decking as well as the period and colouring of your house. You can paint items of garden furniture or features in the same colour as your fence to create a sense of cohesion.
You should avoid some cheaper stains that can appear too orange. Darker colours can sometimes make your garden feel smaller. The colour you opt could also be used to set-off any plants that you have in that area.
Spraying vs Brush
Many people like the idea of painting fences by using a timber treatment sprayer – it can be a quick and easy method but may not always deliver the best results. There are a number of garden fence sprayers on the market and they all work in largely the same way. Pour the paint into the designated space on your sprayer then give the paint or wood treatment a good stir. It is best to spray at a distance of around 20 cm back from the fencing.
We would recommend using a good quality soft brush to paint your fence. Depending on how large the fence to be painted is, this tends to be the method with the most consistent results.
Some professional products should only be sprayed in a factory environment and not outdoors.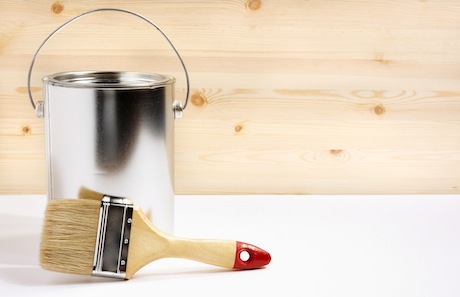 Painting Your Fence
Before you start, try a test area to ensure that the wood treatment is the right colour and that it adheres correctly to the timber. Although the treatment may appear clear, it can still affect the colour of your timber.
Begin with the top edge of the fence panel and then paint all of the verticals. You can now begin to paint each board from left to right, panel by panel from top to bottom. Do it one panel at time and one side of that panel at a time.
With your wood stain you should thoroughly stir it and then apply with a soft brush in the direction of the grain. After drying, which can take approximately 12 hours, apply a second coat.
Fence Painting Tips
Use a good brush. It makes all the difference. Using a cheap or old brush, or worst still a cheap, old brush, will make your job harder. You may find that bristles fall out and that coverage is uneven.
Clean your paintbrush and any other tools used immediately after with a thinner.
DoItYourself.com offer a good tip for painting a fence when you have a bush in the way: "If you have tall shrubs growing close to your fence, slide a large piece of cardboard vertically between the fence and the shrub. Wiggle in between the cardboard and the fence and lean back on the board, pushing the shrub away from the fence so you can get in to paint/stain behind the shrub."
Permagard - Providing Solutions. Inspiring Confidence.
Our range of timber treatments are high quality and affordable. They are a great way to get the job done.
You can also read our guide to How to Treat Decking or take a look at our sunken garden design and drainage guide.