The sun comes out and you head outside into the garden for the first time to soak it up. It is only now that you notice that your decking doesn't look as it should. It's discoloured, dirty and damp-looking.
The British weather is not kind to garden decking. Since last summer, chances are it will have become faded, dirty and stained, maybe even mouldy. Without adequate protection from the weather, you are likely to see a degradation of quality in a very short space of time. The wood will quickly turn grey, and if left in this state, will end up cracking, warping and becoming damp and damaged beyond repair. Ideally, you want to make it look as good as new and for it to be protected against the elements for years to come.
At this stage most people head off to their local DIY store and pick up a tin of over the counter decking preservative or decking stain. And more often than not these products will fall well short of your expectations - they just don't do the job.
What Decking Treatment is best?
The best way to treat decking is with an industrial strength professional product that penetrates deep into the wood and protects it from the inside out. You want guaranteed results and not for just a couple of months but for the foreseeable future. There are professional products available that will do this, protecting your garden decking and other outdoor timbers against weather damage, mould and insects as well as providing an attractive stain.
When it comes to applying any wood preserver or stain, in particular a professional product, there is a method you should follow to ensure the product performs. Follow the following simple steps on how to treat decking and your decking will look great for summers to come.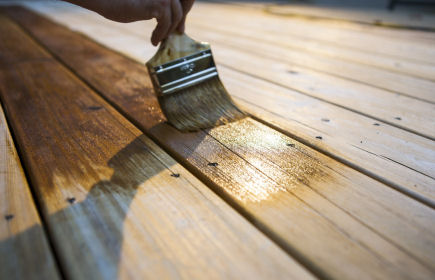 How to Prepare and Stain Decking in 8 Steps
BUYING YOUR DECKING STAIN
1. Match the wood stain to the colour of your decking
Wood stains and preservatives are usually available in many colours so make sure you find the tone that matches your timber decking. Before applying the stain to your decking, test the colour on a small patch of the timber to ensure it is a good match.
2. Decide how much wood stain you need to complete your decking
Before starting the job, you will need to find out the relevant coverage information on the product to know how much you will need. Remember to check for the recommended number of coats - usually two.
PREPARATION
3. Cleaning the Decking
Remove any existing paints and stains from your garden decking and then focus on cleaning it thoroughly. We recommend that you pressure wash the decking area to get rid of any dirt, debris or mildew. You then need to allow it to dry for as long as possible. Even if your decking is new, it will still need to be cleaned thoroughly before treating. Lignum manufacture a Deck Cleaner Concentrate that will remove any growth such as algae and lichen, and prevent its regrowth for 9 months. When the decking is clean and dry, you are now in a position to apply the stain.
4. Health and Safety
When applying a professional wood stain, you will need to wear suitable gloves such as heavy-duty rubber gloves and safety glasses. Overalls or old clothes are also recommended.
5. Weather
You will ideally want to treat your decking when the weather is dry and neither too hot or too cold. If you can find a few days with no rain forecast (hard we know!) then this is the perfect time to treat your decking.
APPLICATION OF DECKING TREATMENT
6. Brush
You will need a suitable soft brush to apply the wood stain – a three inch paint brush is ideal and will allow the stain to penetrate the wood. Apply the stain in the direction of the grain and be generous – you want the stain to penetrate deep into the timber.

7. Drying Time and Second Coats
Leave overnight (12 hours minimum) to dry before applying a second coat by repeating stage six.
8. Renovation
A wood preserver will protect your decking for years to come but if you do want to top it up then renovation coats can be applied without sanding or stripping.
Professional Wood Stain Information
How Do Wood Stains Work?
The ingredients and pigments penetrate deep into the wood, offering reliable long-term protection against moisture and rot, UV-Rays, mould, algae and fungi like blue stain as well as insects including nesting wasps. By killing algae, it prevents slippery and dangerous decking. Look for a product that does not flake and is fully breathable too.

When can I use a wood stain?
As well as decking, some wood preservers can be used for almost all outdoor timbers including both soft and hardwood. This includes banisters, gates, high-quality fences, garden pavilions, bridges, facades, roof eaves, shutters and balcony railings.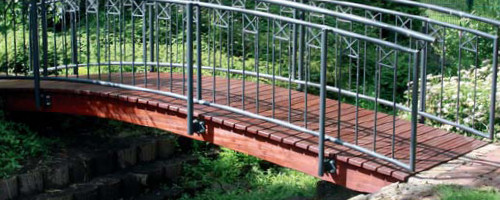 Click through for more on timber treatments.