Shed, Fencing & Decking
More information on Shed, Fencing & Decking
Garden Wood Treatments
If you want wood to remain beautiful for a long time, an exterior wood treatment is needed that penetrates deep into the wood but still allows it to breathe.
Permagard are proud to stock a premium exterior wood treatment range from Remmers. Remmers are a leading German timber treatment manufacturer supplying high quality exterior wood treatments for timber facades, roof eaves, shutters & balcony railings, high quality fences, palisades & pergolas, arbours & carports, decking, bridges & foot bridges, screen walls, sheds and log cabins.
The Remmers exterior wood treatment range of products protect timber against six main factors that have a detrimental effect on wood outdoors. These are:
Blue Stain
Rot
Insect attack
Mould and Algae
UV Rays
Moisture
Fence Treatment
For high quality colour and preservation of fences, we suggest the use of Aidol HK Stain fence treatment. This multi use wood treatment can be used as a very high performing, high yielding fence treatment for rapid transformation of old greying fences into new rich coloured fences. Simply brush or spray apply this high quality fence treatment over the target surfaces for a long lasting transformation. Read our guide on how to paint and treat fences.
Log Cabin and Shed Treatment
For a streak free, high quality coloured finish to log cabins and external smooth finished sheds and out buildings, we recommend the use of Aidol HK Stain as your shed treatment of choice. Once the product has penetrated this high quality shed treatment leaves a perfect finish.
Decking treatment
For longer lasting decking treatment, we highly recommend the use of HK Stain to protect the decking from UV Rays, weather, mould and algae and turning grey. A long lasting high performance decking treatment.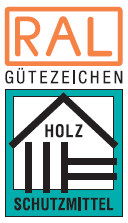 The Aidol range of coloured fence treatments, shed treatments have been awarded the "RAL Wood Preservative" mark of quality after official evaluation of its effectiveness against wood pests and official evaluation of its safety in regard to health and the environment when used as directed.
For fence treatment, shed treatment or decking treatment advice, call our specialist advisors today.
More
Best Selling Shed, Fencing & Decking Products