Many antique-lovers are left disappointed and frustrated when they discover that woodworm has damaged their antique furniture. Not only does it detract from the look of the furniture but it may also devalue it.
Our guide takes you though what tell-tale signs to look out for and how to restore the damage.
Antique furniture is likely to be exposed to damage by woodworm at some point during its life. As antique furniture ages it passes from owner to owner, house to house and at some point either during storage, movement or in its pride of place it may be exposed to wood boring insects.
Antique furniture is likely to have never been treated with a wood preservative in its manufacturing process meaning it is not protected against wood boring insects. Some furniture that is constructed with the use of soft wood may be more prone to attack as woodworm are particularly attracted to softwoods.
The types of wood commonly susceptible to infestations are beech, birch, cherry, spruce and alder. Solid mahogany is less likely to suffer from woodworm damage, however some mahogany furniture is in fact a veneer laid on a cheaper and softer wood. Even hard woods such as oak can still be subject to wood boring insect attack so it's therefore important to still examine all furniture closely for any potential damage.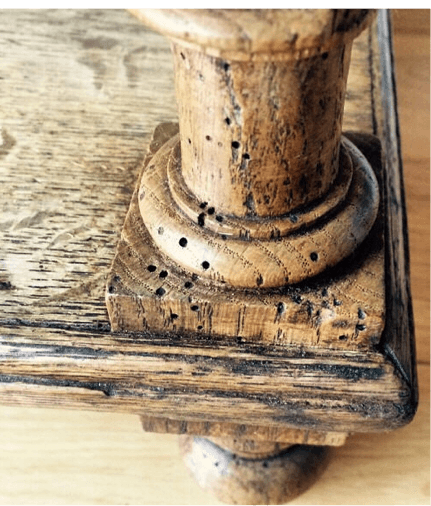 Photo credit: Mariposas Furniture via Foter.com / CC BY-ND
How to spot woodworm when buying antique furniture
When shopping for antique furniture, make sure you examine the piece thoroughly to see if it has suffered from an infestation. You will notice tiny holes present, indicating that woodworm have been eating their way through the wood. You may also notice a cluster of pearly eggs in the cracks or crevices in the wood. Also be aware of any darker hole shape marks that may have been restored and filled with filler or waxes which are tell-tale signs that the furniture has been damaged at some point in its life.
To determine whether the infestation is still active, sharply tap the furniture to see if any light-coloured bore dust spills out of the tiny holes. As a general rule of thumb, the older the furniture, the more chance it has had to come in contact with woodworm in its life, so examine extremely old pieces thoroughly before bringing the piece into contact with other furniture.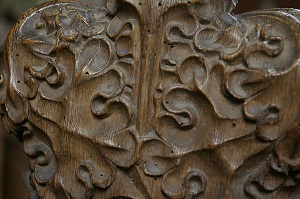 Photo credit: Andrea Kirkby / CC BY-NC
How to treat woodworm
The most effective way to restore antique furniture for woodworm damage is to seek advice from restoration specialists. These professionals are trained to restore the structural integrity and aesthetics of wooden furniture that has been affected by a woodworm infestation.
However, if you want to treat the antique furniture yourself, there are successful methods that will eliminate the infestation. Firstly where possible apply a ready to use woodworm killer to the area and into the holes (you will need to remove any waxes or varnishes so the treatment can penetrate the wood). Then once dry simply melt beewax and tint it into the colour of the wood and fill in the holes. This is a quick aesthetic fix, but it does not guarantee prolonged protection as you are only treating localised areas.
If you are concerned that you have woodworm in your home's structural timber, read our guide to treating woodworm in timber.
Treating minor damage
The tip to treating a woodworm infestation is to be thorough. Remove all signs of bore hole dust also known as frass with a vacuum. When treating any furniture it is imperative that the treatment is applied to the wood itself so any previous coatings for example waxs, oils and varnishes are removed allowing the product to penetrate into the wood and eliminate wood worm. The insecticide is effective against all life stages of wood boring insects and can be applied to the furniture by brush or by spray.
For professional restoration, use either a ready to use woodworm killer for smaller areas or for large areas use an insecticide concentrate such as Lignum Pro I62.5 Insecticide to treat the antique furniture. Both products are highly advanced formulations effective at both eradicating wood boring insect infestations and also preventing wood boring insect attack. They are both registered with HSE and conform to BS EN Standards.
The water based formulation means the product is low VOC however we always suggest the product is used in a well ventilated area and the label instructions are adhered to. Woodworm treatment should not affect the finish of the wood however we always suggest a small bit is tested on an inconspicuous section before the main application.
Once prepared begin applying the fluid, making sure that every crack or crevice has been treated. Glued blocks on antique furniture are prone to woodworm, purely because of the wood's softness therefore make sure these are treated too. Once the antique furniture has been treated, beeswax can be applied to conceal the flight holes.
Treating excessive damage
You will need to apply the woodworm treatment in the same manor as described above. If the damage to the antique furniture is excessive and the colour of the wood is hard to match, you can conceal the damage with 'wood putty.' Simply sand the unfinished wood with sandpaper and collect the sawdust in a cup. You can then stir in wood glue with a tongue depressor until it reaches a paste consistency. Insert the mixture into the holes and immediately wipe away any excess with a damp cloth. Leave the mixture to dry and complete any touch-ups if needed.
How to prevent woodworm in wooden furniture
If a piece of furniture has signs of woodworm damage you want to avoid any risk of the infestation spreading. It is vital not to leave an affected piece of furniture near any other wood source to prevent the problem spreading. This includes doors and cabinets.
It is a good idea to treat any other items of wooden furniture that were close to the affected piece, purely for extra protection and peace of mind.
For future prevention of a woodworm infestation you should also monitor moisture levels and ensure attics, garages and storage units are well ventilated. You can read our guide on How to Ventilate Your House for help with this.
Antique furniture is best treated for woodworm damage using professional products to guarantee prolonged protection and protection against future outbreaks. For questions on Lignum woodworm treatment and how to treat woodworm infested antique furniture, contact Permagard today on 0117 982 3282.
Related content:
Browse our range of timber treatments.
Read our guide on How to Treat Woodworm