What is a liquid epoxy DPM?
A liquid epoxy damp proof membrane (DPM) is a two-component epoxy resin membrane, specifically designed to be applied to damp floors to create a barrier between your floor and the layer below. Liquid epoxy DPMs are ideal for concrete floors, such as garages, where the original damp proof membrane is missing or has broken down.
How does the liquid epoxy membrane work?
Used on concrete floors and fine concrete screeds, the solvent-free liquid membrane reduces the passage of water vapour and acts as a barrier against residual moisture. The liquid damp proof membrane must only be used on concrete floors that are thicker than 50mm. For optimum results, the surface you want to damp proof must be of sufficient quality ( no cracking or pits, loose material) and free from debris and residual contaminants to ensure you achieve an even coating.
How to prepare the surface before applying liquid epoxy DPM?
It is important that you prepare your concrete surface before applying an epoxy DPM. First of all remove all previous coatings and surface contaminants, especially any flooring adhesive and bitumen coatings. Remove any debris by vacuuming the area. The surface should also be free from any surface water before you apply the liquid damp proofing membrane. New concrete slabs and cement screeds are particularly prone to surface laitance. This is a weak, friable layer that appears on the surface after curing which can range from fine dust to several millimetres thick or more. If this is not removed, the subsequent coatings have a high risk of failure. Shot blasting and grinding are a good way of removing the laitance but vacuuming would not work.
How do I apply an epoxy damp proof membrane?
Start by mixing the two components together by kneading the contents of the bag intensively for at least 60 seconds. Don't exert too much pressure on the bag – you want to avoid bursting it. A uniform resin should be achieved; make sure both colour liquids mix evenly and there are no streaks.
Once mixed, the best method to apply the epoxy DPM is using a nylon roller. Areas of the concrete which need more coats than the standard two* should be built up, allowing no less than 24 hours and not more than 48 hours between coats. 
*You will require a third coat is if the reading of a surface hygrometer is between 92-97% relative humidity before anything has been applied. A reading like this means that the concrete is saturated.
Once dry, your floor will now be sealed and an optimum surface for your flooring or tiles.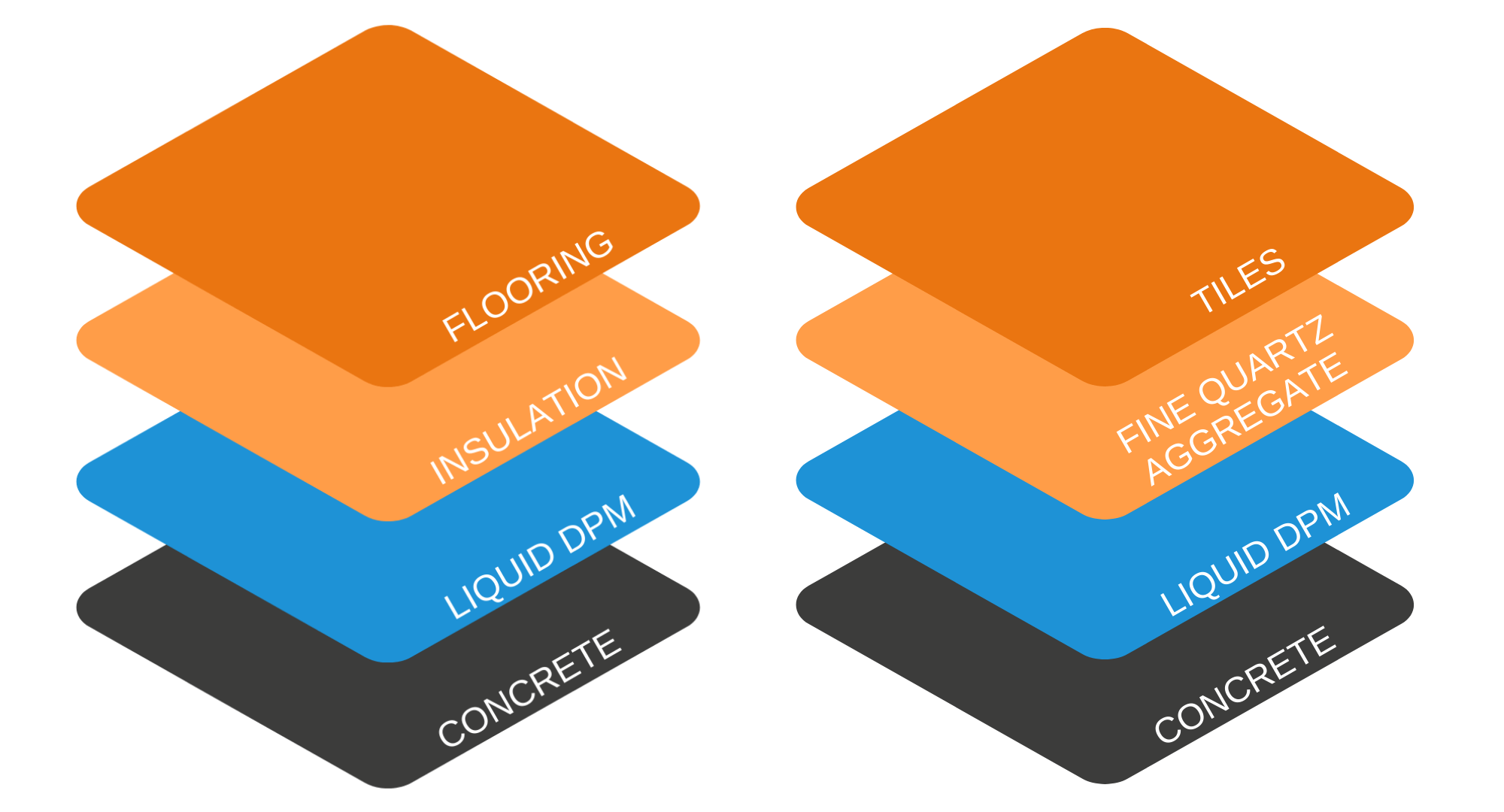 Health & Safety
Remember to wear protective clothing, such as gloves and glasses to protect your skin and eyes.
Permagard – Providing Solutions. Inspiring Confidence
For more information on applying liquid epoxy damp proof membranes, epoxy flooring membranes or other damp proofing products, contact us today. Our expert team is always happy to help and share their expertise.
Read our guide to How to install epoxy flooring.