It is easy to understand why epoxy flooring is such a popular choice as a floor coating. Hard-wearing and durable, it can cope with even the most demanding situations. On top of this, it is attractive, easy to install and cost effective.
Epoxy resin floor coatings have been widely used commercially for many years. In recent times, it is becoming an increasingly popular option in garages and other residential situations. The high gloss and professional finish that can be achieved with epoxy floor coatings has the ability to transform a space while still delivering a wide range of practical benefits.
Unlike other flooring types, you only have one shot at getting the installation right. This guide is designed to provide an overview of epoxy flooring applications, both commercial and residential, and take you through the application process in more detail.
If you are looking for detailed epoxy flooring installation guidelines then click below to go straight there:
What is epoxy flooring?
Epoxy flooring is made up of two main components – resins and hardeners. When these two components are combined, a chemical reaction takes place that forms a rigid epoxy material. This epoxy material bonds with the substrate. When it cures, it provides a strong, hard-wearing coating that protects concrete from both mechanical and chemical stress.The concrete is no longer porous, making it easy to clean.
Epoxy flooring pictures
So what does epoxy floors look like? Many people want to see the finishes that are achievable with epoxy so we have featured a number of epoxy flooring pictures below. These have not been photoshopped so should give you an idea of how it actually looks: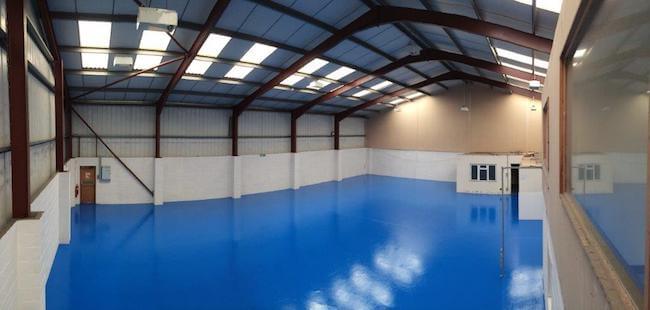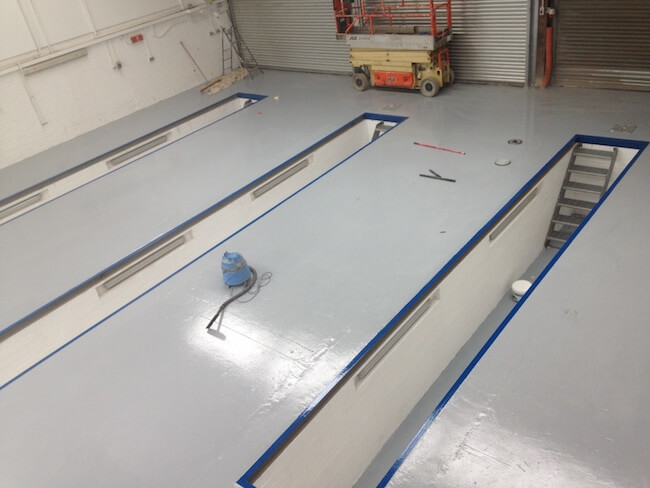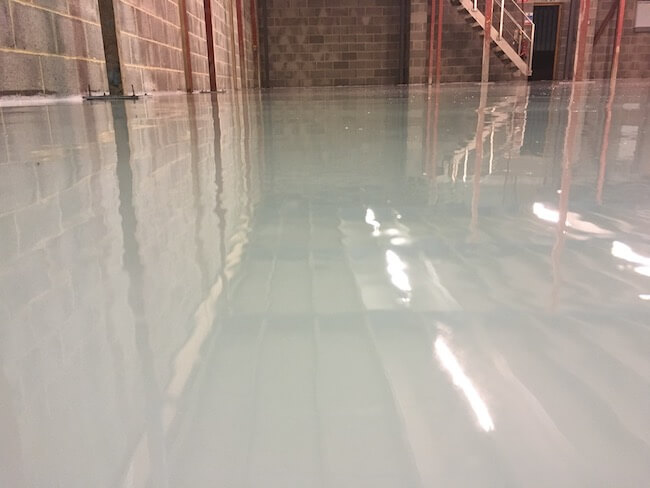 Why choose epoxy flooring?
There are a number of reasons why people choose epoxy flooring. It all depends on your own requirements and the environment. Epoxy floors provide a sealed, continuous and hygienic floor surface when cured and deliver a range of benefits.
Benefits of Epoxy Flooring
Hard-wearing and durable – resistant to wear even in high traffic areas and industrial environments
Attractive fashionable finish – epoxy comes in a range of different colours and finishes, which can be used by professional installers to create designs & patterns to match your style requirements.
Non-dusting – can be applied over concrete floors to prevent issues with concrete dust in unsealed floors
Damp Proof Membranes – for installation where a DPM has never been installed or has broken down over time
Provides a smooth and even surface (not self levelling)
Easy to clean – low maintenance floor option
Affordable – a cost effective flooring option. Click to find out more about the costs of epoxy flooring
Highly resistant to chemicals – chemically resistant even to potent chemicals
Heat and water-resistant
Safe – anti-slip properties & resistant to extreme impact
Alternatives to Epoxy Flooring
There are a number of alternatives to epoxy flooring that you may want to consider before making a final decision. You may want to consider floating timber flooring, stone flooring, tiles and vinyl. There is also the option to work with the raw concrete by polishing or staining it.
Epoxy flooring vs tiles
Floor tiles are a popular form of flooring in many homes. In terms of residential applications, they are attractive, easy to clean and durable to a degree.
For installation into homes we suggest a professional installer is consulted to ensure the finish required is achieved and the correct preparation and materials are used.
Epoxy flooring vs stained concrete
It is possible to add colour to concrete to create a visually arresting floor finish. These include acid stains that can be applied directly to the concrete.
The issue with stained concrete is control with finishes tending to vary significantly. They tend to highlight any differences in the concrete. With epoxy flooring, you get a much more uniform appearance and a whole range of additional desirable qualities.
Epoxy flooring vs polished concrete
It is possible to polish concrete to achieve a decorative and hard-wearing finish. The process involves diamond grinding the concrete then treating it with a chemical densifier. You can then polish the floor to a high level for an easy to clean and aesthetically pleasing finish that improves with age.
According to Homebuilding.co.uk, polished concrete floors cost "upwards of £115/m²" making them an expensive option. As with concrete staining, you can also expect the finish to vary. Polished floors are also vulnerable to stains.
Epoxy Flooring Design (Designs and Colours)
There is considerable scope for creativity with epoxy flooring designs, with a range of designs and colours available. The product is flexible – you can add paint flakes, metallic pigments, quartz aggregate to it as well as patterns and bold colours. The list is pretty much endless and will depend massively on the contractor's ability and design skill.
Popular colours are a range of greys scales from light grey through to darker shades, clear, as well as reds, greens and blues.
The epoxy floor colours you choose should tie in with the overall design aesthetic and function of the room. The BBC provides a comprehensive guide to colour choices that apply to epoxy flooring.
Applications for Epoxy Resin Floor Coating
Epoxy resin flooring can be used for both commercial and residential purposes. There are several key considerations when using it in different situations. It may be that you need a higher grade flooring in some industrial settings and that epoxy flooring isn't suitable in all domestic settings.
Commercial Uses
Epoxy flooring has been popular for a range of commercial uses for decades.
Its versatility means it can be applied to concrete, cement screed and cement render. It also has a number of highly desirable and necessary qualities.
Epoxy flooring is also an economical option, providing long term protection to existing concrete as well as extending the life of new concrete.
In terms of commercial use, epoxy flooring is often a preferred choice for floor coating because of its qualities and the speed of installation. It can be applied quickly and then with a short curing time, it means that any downtime is dramatically limited. This is essential for most modern commercial enterprises. You can also get an anti-slip additive to protect staff.
In commercial environments, you need an industrial grade epoxy such as the Permagard industrial Epoxy Resin Floor Coating. This is a high build epoxy resin coating for application as a heavy duty coating at a thickness from 200 to 500 microns.
The high gloss finish is extremely hard-wearing and has good general chemical resistance. When applied to a surface, this gives a dry coat thickness of nearly four times the thickness of a standard epoxy coating. This more substantial coating creates a tough, resilient, corrosion and abrasion resistant finish required for industrial uses.
With the product finishes improving all the time, it is more popular than ever in the following scenarios:
Epoxy Flooring for Warehouses & Industrial Units
There are a number of potential problems with unfinished concrete for warehouses. Many of these centre around dust. Concrete dust can cause issues by getting into machinery, making stock look dirty, and even impacting the health of workers as the fine dust becomes airborne.
When considering epoxy flooring for industrial units, warehouses and factories, you need to consider the traffic levels of vehicles and people. Epoxy flooring is most important in heavy traffic areas and fast-paced environments. The protection it provides concrete is mechanical as well as giving it chemical resistance. This makes it is ideal for industrial environments.
Epoxy flooring can also be used for demarcation of specific areas. For example, when demarcating pedestrian use, pallet storage and forklift movement areas. This is essential in a busy industrial area for good health and safety practice.
Epoxy Flooring for Gyms
Being slip-resistant, easy to clean and economical makes epoxy flooring a popular choice for gyms. The high gloss colours and design options can also help create a strong visual identity for your gym.
Epoxy flooring for Offices
Durability and bold aesthetics make epoxy flooring a good option for office spaces. Available in a range of colours and effects, they are also easy to clean and maintain.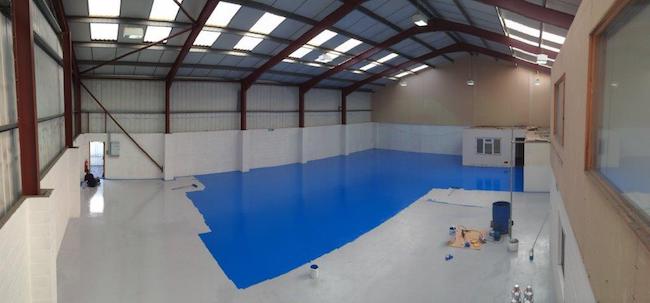 Residential Uses
Epoxy flooring inside homes is an option, however requires a high specification finish and would need to be installed by specialists for example Sphere8 - the specialist epoxy floor coating company can guide you through the available options & finishes and guarantee they deliver that quality epoxy flooring solution free from defects.
Epoxy Flooring for Garages
Epoxy flooring is a good and very popular option for garages – both commercially and residentially. Epoxy is resistant to oil, petrol, transmission fluid, cleansers and other chemicals that can be found in a garage. It's also easy to wipe clean and dust.
To apply epoxy flooring in garages, you need to follow the usual installation instructions, but you need to make extra sure that any floor contaminants are removed before the application of the epoxy floor coating. We would recommend using a primer. For example, our epoxy floor coating followed by a coat of Epoxy HB and then more coats if higher protection is required.
You can read our full guide to applying an epoxy garage floor.
Epoxy Flooring for Kitchens
In kitchens, epoxy flooring is a hygienic option as anti-microbial additives can make it resistant to bacteria and germs. This makes it very easy to sanitise. Epoxy flooring is widely used in commercial kitchens as it can cope with high temperatures, oil spills and have anti-slip properties. It is also a good option for homes if the quality of the concrete is good.
Epoxy Flooring for Basements
Epoxy flooring can be a good option for basements depending on how you plan to use your basement. Epoxy flooring is a great hard-wearing option for basements used for storage.
Epoxy flooring can act as a liquid damp proof membrane so would protect items stored on a basement floor from the effects of a damp concrete slab. However, they should not be used where active water ingress is present nor in an environment where a waterproofing system should be used. In general, they should be applied as a floor finish to a dry and well-ventilated basement.
If you have a wet basement and require a waterproofing system seek our technical help.
How to apply epoxy flooring
Applying epoxy flooring is relatively straightforward and anyone with basic DIY skills should be able to apply it. However, in order to get a seamless high specification finish you should use a professional.
Epoxy Resin is not a self-levelling product and you cannot simply apply it in larger quantities. You should always level the floor first then apply the coating to get the best finish.
1. Preparation
You need to begin by removing everything from the room. Once you can access the entire floor, you should sweep and vacuum the area to ensure it is free from dust and debris.
If you come across any cracks, chips or other damage to the concrete, you will need to repair these. A fast epoxy repair mortar can be used.
You need to ensure the concrete slab is also free from any grease, oil or solvents before applying the epoxy. All of these have the potential to reduce the bond with the substrate so need to be removed completely. You should use mechanical surface scrabbling as well as grit blast to prepare the concrete slab for epoxy. Remember preparation is key to a good epoxy floor.
Using a Primer
Prepping for an epoxy floor can be time-consuming but it is vitally important to have a clean concrete slab before applying the flooring.
We recommend using a FAS Primer if the concrete slab may be contaminated in any way. The primer is applied before the epoxy floor coating and helps ensure the main floor coating bonds well. On a clean floor you can use either grey or clear epoxy coating as a primer. As this is a thinner product, it has better penetration into the concrete. You can then use the Epoxy HB Floor Coating to add the hard-wearing and high gloss finish.
How many epoxy floor coating layers do I need?
A minimum of two coats is advisable for the best coverage and colour results. You should also use the correct primer if the surface is contaminated.
If your concrete is entirely free from oil and any other contaminates, you can use one coat of the standard epoxy and one coat of HB.
Epoxy Floor Coating – 50 microns
Epoxy HB - 200 to 500 microns
You will need to wait for 24 to 36 hours before applying the HB. You can then repeat coats of the HB to build up thickness/ longevity of service. The more coats you apply at this stage the longer the floor will last.
Important note: Epoxy floor coatings are not self-levelling. As epoxy is not a self-levelling material, you will need to apply a self-levelling compound before the epoxy application. If this is before an Epoxy Damp Proof Membrane, it will need to be waterproof.
2. Mixing
Open the base and hardener components. Mix both components independently before adding them together in the larger container. With some products the container will not be big enough so we suggest having a clean bucket to hand.
Thoroughly mix the two components together using a mixing paddle attached to an electric high speed drill. Do this for a minimum of two minutes and until the mixture is streak-free and all one colour.
You should not leave the coating in the container, but instead transfer it to a large roller tray, ready for rolling. Some people prefer to pour the coating directly onto the slab and roller from there.
Important Note: You have a bucket life of approximately 30 mins. This means that you need to start rolling the coating straightaway.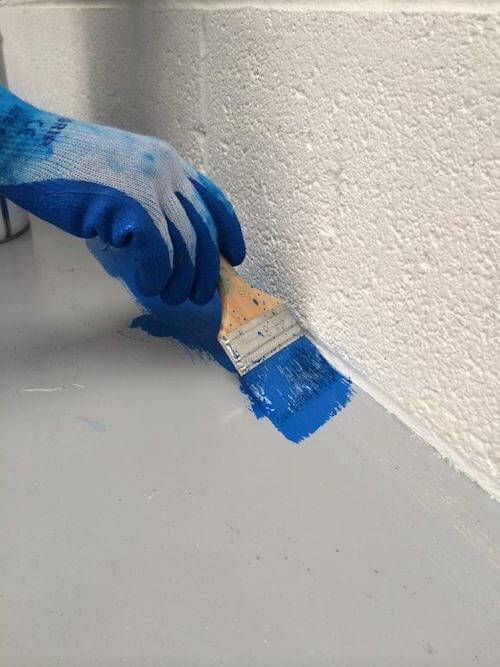 3. Applying the Coating
When it comes to applying the epoxy floor coating, you will want to read the manufacturer's instructions and follow them closely. The following is based on Permagard's epoxy floor coating.
In small areas, a garage for example, one person can apply the epoxy to the perimeter keeping an eye on the working pot life then roll the internal area.
It is advisable in larger areas to have two or more applicators. This means one person is able to brush apply the coating to the perimeter of the room whilst the other starts from a set point and rolls out from there.
You should start to apply the epoxy immediately to the concrete slab using a short/ medium pile roller. We highly recommend using the cross-rolling method.
Cross-Rolling
It is highly recommended to cross-roller when applying epoxy flooring. You should do this section by section. This method involves rolling the coating front to back (vertical) and then left to right (horizontal) without reapplying the coating to the roller. This should help ensure an even coat and removes air from the coating to avoid bubbles.
The clear epoxy starts out white but dries to a clear semi-gloss finish.
Note: Once mixed, you only have 30-45mins depending on the product to apply it to the surface. This means that any epoxy coating you don't use will be unusable and therefore waste. It cannot be used for the next coat. Do not over apply or apply in single thick coats as this may crack or lead to uncured product.
Tip – it can be useful to use an extended roller to make the job easier.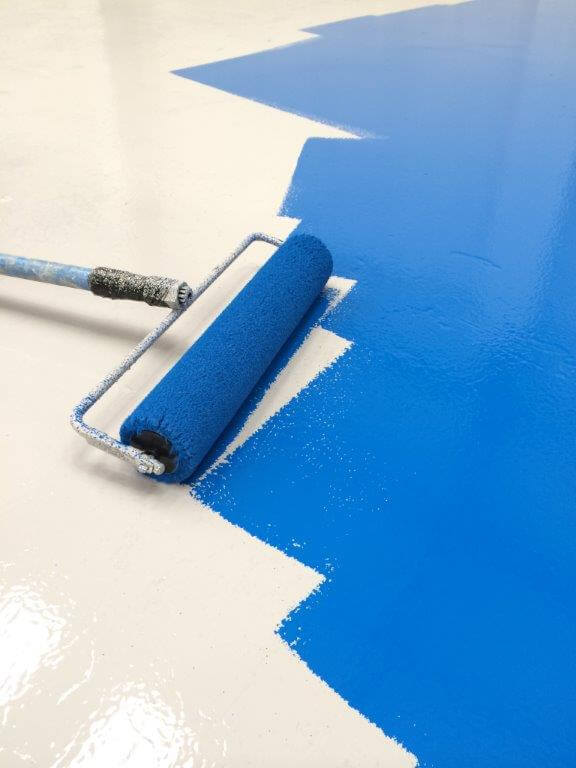 4. Clean tools
We recommend tools are cleaned with hot soapy water however roller heads and brushes should be discarded.
5. Apply a Second Coat
Allow at least 12 hours to dry between coats and no more than 48 hours. Although the floor will be touch dry after a few hours, it takes a few days to cure properly.
It is vital to provide as much ventilation as possible to the area to help the epoxy to dry. Applying Epoxy Floor Coating in cold, damp, non-ventilated environments can delay drying for long periods of time. Also observe application temperatures on the side of the container and do not use outside of these conditions.
How to clean epoxy floors
Although epoxy floors are low maintenance, it is important to clean them regularly. This will extend their lives and avoid issues with scratches, punctures and chipping.
Start by vacuuming or sweeping away any bits of debris. This helps avoid scratches when mopping.
We recommend using a synthetic hard foam mop on the epoxy floor with hot water and a non-acid cleaner. You can then rinse with hot water to remove residue and dry with a squeegee. This helps keep your floors looking their best.
Note: Deal with spills quickly using a cloth or paper towel.
Epoxy Flooring Cost
Most people want to know how much epoxy flooring costs, especially when compared to alternatives. The costs of epoxy flooring must account for both the product and labour costs. Having said that, it is possible for people with a good grounding in DIY to complete the tasks themselves.
At Permagard, you can buy our standard epoxy floor coating in two colours Grey and Clear. They cost £47.50 (excl. VAT) each for 5kg. We also have the thick HB epoxy coating at £51 (excl. VAT) for 5kg. The FAS primer costs £58.75 (excl. VAT) for 2.5kg.
The coverage rate for the standard Epoxy Flooring product is 0.2 kg / m², this equates to approximately 25m² per 5kg. The coverage rate for the HB is 0.25 kg / m², approximately 20m² per 5kg.
Therefore:

One coat of standard epoxy flooring = £47.50 per 25 m².
One coat of HB epoxy flooring = £51.00 per 20 m².
Permagard - Providing Solutions. Inspiring Confidence.
Permagard are a family business involved in damp proofing, basement waterproofing and epoxy flooring for over 30 years. Our professional products are available at low trade prices. If you have any questions regarding epoxy flooring then please contact us for free technical advice.
Browse our full range of flooring options and epoxy floor coatings.