Damp proof paint is specifically formulated to protect against damp interior walls. This type of paint can also be used as a primer, prior to painting with a decorative finish paint.
A quick reminder - damp proofing should NOT be used as an alternative to solving any underlying damp problems. Damp must be treated correctly before damp proofing paint is applied. Any areas of concern should be investigated by a professional. For help with finding the source of damp read our guide to identifying the causes of damp in your home.
Applying Damp Proof Paint
Before the paint is applied, the affected area must be clean. This means any old paint and coatings must be removed. The area must then be free from mould, fungi, lichen and any other debris before application. A mould wash concentrate can be used for this, simply apply the solution and scrape the mould and debris away.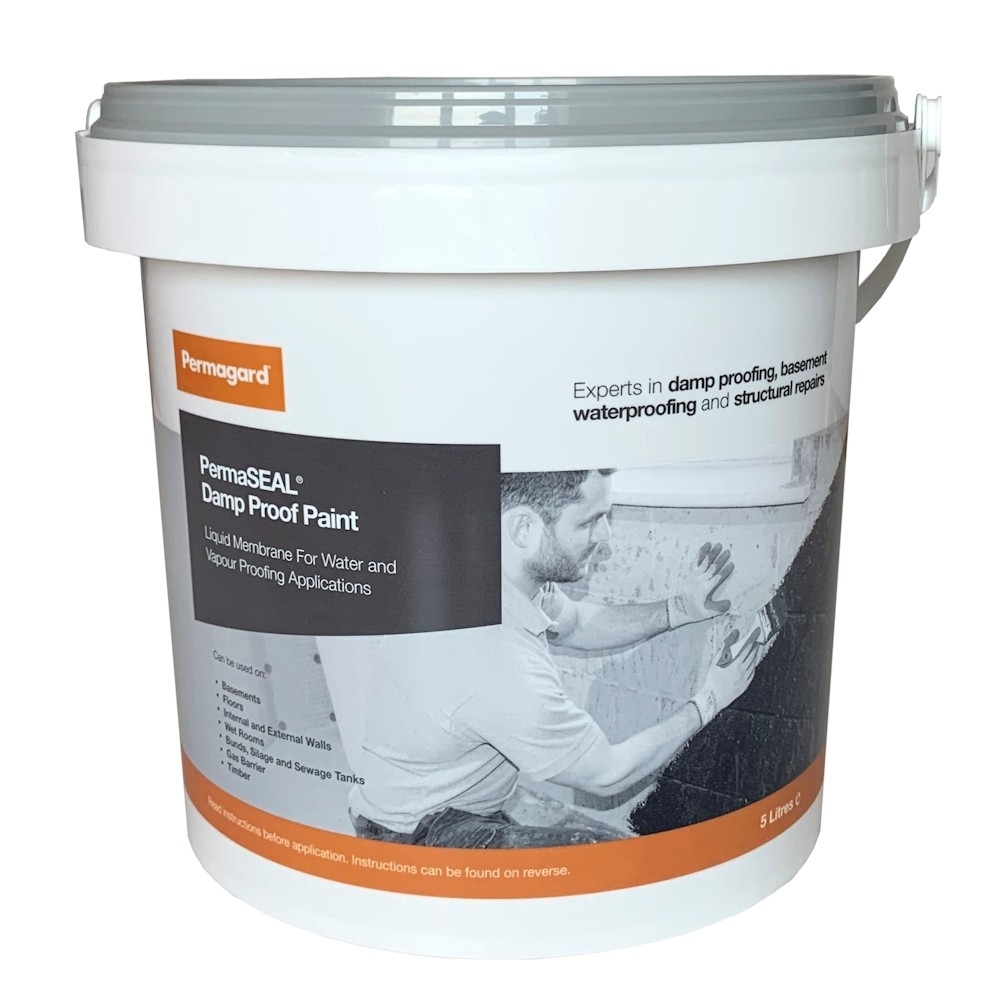 At Permagard, we are pleased to recommend PermaSEAL Damp Proof Paint, a product which can be used on a variety of surfaces for damp proofing and vapour applications.
PermaSEAL damp proofing paint can be applied to:
• Cement
• Brick
• Plaster
• Concrete
PermaSEAL has a consistency similar to thick emulsion paint and is available in either a black or white membrane coating. The paint is flexible as well as UV light and abrasion resistant.
Damp proof paint can be applied to a surface with a brush, roller or spray, whichever method you prefer. The paint usually dries within one hour, but we recommend leaving for a few more minutes before applying another coat.
The advantages of PermaSEAL damp proof paint
The single pack system allows the user to use the amount of damp proof paint they need and then fix the lid back into place to save for later use.
The damp proof paint is a user-friendly and non-toxic product, free from solvent and plasticiser. Another advantage is its resistance to alkaline surfaces and silage acids.
The product can be applied to damp backgrounds, but not those that are covered in surface water. It has excellent bridging properties and is flexible, tough and extensible.
After application you will find no staining or stain blocking. The damp proof paint will create a smooth, flawless finish, drying in approximately one hour, making re-application far more efficient.
Damp Proof Paint Tips
If you are sanding any affected area before applying the paint, make sure you wear an appropriate mask to avoid dust inhalation.
Use the paint as specified. The product must not be stretched to cover large affected areas. For more severely affected areas, such as those suffering from water ingress, use PermaSEAL Tanking Slurry as a waterproof barrier.
More Information on Damp
For more information on our PermaSEAL damp proof paint or any of our damp proofing products, contact us today.
Read our complete guide on How to Get Rid of Damp for more practical advice and information on treating damp on walls.