Many people have had some experience with damp in their homes and it's never a good one. Damp feels like an invasion. As well as attacking your walls, the plaster, décor, furniture, and clothes, damp can do serious damage to the structure of your building. It also looks unpleasant and smells bad. On top of all this, a damp atmosphere and airborne mould spores are bad for your health (mould can exacerbate respiratory conditions as well as eczema – read more on the health issues on the NHS) and can soon make your home unwelcoming.
At Permagard, we have been dealing with damp issues for decades. We have introduced new products specifically developed to help tackle issues with damp and prevent it from reoccurring.
Many people want to know how to stop damp and stop it from coming back. We decided to create this guide to give you all the information you need to identify and treat the damp that is affecting your home.
Types of Damp
In the following section, we take you through the main types of damp including how to identify the type of damp you have and the solutions available. It is possible to have a combination of damp problems that can make diagnosis more complicated. Read on or use the links below to learn more about identifying and fixing each type of damp.
- Condensation
- Penetrating Damp
- Rising Damp
How to Stop Damp
Stopping damp all depends on identifying what type of damp you have. Once you've identified the damp, you will usually need to solve the root cause. There are then a number of professional products available that can stop damp from coming back and make good the affected area.
If you are concerned about developing a damp problem, there are some steps you can take to prevent mould and damp. These can involve behavioural changes as well as some preventative products. We cover all of these in the following sections.

What Is Condensation?
The air in our homes contains water vapour from cooking, washing, drying clothes and other activities. During cold weather this warm, moist air (warm air holds more moisture than cold air) travels to cooler parts of your house. The excess water vapour in the air then deposits on cold, impermeable surfaces such as windows and, in some cases, walls. This is called condensation. Condensation can also occur in less visible places like behind furniture, blocked-in fireplaces and underneath laminate flooring.
---
Do I Have Condensation?
Your home may be suffering from condensation if you can identify any of the following symptoms:
- Steamed-up windows and puddles on the window sills
- Wet walls that are damp to touch
- Damp peeling wallpaper
- Black spotty mould on walls and ceilings – common in bathrooms
- Musty smell

A sign of condensation - black mould on the ceiling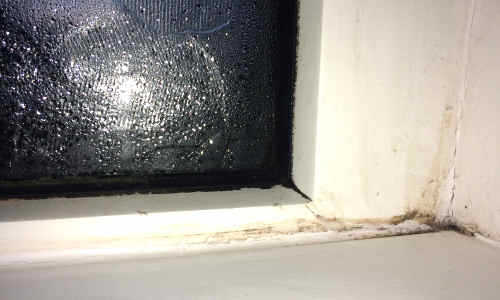 A sign of condensation - water droplets and black mould caused by puddles on window sill
---
How do I Stop Condensation?
Good ventilation and regulated heating are the most effective ways of stopping condensation. You may consider a combination of the following to stop condensation:
- Better ventilation – opening windows to allow air to circulate or cross ventilate by opening windows slightly at opposite sides of the house. Locally-installed bathroom or kitchen humidity controlled extractor fans or whole home ventilation systems such as Nuaire Drimaster Eco will prevent condensation.
- In Kitchens and bathrooms use a humidity controlled extractor fan to remove excess moisture. Keep the doors shut too to stop moisture spreading throughout your home.
- Regulate heating so that is constantly on at a lower heat. Preventing rapid changes in the temperature will help reduce condensation.
- Create less moisture – put lids on pans when cooking, add cold water before hot water when running a bath, dry clothes outdoors or in a room with a humidity controlled extractor fan, avoid drying damp clothes on warm radiators
- Better insulation such as cavity wall insulation can help prevent cold patches on walls reducing the risk of condensation problems.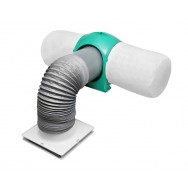 Prevent condensation with Nuaire drimaster Eco PIV system
In order to tackle any mould that has formed as a result of condensation, you may consider using the following:
- A fungicidal Mould Wash
- Condensation Control Products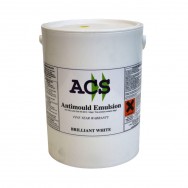 ---
Further Reading on Condensation
- Read our article on 6 Easy Ways to Stop Condensation Build-Up

What is Penetrating Damp?
Penetrating damp occurs when water from outside penetrates through the building substrate through a variety of building defects including faulty joints, incorrectly installed windows and doors, failed external render, damaged or blocked guttering, leaking downpipes, faulty roofing including missing or damaged tiles, or through absorbent substrates. All of these relatively common issues result in moisture penetrating your home. The problem is usually seen in older properties and exacerbated after rainfall.
Penetrating damp can cause a range of serious issues to the structure of your building.
Any water entering your building can cause surface staining and de-bonding of paint etc however it is the hidden components within the structure of the building that can be badly affected and can cause major issues. For example corrosion of wall ties, rotting of timber lintels and floor joists which can lead to wet and dry rot, masonry can be affected by freezing of water ingress causing spalling of the surface and eventual de-bonding of brick faces, renders etc.
---
Do I Have Penetrating Damp?
Your home may be suffering from penetrating damp if you can identify any of the following symptoms:
- Damp and blotchy stains on plaster work
- Cracks or holes in mortar joints, renders and masonry surfaces
- Wet patches which are exaggerated after rainfall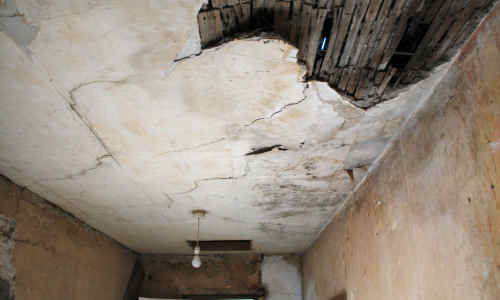 Penetrating Damp from leaking roof and gutters
---
How Do I Stop Penetrating Damp?
The priority is finding the cause of the penetrating damp. Start by looking at the common causes like your gutters and downpipes and any faulty roof coverings. Once you have identified the fault, get it repaired by an expert.
The following faults are worth checking:
- Check your roof space regularly for any signs of a leak such as wet timbers
- Check for faults with gutters, downpipes
- Check for faults with your walls such as pointing, damaged pebbledash
- Check window frames and doors for gaps
- Check flashing (where a roof meets the wall of a chimney)
---
Penetrating Damp Solutions
- External water repellents such as Microshield Ultra protect masonry from penetrating damp
---
Further Reading on Penetrating Damp
- There are several water repellents suitable for curing penetrating damp. View our top water repellents here.
- Read our guide on how to waterproof brick and masonry
- Read our guide to damp proofing internal walls

What is Rising Damp?
Rising damp is when ground water moves up through a wall. Most walls allow some water in, but it's usually stopped from causing damage by a barrier called a damp-proof course. This is usually a horizontal plastic or slate strip in the wall.
Most properties have a damp proof course which is a barrier normally made from plastic, bitumen or slate. It is installed when the wall is built and is designed to block moisture at a low level and prevent the occurrence of rising damp. If this is missing or ineffective, your wall may suffer from rising damp. Rising damp can also occur when the level of the ground outside your home is higher than your damp-proof course, allowing water to bridge the damp proof course and cause rising damp.
---
Do I have Rising Damp?
Your home may be suffering from rising damp if you can identify any of the following symptoms:
- A tide mark on your wall – this line of white salts is formed by the evaporation of the ground water
- White fluffy salts on the surface
- Damp on the lower half of your walls
- Damage to skirting boards
- Crumbling or blown plaster
- Peeling paint or wallpaper
- Musty, damp smell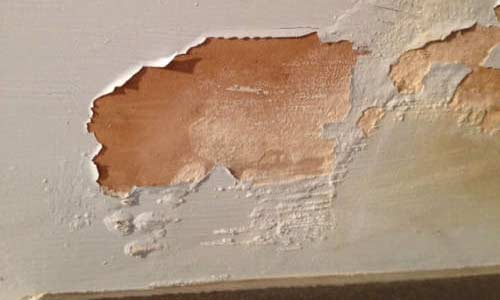 Rising Damp salts blowing paintwork
---
How do I Stop Rising Damp?
In order to deal with rising damp you have to ensure that your home's damp proof course is effective. A damp proof course ensures that moisture from the ground beneath is blocked. Rising damp can be both solved and prevented by installing a damp proof course. You will also need to ensure that any soil remains at least 6 inches below this level.
Treatments of rising damp revolve around installing and effective damp proof course. You can take the following actions or employ a damp specialist to carry out the following:
- Chemical damp-proof course - chemical solution (damp-proof cream) injected into the mortar joint of effected walls through drilled holes to create waterproof barrier and prevent moisture rising above the new damp proof course.
- Physical Damp Proof courses – a new damp proof membrane can be inserted by removing a course of brick work and bedding the new plastic membrane in before reinstating the bricks. Normally only 3-4 bricks are removed at once and we suggest the use of an expert when carrying out remedial works like this.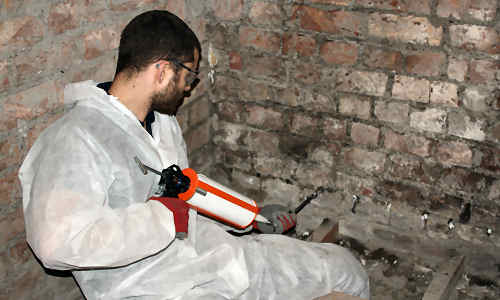 ---
Further Reading on Rising Damp
Read about How Damp Proofing Cream Treats Rising Damp
---
How Permagard Can Help
We know that damp can take many forms. If you can't find the information that you needed in this guide for tackling damp then give us a call. We are more than happy to discuss your issues and find a solution so you can enjoy a damp-free home.
With more than 30 years' of experience in the damp proofing industry, we have the expert knowledge that you need. We can offer non-partial advice on the damp proofing products available. Contact us now for more information.
If you are purchasing a property, here are some tips on how to spot damp when buying a new home.