Winter can be a time when we look to hibernate, doing our best to fill the long dark evenings and ignore the cold, miserable weather outside. In fact the winter season provides a fantastic opportunity to get work done around the house. This post looks at what to do this winter to ensure your house stays warm, dry and comfortable as well as what you can do to prepare.
Tips for keeping your home warm and dry in winter
Ventilation
Although it's tempting to keep all the doors and windows shut during the months winter, it's important to let your house breathe and keep air flowing. Open windows on opposite sides of the home for short periods to allow for cross ventilation.
You should also take steps to reduce the amount of moisture in your home. Always use the hob extractor if you have one when steaming or boiling food. Ensure a window is open when you take a shower. Dry wet clothes using a tumble dryer if possible and definitely avoid drying them on radiators.
It is a good idea to install ventilation units to control condensation. You have a number of options including Positive Input Ventilation units or passive ventilation options like the highly affordable and effective Perma-Vent. Check out our guide for more information on preventing condensation and ventilating your home.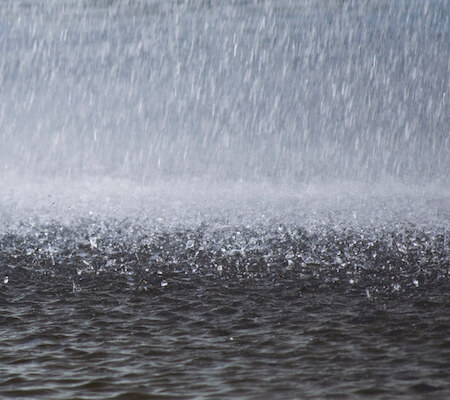 Use the Heating Regularly
It is important to establish a routine with your heating during winter months. Your property will need regular heat to stop condensation and damp forming – especially in bad weather. Set it so your heating comes on for short periods each day even when you're out for long periods.
Read our post to find out more about causes of damp in the home.
Keep Radiators Clear
As we amass belongings in our homes, it's easy to pile stuff up next to the radiators. This isn't efficient – it doesn't allow the heat to circulate properly and warm your home.
Damp Proofing
Tackling any issues with damp sooner rather than later is highly recommended. Find the root cause of any damp and fix it. Read our Big Damp Guide for help identifying and then remedying the issue. You can then redecorate and make your home feel welcoming once again.
Exterior walls that are exposed to the elements can be treated with a masonry water repellent to prevent water ingress. Visit our damp proofing pages for more information.
Install Insulation
If you are suffering from a cold, damp home, it's worth considering installing new insulation in order to heat up the entire property. It's a good idea to find out about the different ways of insulating your home. Insulation can have a positive effect on your property and its comfort levels in winter. There are lots of different ways to insulate your home and some of these can be done yourself.
Draught proofing
Draught Proofing your home will help keep it warm and save you money. Make sure any gaps around windows are covered and use draft excluders underneath doors to keep the cold wind at bay.
Which? Online have a good guide on keeping draughts out the home.
Check for Overhanging Vegetation
If you have a garden with lots of trees, hedges and overhanging vegetation, this may impact moisture levels of your home. Wet leaves and branches touching outer walls can create damp problems – it's best to get rid of problem vegatation as soon as possible.
Check your Roof
Damaged or slipped tiles can cause leaks into your property – even a small amount of water can lead to problems further down the line. Before winter, be sure to check the state of your roof from both the inside and outside (you can use binoculars to see potential issues from the outside). If you have problems with penetrating damp, solve the root issue and then consider external waterproofing products.
Clean the Gutters
Cleaning your gutters is a great way to help protect your home from damp in the winter. Blocked gutters are a common cause of penetrating damp. Whether there are plants growing in the gutter or it's just simply a case of leaves and other debris - they must be cleared, cleaned out and any cracks or damage repaired.
Look out for Hidden Leaks
Very cold weather can wreak havoc on your house's piping and water system. Be sure to wrap important exterior pipes in wadding or heating tape. You can mildly apply heat to frozen sections of pipe if the weather does take a turn for the worse.
Check the insulation on your pipes and make sure you know where your home's stopcock is if the worst does happen and a pipe cracks or bursts!
Make Sure the Chimney is Swept
If you have a wood burning stove or open hearth and haven't lit it for a while, there's likely to be a build-up of soot and creosote lining the inside of the chimney. It therefore makes sense to get your chimney swept.
While you are getting your chimney swept, make sure the damper works and the chimney itself draws the smoke out of the room. Having a fire in your home adds to the warm and cosy feeling.
You may notice damp around your chimney. If this is the case, read our guide to fixing damp chimneys.
Permagard - Providing Solutions, Inspiring Confidence
As you can see there are many things you can do to help your property this winter and make it a more enjoyable place to spend time. It's important to look after your home during poor weather. If you suspect you have some form of damp, then our experts can help you find the best product to get the job done.
Here at Permagard we produce and sell highly trusted damp proofing products. Feel free to contact us for advice or browse our range of damp proofing products to see which solutions suits you best.