We've all spent more time in our gardens in recent months - while this may have been out of necessity, it's certainly opened our eyes to what's possible. New trends have emerged and many are going to stick around.
Having family and friends over to enjoy long summer evenings, a few glasses of vino around a fire pit or a bbq in a sunken garden is definitely one of them. With more privacy, shelter and an opportunity to have a unique customised garden feature we can understand the appeal.
After the initial inspiration and sunken garden ideas, you need to move on to the practical elements. With sunken garden areas, these sit below the ground level and are therefore vulnerable to flooding. As experts in waterproofing and drainage systems, we're here to take you through the practical steps of sunken garden waterproofing and drainage as well as some inspiration.
TAKE ME DIRECTLY TO SUNKEN GARDEN DRAINAGE INFORMATION
What is a sunken garden?
Sunken gardens can refer to lots of different things so it's worth us clarifying what we mean. When we refer to a sunken garden, it is an area of the garden that is below ground level - a unique landscaped feature with sides / walls. Sometimes referred to as a sunken patio, these spaces provide a contemporary feel to gardens.
We are not referring to a sunken garden bed, which is a method of allowing water to drain to particular plants. These tend to not be very deep and designed to support plants only.
Sunken garden ideas
Whether you've got acres to play with or are looking for small sunken garden ideas, the key is to tailor them to your space and your requirements. You may want to focus on guests and entertaining, perhaps you want a pond, water feature or a selection of plants, or a hot tub for private relaxation. Be sure to consider what you want to use the space for, but also leave some room for adapting it over time. Here's some potential sunken garden ideas:
Nothing beats the warming glow of a fire! Imagine swapping tales with friends and family as the stars come out and the temperature drops. Whether you use gas fire bowls, a wood burner or a fire pit table, installing a fire pit in your sunken garden can create a warm and relaxed atmosphere that you and your loved ones can enjoy.
Fire pits work well for sunken gardens as they add to a cosy and social atmosphere. This is especially true in the evenings, where fires can be used to toast marshmallows or tell stories around. They're also a trendy feature and fit in perfectly with a contemporary garden.
When installing a fire pit in your sunken garden, its position must be considered. The last thing you want is smoke blowing all over your guests' faces. Take note of prevailing winds or consider rigging a chimney to help contain the smoke before it interrupts the peace and quiet. Safety is always a concern when fire is involved so make sure you have a fire extinguisher or fire blanket at hand. You should also consider choosing one on legs and place it a safe distance from sheds and your property.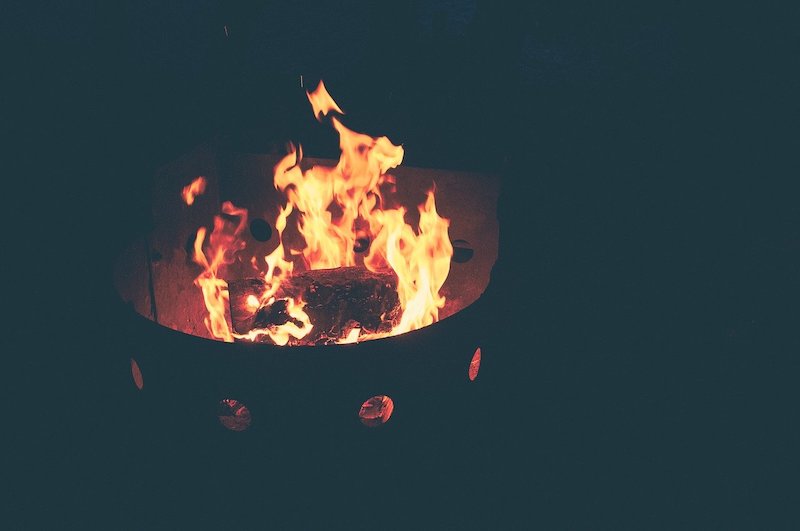 Who doesn't love pizza? And with pizza ovens easy to build or buy, you can now feature one in your sunken garden. Bubbling mozzarella, a crisp sourdough crust and ready in just a few minutes it really does provide delicious fuel for your outdoor socialising. But that's not your only option. If pizza isn't exactly what you fancy, barbecues also make great additions to any sunken garden. Crafting an outdoor kitchen or food zone helps turn your garden into a social space that your friends and family can enjoy, especially in the warmer weather.
Another benefit of using your sunken garden for pizza ovens and barbecues is that it provides a dedicated space that kids and pets can be made to avoid.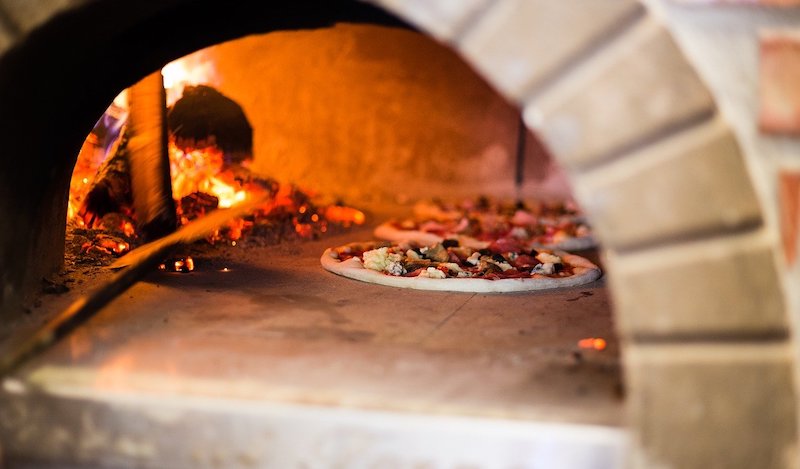 Sunken gardens are a social space, so a comfortable and well planned seating area is essential. You want a seating area that draws people in, feels more private and intimate, perfect for getting together with loved ones or even having some quiet time to yourself.
To create an inviting seating area in your sunken garden, choose comfortable seating with cushions, coffee tables, and a diverse range of plants and flowers to add pops of colour.
Sunken garden provide a degree of privacy that makes installing a hot tub or jacuzzi a great option. Allocating it as a space for your tub helps create a boundary to zone your garden and keep all related equipment and features close together.
You can surround the jacuzzi with decking or paving slabs, topped with enough seating so parents can easily watch over their children. Hot tubs can be quite large, so carefully consider where to locate them.
Sunken gardens are a social area for your garden, so what can you do to encourage guests to relax in that space? Adding features such as sculptures, busts or water features can be great conversation starters and a way to show off your personality. There is a wide variety of art you can choose from for your sunken garden, so you don't have to worry about finding something that fits in with your design.
Water features are also a great way to create a soothing atmosphere, adding sound and texture to your sunken garden.
Mini Greenhouses & Bug Hotels
Bug hotels and mini greenhouses can be fantastic additions to your sunken garden. Taking up minimal space, it's a nice way to nurture plants and herbs and offer some protection from the elements. It's great for getting children involved too.
Sunken Garden Design
The exciting thing with sunken gardens is that they are a standalone area that you can bring to life with exciting colour schemes and bold choices as long as the fundamentals are correct. We cover the basics of sunken garden design, offering pointers on floors, walls, steps, seating and drainage.
The first step is choosing a location and orientation for your sunken garden. You need to consider the direction of the wind, and sun and shade throughout the day and plan accordingly.
Sunken Garden Floors
Many sunken gardens have a suspended timber floor over soakaways or free draining gravel and a land drain. Paved or tiled sunken gardens are also popular.
If you have a solid concrete floor to your sunken garden then you will have a number of additional considerations. For example, you would need an ACO drain connected to a land drain underneath or some sort of professionally designed drainage system.
Sunken Garden Walls
With sunken garden walls, you are looking to achieve strength and stability. The most common building method is simple blockwork which provides sufficient robustness to take the weight of the soil. You can then waterproof and provide a range of finishes to the blockwork depending on your aesthetic.
Sunken Garden Steps
You want access to your sunken garden to be safe and attractive. It's common with sunken gardens to have access from at least two sides. Make sure the height of the steps is the same - you usually want to aim for something around 150mm. You may also want to consider some basic lighting to ensure they remain safe at night.
Sunken Garden Seating
We've already mentioned the importance of seating for your sunken garden. You may want to opt for comfortable garden furniture, luxurious outdoor sofas or get creative with more natural and rustic options such as wooden benches and tree stumps. There's also potential to get creative and build in timber seating that includes storage space. Just make sure that comfort and practicality are key considerations.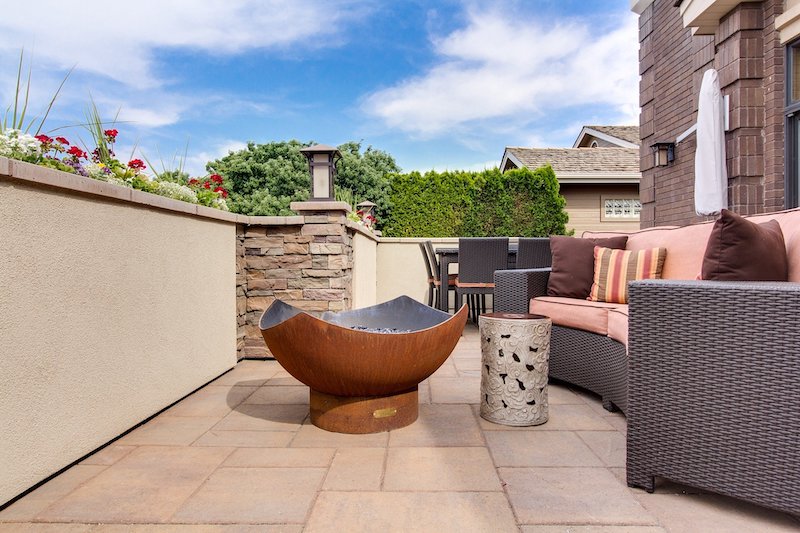 Sunken Garden Drainage and Waterproofing
Sunken garden drainage is an essential component to your overall design. Nothing kills a mood like being ankle deep in rain water. You will need an option to drain water away that enters the sunken garden and stop it from pooling against the retaining walls. There is also a need to prevent water building up behind the retaining walls of your sunken garden.
Most sunken garden designs feature a suspended timber floor / decking with a soakaway underneath. A soakaway reduces the risk of flooding by allowing water to gradually drain away through the soil. They can be created with rubble but also soakaway crates that have the added benefit of improving the stability of the ground.
Other sunken gardens may use free-draining gravel and a land drain. If you are pouring concrete to create a concrete floor then you will need to carefully consider drainage options.
How to install sunken garden drainage
Our expertise lies in drainage solutions and our ethos is always to give people the knowledge they need to get the job done. We'll take you through the steps involved in making a sunken garden with appropriate drainage. For your convenience, we've included a basic solution and a more advanced one.
I have access to both sides of the structure / blockwork:
If you have access to both sides of the structure during the construction of your sunken garden then you can take a different approach to waterproofing.
Basic
The most cost effective and simple waterproofing method for your sunken garden is to apply PermaSEAL tanking to the external earth-retaining blockwork. This will block the passage of water to the internal. On the internal substrate, you can apply a render with the PermaProof additive to provide waterproofing.
An easy but more expensive option is to use WP Top Waterproof Render at 20mm coat on the internal side of the blockwork instead of tanking slurry - this all in one product provides a finish and waterproofing.
Advanced
For larger jobs and higher end specifications, you may want to consider installing an external drainage membrane such as PermaSEAL Geodrain. This system requires a primary waterproofing layer e.g. PermaSEAL Tanking or for the highest spec MB2K+ flexible waterproofing. You then need to place the membrane against the tanking slurry , where it can be held in place by the back fill.
At the foot of the membrane you should install a land drain. This method is ideal for those in a high water table or a place with concerns of flooding. Any water is channeled down the membrane cavity to the land drain where it is safely removed.
I only have access to the internal structure / blockwork:
Basic
The most cost effective and simple waterproofing method for your sunken garden when you only have access to the internal blockwork is PermaSEAL tanking. Then on top of the PermaSEAL cementitious tanking you can apply cement and sand with the PermaProof additive.
You may also require PermaSEAL Fillet Seal to create an angled fillet where the wall meets the floor so that the tanking can be taken onto any concrete slab, if there is one. This is especially necessary if the water table is high.
Advanced
The advanced option for internal access only is to apply WP Top to the blockwork. Apply WP Top at 20mm coat on the internal side of the structure - this all in one product provides a finish and waterproofing.
Permagard - Providing Solutions. Inspiring Confidence.
We hope you've taken inspiration from our sunken garden guide and have a good idea of how to approach waterproofing your sunken patio. Permagard are happy to provide easy to use drainage solutions for sunken gardens, basements and cellars. Our PermaSEAL system is reliable, high quality and affordable.


Main image by Andy Giraud via Pixabay along with all other images used.