Penetrating damp is one of the most problematic forms of damp to fix, but with this guide we're here to change that. We look at the importance of protecting your brickwork and masonry, the best products to use, and how to apply them correctly.
Why it's important to protect your brick walls
In short, bricks and mortar aren't 100% waterproof. Even modern homes that are built with cavity walls and largely impermeable materials can still be affected by penetrating damp (water coming in from outside). Damp and excess moisture within brick and stonework can lead to internal damage and the dreaded black mould.
Long term, the pollutants in the atmosphere and in driving rain, and storms can affect your home in a number of more serious ways: corrosion, growth of algae and lichen on the walls, loss of structural integrity and damage to timber elements. These are all major concerns, which require immediate attention.
Whether you've already seen evidence of penetrating damp or are looking to reduce the risk, it's important to use a trusted product when waterproofing brickwork.
Waterproofing brickwork & stone walls – the methods
The key to protecting your home against penetrating damp is don't ignore the root cause. Building faults, cracks, and faulty mortar will need to be repaired before you can go ahead with any brick waterproofing. Find out how to repair cracks in walls.
For help with identifying what kind of damp is affecting your home, read our guide here.
Once the structural integrity of your walls are up to scratch, you can use a waterproof façade cream to create an invisible barrier between the elements and the exterior of your home. This protects your home against driving rain, potential frost damage, and pollutants. Read more about damp proofing outside walls.
Anything from granite to brick to cob (a mix of clay, sand and straw) can be used to build homes, but many of them can be protected in the same way.
Please check with a Technical Advisor if you are unsure whether the water repellent is suitable for your type of stone or masonry. Some substrates will not fully absorb the active ingredients if they are water impermeable themselves. It is always advisable to apply a small amount to an inconspicuous area to test compatibility.
Depending on the condition of your walls, there are two product ranges available to waterproof your brick and stone walls. More on these options below.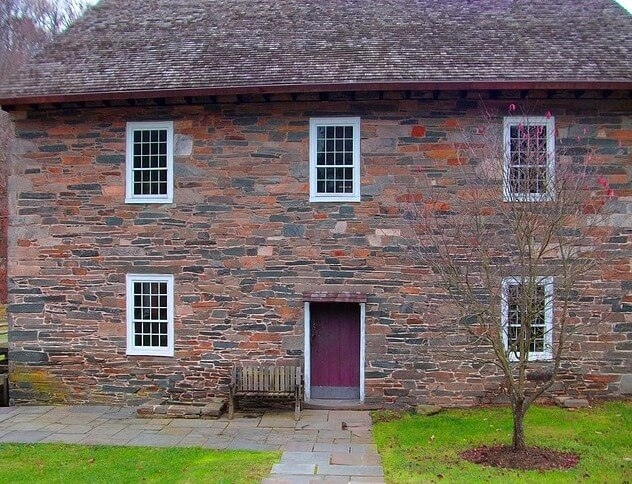 Water repellent creams & sealants for un-painted brickwork
If the external side of your wall is exposed brick or unpainted render, you can apply one coat of façade cream such as PermaSEAL Facade Cream, Remmers' Funcosil FC or our professional-grade Microshield Ultra to protect the wall from water penetration for up to 30 years.
How do waterproof façade creams work?
Water repellent creams soak into the substrate (bricks, stone etc.) The cream consistency means that the active ingredients can penetrate deep into the wall without the risk of run-off. These active ingredients line the capillaries of the masonry, reducing water absorption in turn protecting the substrate and providing a long-lasting invisible barrier against water penetration. The added benefit is that it still allows your walls to 'breathe'. Without breathability, the damp already in your walls can't evaporate and allow your wall to dry out.
Water repellent creams dry clear allowing any exposed brick to keep its original appearance.
Best water repellents for treating penetrating damp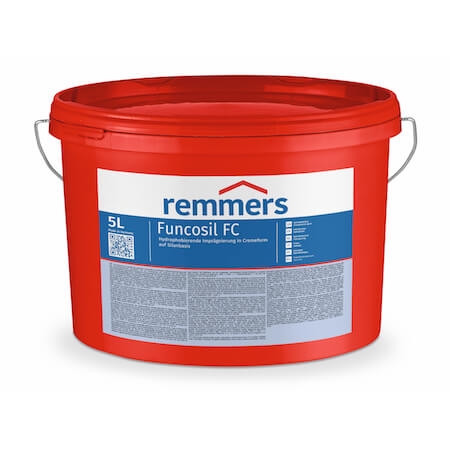 Microshield Masonry Water Repellent is a single coat liquid water repellent. It is designed primarily for application over large areas by sprayer to impart high quality water repellence to a substrate which will last for 10-15 years. However where waterproofing creams like Microshield Ultra and PermaSEAL Facade Cream penetrate deeper into the surface due to their cream consistency they can give a surface 20-30 years of water resistance in just a single coat.
Important. The substrate must be in sound condition and untreated / not painted before you apply the water repellent paint. Any structural defects such as cracks, cracked joints, defective connections, bridged DPCs / rising damp and hygroscopic salts must be remedied first.
How to apply a water repellent masonry cream
Simply apply one coat of the water repellent treatment to the untreated brick wall using a brush or roller. You can also choose to spray apply your masonry cream.
Waterproofing cracked & treated brick walls
In situations where traditional methods of waterproofing may prove difficult such as painted, treated or cracked brickwork, use Remmers Colour Flex.
Water repellent paint
Colour Flex is a water repellent paint and does not have a cream consistency. It's easy to apply, highly impermeable and is distinguished by high crack-bridging capacity. This makes it the ideal waterproofing technique for cracked and treated surfaces as it also eliminates the expensive removal of old coatings.
How does Colour Flex work?
The silicone resin reinforced elastic coating has a film preservative which has crack-bridging properties. This allows cracks smaller than 0.3mm to be repaired using three coats of Colour Flex.
As Colour Flex Waterproof Paint cures in direct UV light, it is only suitable for use in outdoor areas.
How to apply Colour Flex?
Ensure the substrate is clean and dry before application. Unwanted old coatings as well as algae and moss must be removed.
Next, check whether there are any cracks less than 0.3mm. If cracks are larger than this, these will need to be repaired before the application of Colour Flex. For that take a look at How to repair cracks in walls.
Apply a Funcosil Bl Primer and allow to dry fully.
Once dry, apply Colour Flex with a roller or brush. At least three coats of Colour Flex are required to sufficiently bridge cracks. A drying time of at least 12 hours should be allowed between each layer.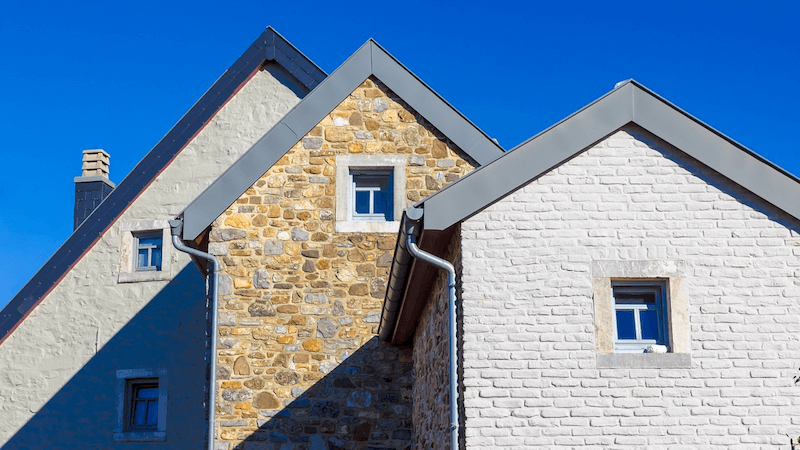 Masonry waterproofing FAQs
How often will I need to reapply waterproof coating?
Water repellent façade creams will last between 20-30 years depending on weathering. As a result, you can expect to wait at least 20 years before having to reapply a waterproof coating.
You can check whether it's time to reapply the coating by testing an inconspicuous area. Simply reapply a small amount of façade cream and if the silicone sits on the surface and stays white, you know that your wall is still protected.
However, if the façade cream is absorbed into the brickwork, it's time to treat your walls again.
Waterproofing brick and stone walls of older buildings
Masonry waterproofing creams are ideal for older buildings. Rain is blocked but water vapour is able to pass through allowing the building to breathe as intended during construction.
This ensures that the interior is protected from severe weather and penetrating damp, but any residual moisture or water vapour is still able to escape.
Another important factor is that the appearance is not changed by applying the treatment. This is particularly important in older natural stone buildings. The cream leaves no visible or textural change to the surface.
What is the difference between damp proof paint and masonry waterproof paint?
Damp proof paint isn't designed for external use – it's best used internally to protect against damp.
Damp proof paint isn't transparent – it's either white, black or grey whereas waterproof masonry creams dry transparent.
Damp proof paint isn't permeable so doesn't allow for walls to breathe
Permagard - Masonry Waterproofing Experts
At Permagard, we are proud to stock a range of masonry water repellents and facade creams to meet your exact needs. Browse our full range of masonry water repellents.