Basement conversions are becoming increasing popular. In urban areas like London where space is at a premium, these conversions and in turn basement waterproofing services are much in demand. Completed correctly, basement conversions are a great option for creating desirable space in homes. Technology has also advanced with damp proofing and waterproofing products now available to ensure basements stay dry and you achieve the environment your client desires.
When it comes to designing and waterproofing a basement or cellar, there are a number of considerations to keep in mind. With underground structures, you need to consider that the floor, the walls and even the ceilings will need to be waterproofed. The BS8102: 2022 Code of Practice for Protection of Structures Against Water ingress is a design document that takes you through the specification, design and construction of basement waterproofing systems. It outlines designs for protecting a basement against groundwater and matches it to an appropriate waterproofing method.
At Permagard we like to avoid jargon wherever possible and that is why we have simplified the BS8102 design document so that you can follow the vitally important considerations it outlines. This guide looks at the three types of waterproofing systems and the related design considerations.
Basement Waterproofing Regulations
There is no one size fits all method of waterproofing a basement as each job is different but by adhering to BS8102 waterproofing regulations you can ensure you are compliant and that the basement is protected.
The first thing you will need to do is to understand the conditions surrounding the basement as well as the intended use of the basement. Any examination of the conditions should include looking at the soil type, the presence of any contaminants (gases/acids) and the height of the water table. With this information gathered, you are now in a position to better appraise the waterproofing systems available.
Within the BS8102, the systems are categorised as follows:
Type A Waterproofing – Barrier Protection (Tanking)
Type B Waterproofing – Structurally Integral Protection
Type C Waterproofing – Drained Protection
You must choose the appropriate type of waterproofing system for the conditions. It is recommended that you combine these types, or elements from each type, in the design. With domestic ventilated basements, no water penetration is acceptable. Make sure whatever materials you use comply fully with BS8102 and with Grade 3 construction (where Grade 3 refers to domestic/commercial ventilated basements).
BARRIER PROTECTION BASEMENT WATERPROOFING
Type A Waterproofing – Barrier Protection (Tanking and External Membrane)
What is Barrier Protection Waterproofing?
Barrier Protection refers to external, sandwiched or internal waterproofing methods such as external membranes and tanking designed to prevent and/or block the ingress of water. With Type A you rely entirely on the effectiveness of the waterproofing system used. It needs to be correctly installed to ensure it is water-tight. If there are any defects then water can enter the basement and you are at risk of flooding unless there is adequate drainage.
An internal waterproofing system makes it easier to access and resolve any defect easier than an external or sandwiched waterproofing system which may require excavation. Sometimes defects may only be noticed on the surface when the water bed rises, for example, during a storm.
In the BS8102, this system of waterproofing must already have "a fully serviceable drainage system to prevent water pressure build up." This is a requirement of Building regulations 2000 basements for dwellings. See Type C for more on drainage systems.
What Can Go Wrong
Any element that is not correctly installed can lead to water ingress and the basement flooding.
Damage can occur to the external membrane during backfilling.
Tips
Consider the possibility of using fully serviceable and repairable hydrophilic joints.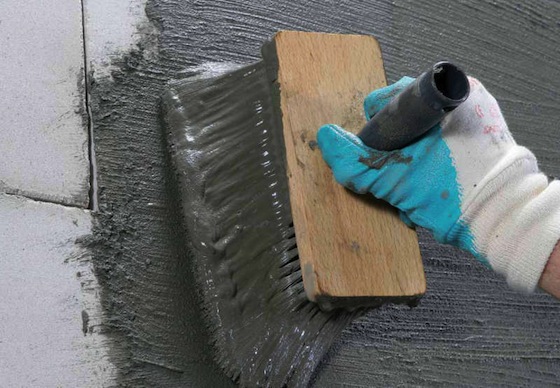 STRUCTURALLY INTEGRAL PROTECTION WATERPROOFING
Type B Waterproofing – Structurally Integral Protection
This type of basement waterproofing is installed in the building process and involves using a form of concrete that is impervious to moisture. The success of Type B depends on careful construction with the correct placing and compaction of the concrete.
What Can Go Wrong
Honeycombing can occur in the concrete when there is a lack of compaction.
Concrete can crack.
Inappropriate construction joints may allow leaks.
Incorrect amount of additive.
Permagard do not sell products related to Type B Waterproofing - we focus on Type A and Type C methods of waterproofing.
DRAINED PROTECTION
Type C Waterproofing – Drained Protection
Type C Waterproofing involves the installation of a fully maintainable cavity drain membrane system to the inside of the building. This cavity drain membrane system is a water management system that is not designed to block water ingress but simply controls any water that enters the structure to an evacuation point which removes the water to external drains.
Any water that penetrates the external shell of the basement is collected in a cavity created by the cavity drain membrane system (between the external wall and an internal lining or wall) and controlled through a drainage system to an evacuation point which normally consists of a mechanical sump and pump system where water is collected before being pumped to an external drain. Type C systems should be designed to deal with worst-case water ingress and be fully maintainable.
What Can Go Wrong
If sump and pump units are not installed and water does ingress cavity drain systems are not designed to deal with water pressure and they will fail.
Not maintaining the drainage system including the pumps could cause blockage of the cavity and drainage system by silt, free lime or other contaminants and could result in failure.
Tips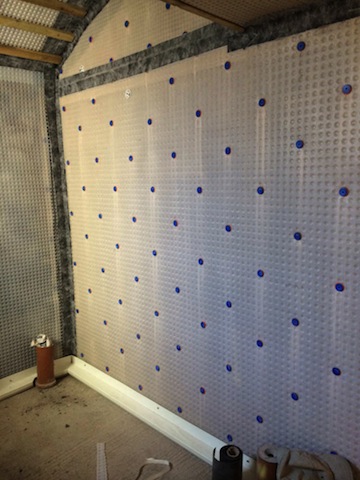 Read our guide to installing Type C Waterproofing Systems.
Basement Waterproofing Defects – What To Watch Out For
It is essential to avoid defects and the problems they cause. The BS8102 outlines two common defects and their cause:
1. Defects owing to poor quality workmanship
2. Defects owing to the specific properties of the materials being used
So what should you do…
Risk Assessment and Contingency Planning
What happens if your basement waterproofing system fails? Worst case scenarios need to considered before going ahead with your project. Contingency planning for dealing with any defects or a total system failure should be considered in the design process. What are the risks? Where could water ingress occur?
With basements it is very hard to repair Type A Waterproofing systems or externally applied systems and therefore most waterproofing designs use a combination of systems to make sure they are 100% defect free.
The basement must be able to cope in the event of a flood or high water tables – something that is only going to become more prevalent due to weather extremes.
By imagining and planning for the worst case scenarios you ensure that you are fully prepared for all eventualities.
Where can water ingress occur in a basement?
As a designer you need to make the design decisions to protect the basement from water from many sources. You should be prepared for the following:
The inflow of surface water, ranging from percolation of rain to water from burst water mains
The water pressures acting on the external retaining wall system
The water pressures below the slab base
With an understanding of the basement waterproof systems and how they can work together as well as an awareness of potential defects and how to plan for worst case scenarios, you are able to design a basement to meet your client's needs, guarantee dryness and be fully compliant with BS8102.
Permagard – 30 Years of Damp Proofing Experience
At Permagard, we sell a range of high-quality basement waterproofing products. If you have any questions related to waterproofing basements or the BS8102 then give us a call on 0117 982 3282 – we are more than happy to help.
Further Reading
How to Install a Type C Cavity Drain Waterproofing System