Sedum roof trays, also known as modular sedum roof trays, are the quickest and simplest way to set up a flourishing green roof that requires very little maintenance. You get to enjoy the benefits of a green roof, including the environmental impact and reduced energy costs, with minimal effort. Our sedum roof trays couldn't be easier to install, requiring no prior DIY knowledge.
Our guide covers everything you need to know about our 'all-in-one' tray system, whether it's the right type of green roof for you, and how to install and maintain a thriving modular sedum roof.
What is a sedum roof?
A sedum roof is a type of green roof that features sedum, also known as stonecrop. These are small, attractive succulents that grow up to a few inches in height. Extremely hardy, sedum plants are drought tolerant and also able to withstand harsh winters. As such, they make the perfect plant to use in a green roof system as they flourish throughout the year and require relatively little maintenance.
Sedum can be used on most types of green roofs, but it's ideally suited to our tray system. Our sedum trays contain all the components of a green roof in stand-alone units, meaning you can combine as many or as few as you need to create your sedum roof. This also makes maintenance easier. If you need to replace a section of your green roof, you can simply lift out a tray and replace it with a new one.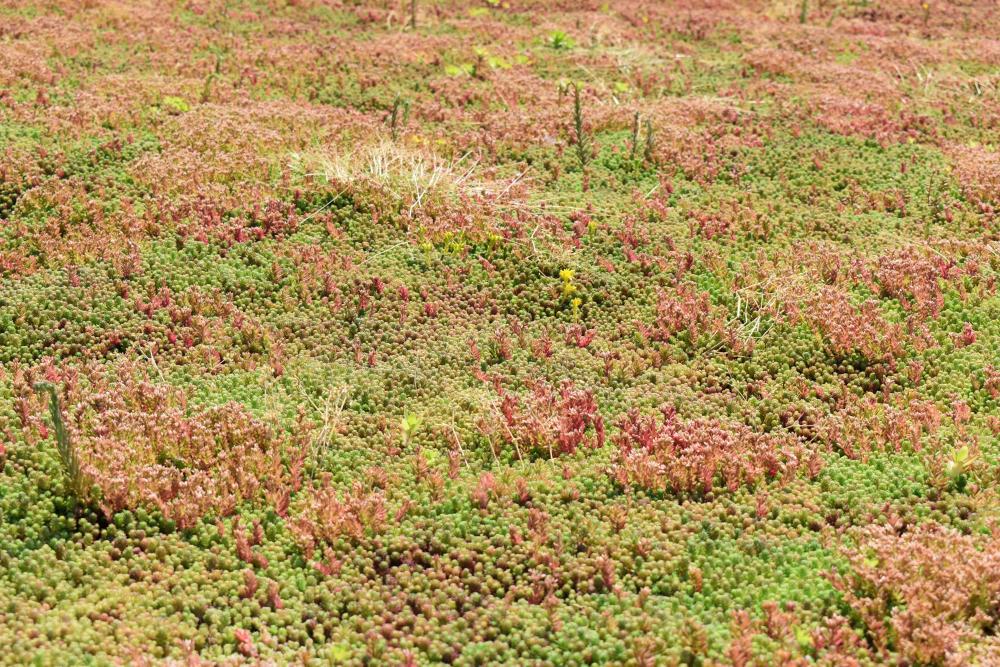 Sedum roof benefits
A sedum roof, installed using PermaSEAL's modular tray system, has all the advantages of other green roof systems but is quicker and easier to install. Sedum roof benefits include:
Insulation and reduced energy bills: Green roofs provide excellent insulation, keeping spaces cool in summer and warm in winter. This means less energy is needed to power appliances to maintain a comfortable temperature, reducing your energy bill.
Extended lifespan of the roof: Acting as a natural barrier between the elements and the surface of the roof, green roofs absorb sunlight and rainwater. This forms a protective layer over the roof itself and consequently extends its lifespan.
Improved air quality: A green roof filters and absorbs airborne pollutants, which is particularly important in urban areas with higher levels of pollution.
A boost for biodiversity: From providing a home for insects to attracting birdlife, green roofs help to promote biodiversity in many different ways, especially in urban environments. Sedum is especially good at attracting pollinating insects that are vitally important to the environment.
Instant greening of the roof: Our sedum trays are delivered with established sedum, meaning you'll have an instant green roof, avoiding the need to wait while plants grow from seed.
Reduced water runoff: As an organic surface, a sedum roof can help absorb rainwater that would otherwise run off an impervious roof surface. This helps reduce the pressure placed on the drainage system.
What are sedum roof trays?
Sedum roof trays, also known collectively as a modular green roof, are interlocking trays that can be combined to cover a roof of almost any size. Designed to be entirely self-contained, they offer all-in-one drainage, water storage, substrate and sedum.
Each of our trays is made from recycled materials and measures 460mm x 495mm x 80mm. We aim to provide as close to 100% sedum coverage in each tray as possible and only use the highest quality sedum that is:
Fully established and grown from seed over 12 months.
Grown from 16 species, resulting in a variety of changing colours from late Spring to Autumn.
Locally grown.
The advantage of using modular sedum trays
As we've already explored, modular sedum trays provide all the advantages of other green roof types. However, their design also provides several extra benefits, including:
Quick and easy installation: A sedum tray system is by far the quickest and simplest type of green roof to install. All you need to do is place them on a suitable surface.
Easy slot-together trays: The trays are designed to easily slot together, and this is all you need to do to combine trays to form an integrated green roof.
Transportable: Measuring 460mm x 495mm x 80mm, the trays are easy to transport by hand and place in hard-to-reach areas. Their manageable size and weight mean that one person can easily install them on their own.
Quick to remove: Should you need to replace a section of the green roof or access the roof structure below, you can lift out the trays and replace them individually.
High-quality sedum: The sedum we use is fully established, grown over 12 months from seeds from 16 varieties.
Balanced all-in-one system: The combined drainage, water storage, substrate and sedum system is perfectly balanced to drain and retain enough water to keep the roots healthy and ensure the sedum thrives.
Why choose a modular green roof over a multi-component system?
Deciding what kind of green roof to install depends on the location of the roof and its purpose. Extensive green roofs use a low layer of vegetation, are lightweight and require very little maintenance. They often use grass, moss, small flowers and sedum. Modular roofs work on the same principle, the only difference between them is that a modular green roof is divided up into individual 'self-contained' trays.
Most homeowners will opt for an extensive green roof and consider a modular tray system. Essentially each tray contains all the aspects of a multi-component green roof system in a self-contained unit, requiring no prior knowledge or DIY skills to set up. Intensive green roofs, sometimes referred to as roof gardens, require a thicker growing medium and are able to support a wider variety of plants and even bushes and small trees. This type of green roof is generally used in large-scale, commercial projects.
How much does a green roof tray system cost
As our 'all-in-one' sedum roof trays contain everything needed to install a green roof, the cost of a sedum roof is easy to calculate. It simply depends on the size of the roof you need to cover.
Note: costs are correct at time of writing, but will fluctuate, and should therefore be used as a guide only.
Each tray measures 460mm x 495mm x 80mm and for every 4.5 trays purchased, you'll cover a 1m² area. This means that one full pallet (45 trays) will cover 10m2 at a cost of £822.50 ex VAT. This equates to £82.25/m2. If you also want to lay our PermaSEAL PRO Protection Fleece beneath the trays, this is an additional £2.78/m2, coming to a total cost of £85.03/m2.
We want our trays to reach you in the best possible condition, regardless of the quantity. That's why we deliver them on a pallet to ensure that they are transported safely. Because of this, an £80 ex VAT delivery charge is applied to each order. This delivery cost is included in the price of the first tray and each additional tray costs £16.50 ex VAT. So, for example, one tray is priced at £96.50 ex VAT, while two trays cost £113 ex VAT.
When measuring the roof and calculating the number of trays you'll need, you might want to factor in a couple of extra trays, in case you need to cut one down to fit an odd angle or if you drop or damage any during the installation.
How long does a sedum roof last?
A properly-maintained sedum roof can last 40-50 years, which is longer than many other types of green roofs. In addition, a sedum roof can also extend the lifespan of the roof underneath, as it protects it from the elements that can damage or erode a traditional roof surface.
If a problem does arise, the tray system means individual sections can be lifted out as needed, making sedum roof maintenance on the below structure straightforward. This reduces the chances of an issue being left or overlooked, further extending its lifespan.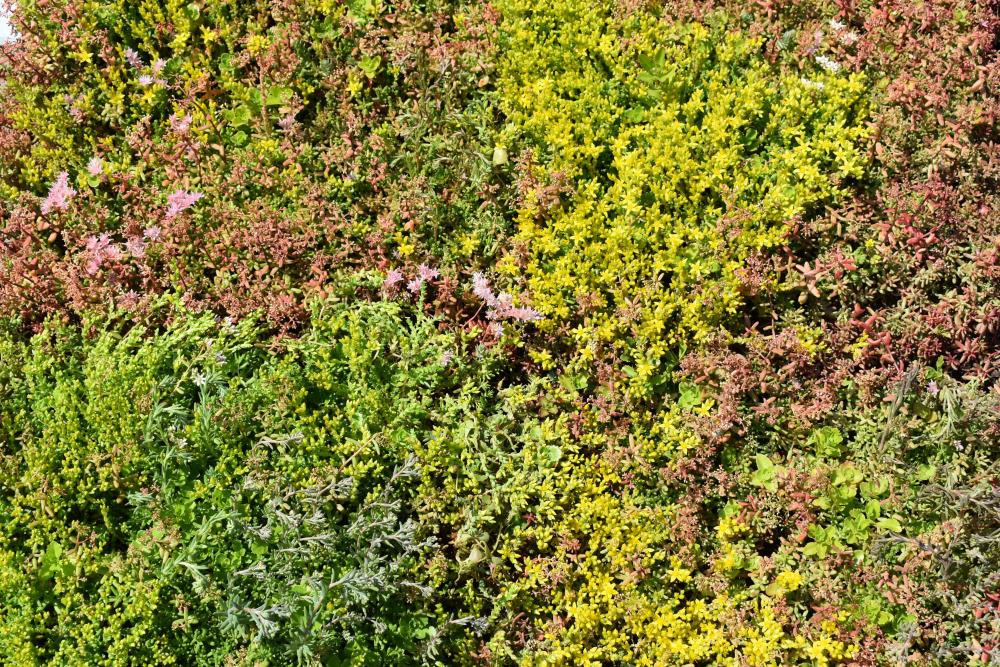 Sedum roof tray installation
Installing PermaSEAL Sedum Roof Trays couldn't be simpler. Each tray is self-contained and includes everything necessary for the plants to grow and thrive.
Where can I install sedum roof trays?
PermaSEAL sedum roof trays can be installed on any flat roof, and are also suitable for some pitched roofs. Our technical team can provide you with more information about the suitability of a roof if you're unsure. Popular locations for installing sedum roof tray systems include:
Extensions
Sheds
Bike stores
Bin stores
Commercial decks
What goes under a sedum roof tray system?
Our trays can lie directly on top of a primary waterproofing layer, but to protect the surface of the roof and avoid damage when installing or lifting a tray out for maintenance, we advise using PermaSEAL PRO Protection Fleece beneath the trays. The fleece acts as a protection layer as well as another water storage layer to slow down the release of stormwater into the local drain system. Remember to overlap fleece sheets by a minimum of 150mm when installing.
Installing a sedum roof tray system
Once you've received your sedum trays, we recommend installing them within 48 hours. If you choose to use a PermaSEAL PRO Protection Fleece, you just need to lay this out on top of the primary waterproofing layer of your chosen roof. The trays can then simply be lifted, placed in the required position and slotted together.
If necessary, the trays can also be cut to size using a wood saw. Make sure to place the cut side facing inwards, towards another tray, so the substrate in the tray doesn't fall out.
Each tray is light and easy enough to manoeuvre so it can be installed by one person with little existing DIY knowledge. This means they can be installed in locations and instances where another green roof system may be impossible.
Sedum roof maintenance
As a general rule, sedum requires little maintenance, and the PermaSEAL sedum tray's design means that the correct amount of water is retained. Rainwater drains effectively, but water is kept in the roots to allow the sedum to survive during dry periods. This means that a sedum roof installed using our trays can, in the main, be left alone. However, should you need to perform any sedum roof maintenance, we've included some handy tips below.
If the sedum becomes patchy, use cuttings from healthy plants.
In periods of drought - more than two weeks without rain - we recommend watering to saturation (when plants turn a reddish colour).
In addition, to keep the sedum in top condition, our slow-release granular fertiliser should be scattered over the area every 6 months.
If a leak through the roof occurs, you can lift out an entire tray to easily inspect the waterproofing layer below.
Whole trays can be lifted and replaced if needed.
Sedum growing conditions
Sedums are hardy, undemanding plants that can grow in most conditions and are almost maintenance-free. They can tolerate most weather conditions and can handle shade better than other succulents, but sedum is unlikely to thrive long-term in full shade, so bear this in mind when planning your green roof.
Buy PermaSEAL sedum roof trays
Permagard can provide everything you need to create a flourishing green roof tray system. When you've measured the roof, and worked out the square meterage that you require, we can deliver the trays directly to your home.
With each self-contained tray featuring everything needed for the sedum to thrive, it's just a case of ordering from Permagard and placing them on your roof.
What's included in our green roof tray range?
Our green roof tray range includes everything needed to install and maintain a thriving green roof:
Permagard - Green Roof Tray Supplier
Permagard is proud to offer green roof tray systems at an affordable price, allowing anyone to benefit from low-maintenance ready-to-go green roofs.
For more information or guidance on your green roof project call our expert team on 0117 982 3282. You can also browse our range of green roof trays and associated products.
Return to our green roof homepage or read our introduction to green roofs.