A green roof is a great way to create an attractive design feature on an outbuilding like a shed or garage or transform your home.
They also deliver a whole range of benefits. Green roofs extend the life and improve the performance of the roof, cutting energy costs. They also have a positive environmental impact, attracting wildlife such as birds and insects, and improving air quality in particular in urban areas.
In this guide we take you through the main considerations around choosing a green roof system, how to design it to meet your needs and then we cover green roof construction.
Types of Green Roof
Green roofs are sometimes referred to as living roofs, grass roofs or sedum roofs, but these all relate to the same thing. When it comes to your options, there are three main types of green roof to consider – extensive, intensive and semi-intensive. It's also important to mention green roof tray systems (an instant extensive green roof option).
Let's look at the differences between them:
Extensive green roofs
Extensive green roofs are a popular option for homeowners as they are lightweight and require very little maintenance with no need for additional watering unless there is a prolonged drought. They are suitable for both existing and new build roof decks. Extensive green roofs normally have an attractive low layer of vegetation, around 80 - 100mm high such as grass, moss, sedum or small flowers. If you are using sedum blankets then you will require some additional growing medium but it can be fairly shallow. Sedum green roofs are the most common type due to the hardiness and low maintenance requirements of the plant.
Intensive green roofs
Intensive green roofs are designed to support much larger items like bushes and small trees as well as a wider variety of plants. You may find that they are referred to as roof gardens. They require a layer of growing medium / soil to support this much thicker vegetation layer.
They are more common in larger commercial projects including parks and gardens where recreational use is expected. Intensive roofs require a much deeper substrate to be built up - this means additional weight that will need to be supported as well as irrigation requirements. They need much more attention and maintenance – much like a normal landscaped garden.
Fast drainage is key for intensive systems as water will be retained in the soil, and any excess that isn't drained away can saturate the roots of your vegetation. Drainage membranes such as the PermaSEAL PRO 20P drainage and storage membrane, or the PermaSEAL PRO 11 Geodrain Membrane, are designed with stud profiles that allow water to be drained away quickly and effectively, preventing water logging and any pressure build up.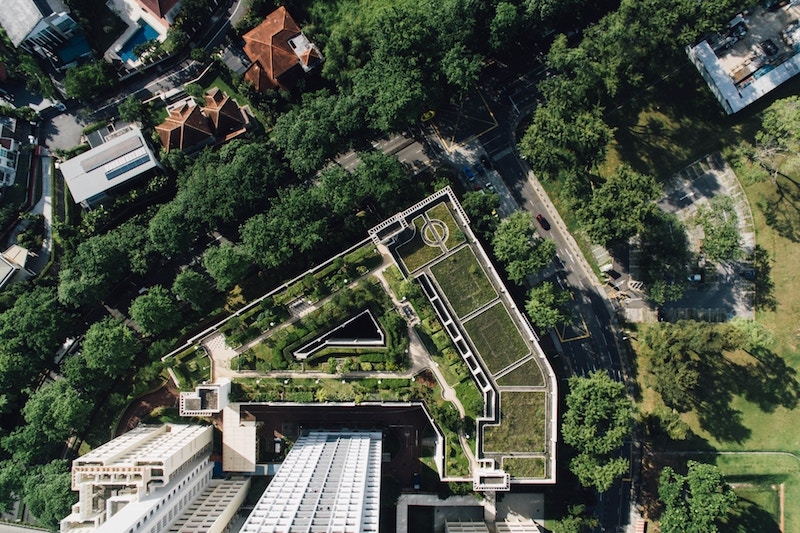 Image of intensive roof via https://unsplash.com/@chuttersnap
Semi-intensive green roof
A semi-extensive green roof system sits somewhere in between the two main options, and is based on the extensive roof principles. With more depth of growing substrate (100 – 200 mm) it can support a greater diversity of plants but not shrubs and trees.
Green roof tray system
A green roof tray system is a type of extensive green roof where individual, self-contained trays contain everything needed for a sedum green roof. These trays can be combined to cover any size of roof, and are straightforward to install. They can be placed on top of an existing waterproofing layer and require no specialist knowledge to set up. Find out more in our green roof tray guide or check out our market-leading sedum roof trays.
Intensive vs extensive green roof
It should be clear from the above which green roof type is best for you.
In summary:
If you are looking for a low maintenance, lightweight green roof that features simple and self-maintaining vegetation then the extensive green roof is for you. These can easily be installed on sheds and garages. You can still enjoy the benefits of better sound protection, improved thermal performance and a cooling effect in hotter months. For ultimate convenience, you may want to consider sedum roof trays.
However, if variety is what you're after and you want your green roof to support larger, more diverse plants and bushes then you should opt for the intensive option. You will need to pay more attention to structural loading, irrigation, and long term ongoing maintenance.
With an intensive roof you get a more impressive and landscaped look to your rooftop garden that can attract wildlife as well as benefitting from warmer spaces in winter and cooler spaces in summer.
For more information on green roof maintenance read our guide.
Where can you grow a green roof?
For most DIYers, a flat roof is the easiest option for a green living roof. Anything up to a 10° is considered a flat roof. This means that shed green roofs are a very popular choice along with log cabin and garage green roofs. Having said that, any outbuilding or garden building with a flat roof is a suitable route such as bike storage units.
Flat roofs are an easier option from a green roof construction point of view, especially if you opt for a modular tray system, but living roofs are able to grow on pitched roofs too. This means you can consider a house green roof or growing a green roof on an extension or conservatory.
With intensive green roofs, you can consider any size or type of building as long as it can cope with the structural loading and irrigation requirements. This is where Permagard can help - our drainage and protection membranes have high compressive strength for systems expecting heavy vehicle traffic. Our Professional Membranes ensure that your green roof is protected while also maintaining efficient drainage.
How to make a green roof
Making a green roof is relatively simple. It's a case of building up the layers within a green roof system. There are a number of key components to green roof construction. These components are broadly similar whether it's for a larger commercial intensive roof or a residential green roof.
Each element has a key role to play within the overall green roof system. We will take you through each element in turn, covering all of the green roof materials you'll need to purchase. In the case of our sedum roof trays, all of these elements are combined in each self-sufficient unit.
Components of a green roof system
In order for a green roof to grow and thrive you need to install a green roof system. There are several components that make up a green roof system – the layers are as follows:
Let's look at each of these in turn:
Waterproofing a roof deck for a green roof
You may find that your roof deck already has a waterproofing layer – after all waterproofing is a key part of protecting the structure. This could be a bitumen membrane or coating, asphalt on a shed, or some form of liquid waterproofing.
If there isn't a waterproofing layer, you will need to install one. We provide Polyshield Liquid Roof Membrane Basecoat & Polyshield Topcoat (part of a two coat system) and Polyshield roof primer, suitable for concrete, wood, asphalt and much more. Or for larger projects you may want to opt for MB2K+ Waterproofing Compound with Kiesol MB Primer. The MB2K system is only suitable for concrete decks, sand/cement screeds or over bitumen. Please contact our technical department for advice on waterproofing over old bitumen.
Root Barrier for green roofs
It's recommended to include a root barrier above the primary waterproofing layer to prevent any roots causing damage to the structure. These tend to be thin polyethylene plastic membranes that can simply be laid across the waterproofing layer and joined with tape.
In intensive roofs, root barriers are essential due to the potentially more wood-like and vigorous roots of the vegetation.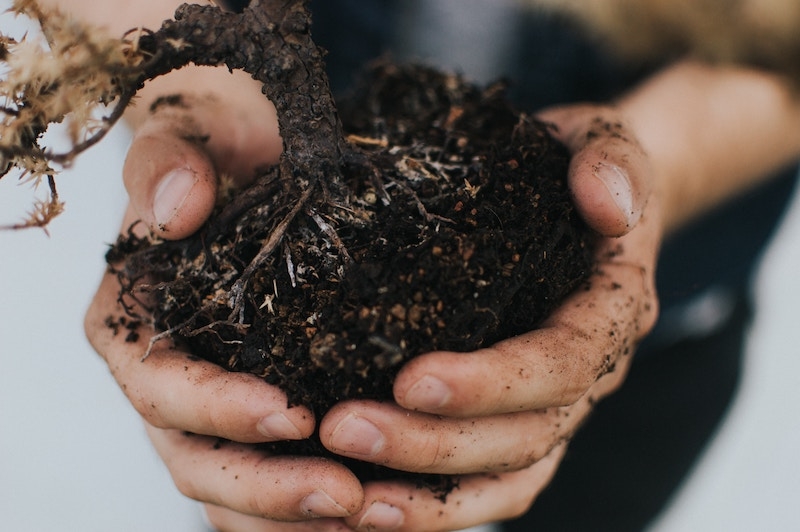 Photo of green roof plant roots by Kyle Ellefson on Unsplash
Green Roof Waterproof Drainage Membranes
The drainage layer of a green roof system is vitally important. It deals with rain and storm water, allowing it to drain safely away from the roof and into guttering and downpipes. By dealing with excess water, it prevents damage to the structure as well as to the plants from saturation and root damage. These green roof drainage membranes feature a stud profile that helps ensure adequate drainage.
Our PermaSEAL PRO 8 Green Roof Membrane is suitable as a drainage membrane for extensive and intensive green roofs. Membranes like our PermaSEAL PRO 20P Green Roof Membrane combine drainage and water storage to help ensure the long term health of your living roof. For intensive systems, or green roofs with hard landscaping, our PermaSEAL PRO 11 Geodrain Drainage and Protection Membrane offers fast drainage and high compressive strength. It can withstand vehicle loads as well as the heavy vegetation layer of your green roof.
We cover green roof drainage in more detail later on.
Green Roof Filter Layer
The filter layer on a green roof is designed to prevent soil and other substrates as well as debris from filling the cavities of the drainage membrane. Both of our PermaSEAL 20P Green Roof and PermaSEAL PRO 8 Green Roof drainage membranes have a built-in geotextile filter layer, making the installation process that much quicker.
Green Roof Growing Substrate
To successfully grow vegetation on your green roof, you need to choose the right substrate or growing medium. It is a common mistake to think that you can only use soil. This is not the case and is frequently not the best option.
It is also a common mistake that sedum mats and sedum blankets don't require an additional growing medium and can be laid upon the drainage and filter layers. Although the roots of a sedum blanket are relatively shallow, we would always advise that additional growing medium is provided. A depth of 50mm works best but a minimum depth of 20mm is acceptable in some cases. That's additional to the 20-30mm of growing medium that's incorporated in the blanket.
For other types of vegetation, you want a growing substrate that is light-weight, aids with drainage but is absorbent enough to retain water to adequately support your plant growth. It's a fine balance and will depend on what you plan on growing.
Many green roof growing mediums are specially designed, being a custom blend of aggregate and organic materials based on your needs.
There are various green roof substrates on the market. These often include a few different materials blended together to create the characteristics needed for good vegetation growth. These include bricks and aggregates, compost, medium clay soils and even volcanic rocks like lava and pumice (which are all natural and environmentally-friendly).
These can be delivered in larger m³ bags or smaller and more manageable 25kg bags – these are great for small DIY projects. It's really a case of looking around for suppliers and speaking to them about the best type of growing substrate to suit your green roof project. Permagard stock 22 x 25kg bags of high quality green roof growing media for extensive green roofs.
Green Roof Vegetation - what to plant
You can plant a variety of plants on a green roof. Grasses, mosses and sedum are common for extensive green roofs. Certain types of wildflowers are a nice option for attracting wildlife.
Sedum green roofs are one the most popular options because this alpine plant can tolerate our varying weather conditions. You can also easily and cheaply pick up pre-grown sedum mats ready to install - providing low growing, instant greenery to whatever sized roof. You can also get other suitable pre-grown mats suitable for green roofs. Our sedum trays contain 16 carefully selected varieties of sedum, providing excellent overall coverage that will flourish over the 12 month growing period.
The Royal Horticultural Society (RHS) provides some useful and more specific information on suitable plants for green roofs:
Suitable plants for extensive green roofs: mat-forming species of Sedum, Sempervivum and moss. Ferns such as Polypodium vulgare and Asplenium trichomanes are suitable for dry shady conditions.
Suitable plants for semi-extensive green roofs: dry habitat perennials and ornamental grasses such as:

Rudbeckia
Achillea
Potentilla
Armeria
Dianthus
Helictotrichon sempervirens
Stipa tenuissima
Suitable plants for intensive green roofs – RHS recommends drought tolerant plants that are both sun and wind tolerant.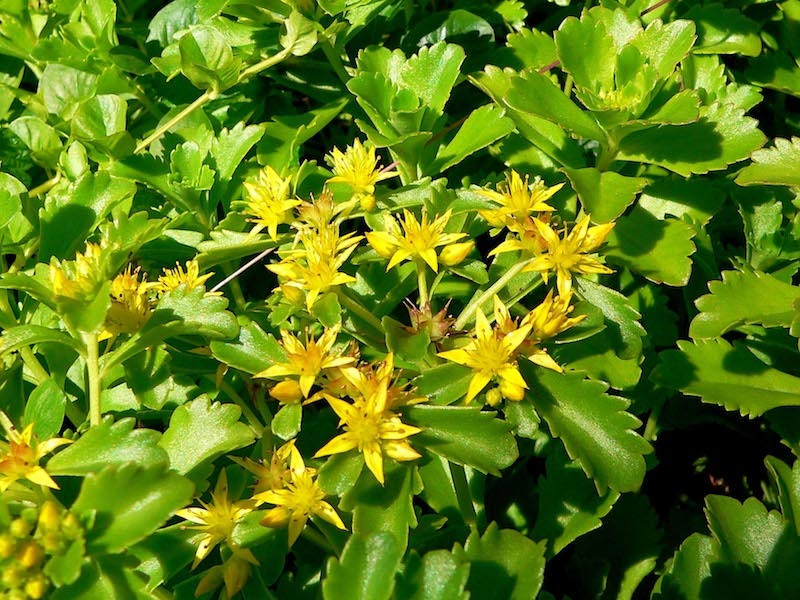 Image of Sedum Kamtschaticum by Stan Shebs [CC BY-SA 3.0 via Wikimedia Commons]
Green Roof Design
Your green roof design will depend on the roof, your preferred green roof system, as well as your desired build up and vegetation.
The green roof design needs to accommodate adequate water retention, suitable drainage, structural loading and the depth of green roof growing substrate.
The depth varies depending on the type of roof you are constructing. Here's a recap:
Extensive = Typically 80 - 150mm
Semi-extensive = Typically 100 - 200 mm
Tray - Typically no more than 80mm
Intensive = Typically 300mm+
When considering the design of your green roof, you need to pay attention to the following elements:
Pitch of the roof
Structural loading
Waterproofing of the roof
Water retention to support the vegetation
Water drainage for excess water
When it comes to green roof structural design, you need to ensure the structure can cope with the additional loading. For intensive roofs, this requires a professional consultation. Download a brochure and find out more about our professional green roof systems.
Green Roof Details
It can be difficult to visualise each component of a green roof and how they work together. The following green roof detail should help. The diagram shows the different layers of the build-up using our PermaSEAL PRO 20P drainage and storage membrane: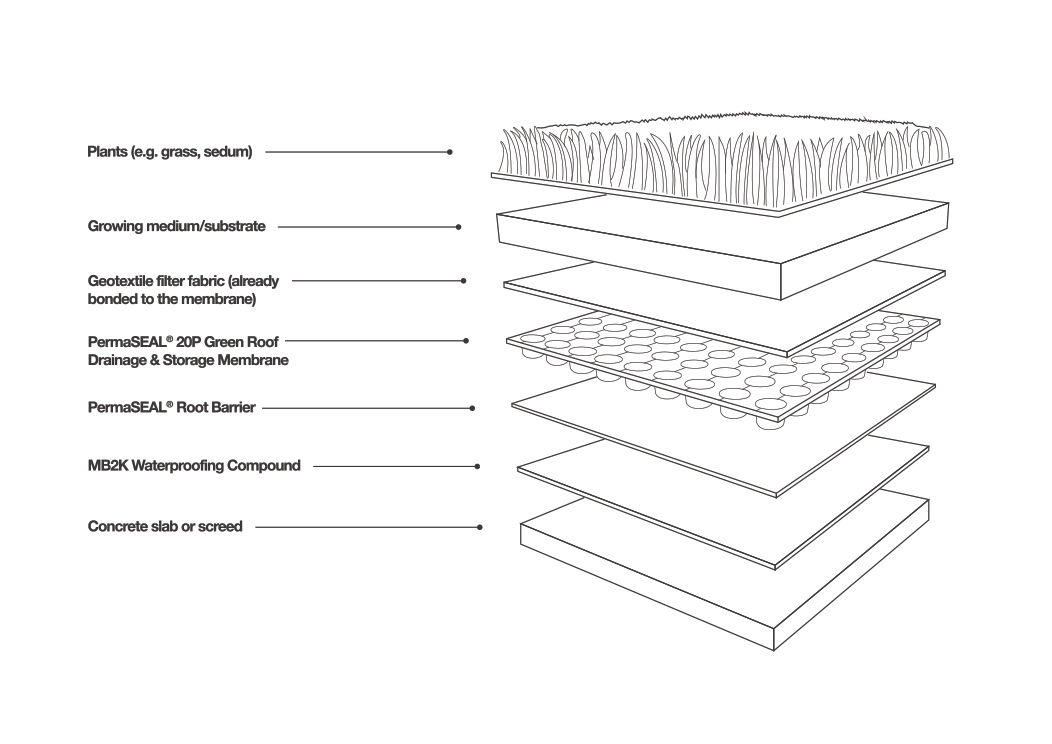 Flat Green Roof – Design Considerations
When constructing a flat green roof, the design aspect is much simpler. You just need to build-up the core layers as per manufacturer's instructions when constructing a green flat roof. Our PermaSEAL sedum trays are best suited for flat roofs but can be used on some shallow pitched roofs.
Pitched Green Roof – Design Considerations
Green roofs are suitable for any pitch of roof. However, when dealing with a sloped green roof with a pitch of more than 9.5°, you'll need a design solution for retaining water and ensuring the substrate stays in place.
There is no steepest pitch for a green roof – they can even grow vertically.
If you have any questions about creating your green roof then contact our team on 0117 982 3282.
Green Roof drainage & irrigation
As we've already mentioned, a green roof drainage layer is an essential part of your green roof. Drainage is so important in a green roof because you need to be able to effectively deal with large volumes of water while still providing sufficient water for your green roof to thrive.
The green roof drainage layer is usually a HDPE membrane. These can feature cavities or cups that collect water. Water is retained in these little reservoirs until it is required when it is drawn back up by the vegetation.
Any excess water such as from heavy rain, passes through perforations in the HDPE membrane. The water then travels through to a drainage space below where it can be safely evacuated via the drainage outlet.
This prevents too much water from accumulating and potentially damaging the roots and causing harm to your green roof.
Note: Our PermaSEAL PRO 8 Green Roof Drainage Membrane does not have perforations. There is still a cavity created below the geotextile fabric as the cups are facing a different way compared with our PermaSEAL PRO 20P Green Roof Drainage & Storage Membrane. For inverted warm roof designs, you would have to install the PermaSEAL PRO 20P Green Roof as the perforations aid evaporation, reducing condensation risks.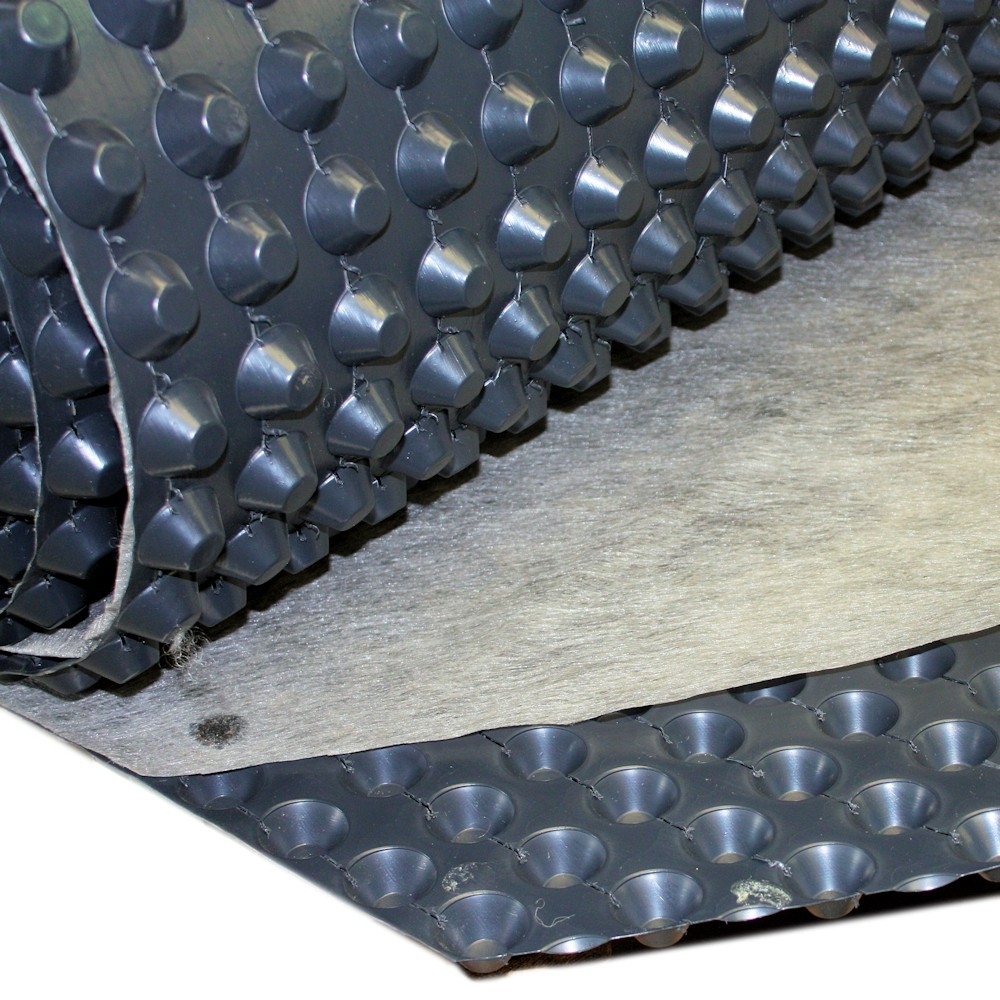 The green roof drainage layer thickness depends on your needs. The capacity of these dimpled membranes vary depending on your green roof requirements. At Permagard, we stock an 8mm and 20mm cavity. Our PermaSEAL PRO 20P membrane functions as both a drainage layer and as a reservoir (see image above).
When looking for a green roof drainage membrane, you want to look out for:
High quality HDPE plastic
High compression strength to cope with the weight of the growing medium & vegetation
Lightweight
Easy to install and handle
Our sedum trays contain their own in-built drainage system, and come ready to be slotted together to brighten up your roof in no time.
Green Roof Irrigation
Intensive roofs for commercial and non-residential projects will need to be irrigated. This is because the vegetation needs a regular water supply as well as nutrients to remain healthy. The roots of plants on an intensive roof can be deeper – they are also directly exposed to the elements.
Intensive green roof irrigation often relies on drip irrigation systems that provide water and nutrients under the surface. This tends to be more efficient than any sprinkler system.
Our PermaSEAL PRO 11 Geodrain membrane allows for fast drainage, with 11mm cavities that prevent saturated roots and freeze thaw. The unique grooved studs feature a push button design, meaning that you can secure overlapping membranes by interlocking the studs. This also helps with weight distribution, as this membrane is designed for intensive systems which require high compressive strength to thrive.
Green Roof Insulation
Green roofs in themselves act as a layer of insulation, improving the thermal performance of your roof and saving you money on energy bills. There are no specific requirements for a green roof insulation layer in a simple extensive green roof.
Green roof insulation becomes more of a factor on new build commercial projects with intensive roof systems. You want to ensure that any roofing insulation is compatible with green roofs. We stock Newton Fibran insulation boards that are suitable for use on green roofs.
Green roof structural requirements
The structural requirements for a green roof are the most important aspect to consider. You need to make sure that the structure can cope with the extra weight of your green roof, especially when saturated with water. Depending on the weight, additional structural support may need to be provided. We look at green roof weight in more detail below.
Green Roof Weight & Loading
You need to make sure the roof structure can take the weight of the green roof design you have in mind. Green roof weights vary hugely depending on the type and amount of vegetation. Most extensive green roof designs with sedum and other simple lightweight plants weigh between 60-150 kg/m2 (13.0-30.0 lb/sq.ft). You will need to check the green roof loading from other types of vegetation and substrate.
Important note: Any weight calculations for green roofs must factor in the weight of rain and snow when the substrate is saturated, as well as the various components of the system.
With semi-intensive and intensive roofs, you will need to consult a chartered structural engineer, architect or surveyor around structural loading.
Green Roof Installation
Now that we've covered the design considerations of a green roof, we will focus on construction. The following steps apply to extensive green roof construction. Intensive roof construction is largely the same but may involve additional elements.
Note: Our sedum tray system includes the elements outlined below in each tray. As long as there is a primary waterproofing layer (step one) and a protection fleece (step three), the trays can simply be placed on top of your roof.
Step One - Primary waterproofing layer
Your roof deck – be it concrete or screed – will need to be waterproofed. Some roofs will already have a waterproof layer. If not, we recommend Polyshield Roof Primer and using the two-component Polyshield Liquid Roof Membrane Basecoat & Topcoat, suitable for a range of substrates. The Polyshield needs to be used in conjunction with reinforcing scrim. Alternatively for larger commercial projects on concrete or sand/cement screed, Kiesol MB Primer and then Multi Tight MB 2K.
Step Two – Installing a Root Barrier
Roll out the plastic root barrier across the length of the roof and cut to size. You should overlap and seal with tape where necessary.
Step Three – Installing a Protection Fleece
Roll out the recycled protection fleece across the length of the roof and cut to size. Overlap the next length.
Step Four – Installing Green Roof Drainage Membrane
After the root barrier is in place, you can roll out the green roof drainage membrane across the length of the roof. If you are using our 20P Drainage and Storage membrane then cavities need to be facing up so they can collect water. With the PermaSEAL 8 green roof membrane, the cavities should be facing down. If in doubt just make sure that the bonded geotextile filter fabric is on the top side of the membrane. Cut the membrane to size.
Sealing and Jointing Green Roof Membrane
You can overlap the ends of two rolls of membrane, connecting the cavities. We sell our PermaSEAL Jointing Tape if you want additional protection against roots.
Important note: If your chosen membrane does not contain an integrated geotextile filtering layer then you will need to install one at this stage. Overlap the geotextile element by 100mm minimum. PermaSEAL green roof membranes contain an integrated geotextile layer.
Step Five – Growing Substrate
Now you need to add your substrate – this will likely be some form of aggregate and organic material combination. Spread this evenly across the entire area of the roof to the required depth as per your design.
Note: If you are using sedum mats or blankets then you can skip this step.
Step Six – Planting Seeds / vegetation layer
Plant your green roof seeds or plants at this stage, following recommendations.
Green roof construction FAQs
Green roofs add colour and life to any home, but they must be installed correctly to ensure your flowers thrive all year round. Below are a number of green roof FAQs to help you install your roof.
Do I need planning permission for a green roof?
Green roofs on sheds and other separate outbuildings are usually fine without planning permission. However, if the building is occupied or is attached to one that is, you should contact your council's planning department.
What access requirements are needed to install my green roof?
For smaller DIY projects with limited access, all of the components that make up the green roof system can be carried by hand. Each of our green roof membranes along with our waterproofing compound weigh no more than 25kg. The growing substrate can also be purchased in 25kg bags.
If you have roadside access for a lorry with a grabber then you can potentially have the heavy stuff lifted onto the roof space.
The sedum roof trays are perfect for limited access areas, lightweight and easily manageable for one person.
Can I still have solar panels with a green roof?
For those of you that are looking to double-up on your environmentally-friendly efforts, you may be wondering if green roofs and solar panels are compatible. The short answer is yes – they certainly can be.
Green roofs create a temperature difference that can help a solar panel function better. They also prevent dust build up on the solar panels - this ensures the electricity production isn't negatively impacted.
How much does a green roof cost?
Green roof costs can vary dramatically based on the type, size and construction method. We detail roughly how much a PermaSEAL green roof system will cost (prices will fluctuate). This should serve as a good basis to calculate an approximate total cost.
The overall green roof cost depends on so many factors. We will outline some of the rough costs of the material including some exact costs in relation to our green roof range.
For a flat roof on a shed or log cabin without suitable existing primary waterproofing and a roof area of 19m2, the following costs (used as a guide only) apply:
You also need to factor in various accessories depending on your design including aluminium edge trim and perimeter edging pebbles.
As an approximate guide, you can have a fully functioning 19m2 extensive wildflower green roof for a total cost of between £1150 - £1650.
For larger jobs or when a concrete screed is involved you might want to consider the following as a primary waterproofing option:
The cost of a tray system is easy to calculate.
Each sedum tray measures 460mm x 495mm x 80mm. For every 4.5 trays purchased, you'll cover a 1m² area. It's just a case of working out how many trays you'll need to cover your desired roof space. Each tray costs £16.50 ex. VAT but regardless if you have 1 tray or 45 trays (full pallet), you will have to pay £80 ex VAT for the pallet delivery so factor this in. As a living product, the trays have to be transported on a pallet for safety. If you live close to Bristol you can save the delivery cost by collecting from our Avonmouth site.
As intensive roofs are much bigger projects with many more expensive elements to consider, we will focus on the cost of an extensive green roof in this section.
How much does it cost to install a green roof?
The good news is that with a tray system or an extensive green roof on a flat roof you can do the install yourself at no additional cost. If you want to get someone else to install the green roof, then the cost of green roof installation will depend on the contractor. Be sure to ask lots of questions around the design and how long it will take. It's best to get a few different quotes to compare before opting for one contractor.
Permagard – Providing Solutions. Inspiring Confidence.
If you have any questions about green roof systems then Permagard's experts are here to help. Call our technical team on 0117 982 3282.
You can also browse our full range of green roof products or explore our Professional Green Roof range.
Further Reading and sources:
Royal Horticultural Society on Green Roof
Header image by Ryan Somma via Wikimedia Commons.