If you're reading this article, it's probably because you fancy growing plants on a roof and started researching green roofs. You're here to find out more information about:
what green roofs are
how they work
their benefits, and
how you can start the process of building your own
Here at Permagard, we have all the information you need.
In this guide, we're going to introduce you to the world of green roofs. We'll provide you with all the insight and direction you're looking for, along with extra information and resources to help you build your own green roof further down the line.
What is a green roof?
Green roofs are roofs that are partially or completely covered with plants and vegetation. These are also known as sedum roofs, grass roofs, or living roofs.
The vegetation is usually planted over a drainage membrane that sits on top of the roof, along with additional layers such as a root barriers and waterproofing products. When used correctly, this combination of products help the plants thrive on the roof without causing damage to the building's structure. Alternatively, you can use a modular green roof tray system that contains all of the component parts in a self-contained unit that can be placed directly on top of a waterproof layer. If you're wondering what green roofs do and their advantages then we cover this a bit later.
If you're wondering what green roofs do and their advantages then we cover this a bit later.
What is a green roof system?
You may hear people talk about a green roof system - this can mean one of two things. We use the term to refer to all the different components that make up an effective and safe green roof. You can find an overview of our green roof systems here.
Sometimes, a green roof system may refer to an off-the-shelf instant green roof tray that slot together to form a sedum green roof. Check out our sedum roof tray for an idea of this convenient and instant option, or read our green roof tray installation guide for more information.
What are the different types of green roofs?
The three main types of green roofs are extensive, semi-intensive and intensive.
Each type of green roof suits a different purpose. When it comes to choosing what type of green roof that will work best for you, you'll most likely need an extensive green roof as these cover most smaller, domestic projects such as green shed roofs, garages, extensions. An extensive system could be anything from a rolled-out drainage membrane and sedum blanket to an 'all-in-one' sedum roof tray system. But let's look at the differences between the three main types in a little more detail.
What is the difference between extensive, semi-intensive and intensive green roofs?
Extensive green roofs are very lightweight and require very little maintenance. They tend to have an attractive low layer of vegetation consisting of grass, moss, sedum or wildflowers. Sedum roofs are the most common choice due to their hardiness and low maintenance.
Intensive roofs on the other hand are a whole lot more complex. They are designed to support larger plants such as bushes and small trees which is why they're often referred to as roof gardens. They normally require a much deeper layer of growing medium or soil to support the much thicker vegetation layer, and can include hard landscaped areas for people to access the roof. Generally speaking, pretty much anything can go on an intensive roof as long as the structure can support the weight.
Semi-intensive roofs fall somewhere in the middle, incorporating characteristics from both. Growing medium depths are a bit deeper than extensive and support slightly larger plants and shrubs.
You can find out more about both intensive and extensive green roofs in our green roof construction guide.
What is a green roof tray system?
A green roof tray system falls under the extensive green roof category, in that they contain a low layer of vegetation that requires little maintenance. All of the elements of an extensive system, drainage, water storage, a specially formulated substrate layer and vegetation are self-contained in the individual trays. These can then be installed directly over the waterproof layer with the simple addition of a protection fleece that sits between the waterproof layer and the trays, to protect the waterproofing making installation quick and easy.
How do green roofs work?
Green roofs work by bringing together specific components in a system to successfully sustain a variety of vegetation. The basic system includes the following:
Primary waterproofing layer
Root Barrier (often the waterproofing layer also acts as a root barrier)
Protection Fleece
Green Roof Drainage Membrane
Filter membrane
Growing Substrate
Vegetation layer e.g Sedum blanket or Wildflowers
The waterproofing layer protects your structure from water damage and the root barrier protects against any roots that might grow through. The protection fleece protects the waterproofing layer from mechanical damage and also acts as another water storage layer to further control water drainage into the local drainage system. The green roof membrane acts as a drainage layer so that your plants/vegetation don't get waterlogged. There are drainage membranes that can also accommodate water storage, to support larger vegetation. The geotextile filter membrane keeps the drainage layer free from fines and anything that could potentially clog the system up. Some of our drainage membranes have a fully bonded filter fabric to further speed up installation. And then the growing substrate supports your plants.
The sedum roof trays have a lot of these layers already built in so you can pretty much place the trays and you're done.
These elements are easy to install on flat (gently sloping) or low-pitched roofs (under 9.5°) as long as some basic design rules are followed.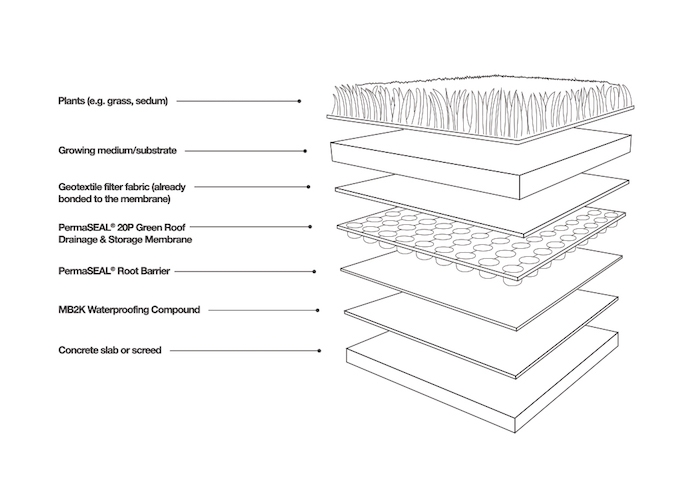 The pros and cons of green roofs
It's important to know the benefits of green roofs as well as their downsides before you decide on installing yours. We love shouting about all the green roof advantages, but they're not for everyone. Let's look through the benefits and drawbacks of installing your own green roof.
Benefits of Green Roofs
There are many green roof systems benefits, spanning from the environmental to the aesthetic that we'll look at in more detail.
Eco green roofs and the environment
The green roof's attractive appearance also has serious eco benefits. This environmental angle is what's helping to fuel the green roof trend across the world. From private residences to commercial properties, eco green roofs are popping up everywhere.
Even cities like London are pushing for their construction throughout the centre, praising how their eco-benefits help improve urban areas. Let's explore exactly what the green roof environmental benefits are.
What are the eco benefits of green roofs?
1. Green roofs promote biodiversity in urban areas
In urban areas, green roofs offer safe spaces for wildlife and nature to thrive. They can help insects, birds and plants to find a haven in spaces that would otherwise be hostile. This promotes better biodiversity all round, and can be especially beneficial in big cities where nature is often pushed to the outskirts.
2. Green roofs provide thermal protection and reduce energy use
Having a green roof built on your property or outbuilding helps you reduce your energy costs. They have been shown to significantly reduce the need to cool or heat the space, instead maintaining a livable temperature year round. This makes them ideal for garages, garden offices, workshops and sheds as well as conservatories and extensions.
The plants on your living roof reflect the sun's rays which has a cooling impact on the structure. As the climate continues to change, finding more sustainable ways to cool properties will become increasingly important. Green roofs offer an excellent and attractive way to help reduce some of this environmental pressure.
3. Green roofs improve air quality in your home
A green roof can help improve the air quality of your home or outbuilding by filtering and absorbing airborne particles and pollutants. In urban areas with high amounts of pollution, this means you can reduce the toxins in your home making your home a safer place all round.
4. Green roofs can help retain and purify rainwater
Green roofs help retain and purify the water that falls from the sky. By absorbing rain water, they help to reduce the water load of sewer systems, resulting in less water waste. They also purify water by preventing pollutants from passing from the atmosphere into other streams and water channels and improving overall water quality.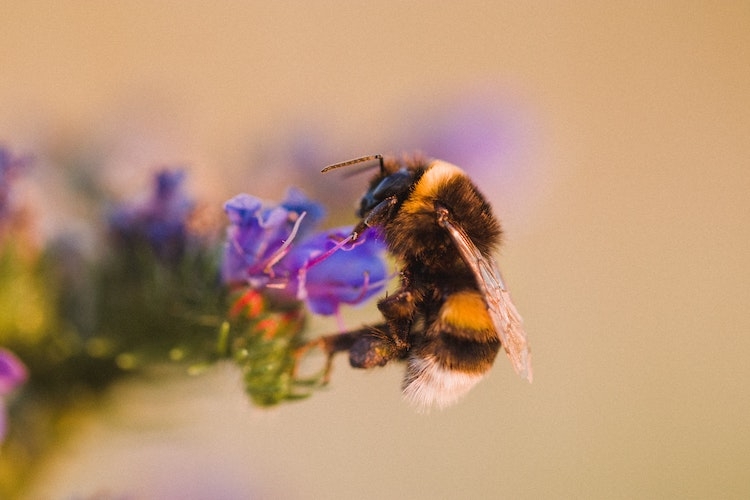 Image by Jonas Von Werne on Pexels.
Additional benefits of green roofs
Aside from the eco benefits of green roofs, they also have more practical uses, too.
1. Green roofs provide good sound insulation
Thanks to the combination of growing medium and sedum blankets, waterproofing, plants and multiple layers of trapped air, green roofs are natural sound insulators. These layers help to absorb, reflect or deflect sound waves entering the home, with low level plants blocking out lower sound frequencies, and any taller plants blocking out the higher ones.
2. Green roofs offer protection against floods
Due to how they are set up, green roofs can actually help to reduce flooding, by absorbing rain water, they help to reduce the water load of sewer systems, resulting in less water waste at one point. This is ideal within Sustainable Urban Drainage Systems (SUDS) schemes.
The water is processed by the green roof and discharged slowly to the gutters and downpipes over a longer period of time giving the rainwater system chance to get rid of the water.
3. Green roofs help blend buildings into their surroundings
An obvious benefit from an aesthetic point of view is less bland grey and black roofs and more greenery and colour that can often look like an extension of the surrounding environment or garden.
4.Reducing your carbon footprint
Installing a green roof on your property helps you lower your carbon footprint a little by reducing energy costs, further helping you do your bit for the environment.
5.Extend the life expectancy of the waterproofing
By covering your existing or new roof waterproofing layer, you're increasing its life expectancy dramatically and saving money in the long run. The green roof protects the waterproofing from UV damage and harmful thermal movement.
The downsides of green roofs
There can be some drawbacks to installing a green roof. These are mostly to do with the risks associated with poor construction and the cost of some green roofs although, you have to look at it as an investment with ongoing benefits. It's important to consider these potential issues before you install your own.
The biggest risk is around getting the installation wrong and causing damage to your property, including roof leaks, root penetration and even roof collapse. If you decide to install your own green roof, make sure you follow a clear construction plan. Our how to guide to green roof construction has everything you need to know about installing your own green roof but for complete confidence you should use a professional. Tray systems are the easiest type of green roof to install and are generally a good option for DIYers, avoiding many of the concerns around the installation of lots of separate layers in a green roof system you construct yourself.
When it comes to price, it's true that green roofs are an investment - there's no such thing as a cheap green roof although at Permagard we work hard to offer high quality at a reasonable price. Skipping certain layers to keep costs down won't work out in the long run.
You'll need to take into consideration the cost of all elements of your green roof system. If you choose a contractor to build your green roof, you'll also need to factor in this additional cost. While these upfront costs can seem expensive, remember that once installed, the ongoing maintenance costs are very little.
Green roof ideas
Once you've decided you want to install your own green roof, it's time to start thinking about inspiration and installation.
Green roof design is crucial to achieving the living roof you want. When it comes to planning your green roof, you need to consider the weight of the system and the ability of your structure to support it.
There are lots of different ways you can incorporate green roofs into your life, you can install them in places like:
Sheds
Garages
Bin stores
Bike storage units
Extensions\Offices
Repurposed shipping containers
Installing mini green roofs like this allows you to get all the benefits of a green roof without the larger upfront commitment. Draw inspiration from existing green roof designs and spark your own ideas.
How much does a green roof cost?
The price of your green roof will depend on its type, size and the construction method needed. For extensive green roofs, it can be relatively inexpensive, quick and easy to construct and install - especially with help from the team at Permagard.
Our range includes everything you need to build a PermaSEAL green roof system perfect for most residential applications. By using our product prices as a guide, you should be able to calculate an approximate total cost of your green roof.
For example, to build on the flat roof of a shed or log cabin with a roof area of 19m², you would need to buy two of either of the following kits:
And consider the following accessories:
If you want a sedum roof, you will need growing substrate and a sedum blanket to cover a 19m² roof. This would cost approximately £800 - £1000.
The installation wouldn't cost you anything if you choose an extensive green roof on a flat roof. You can install it yourself at no additional cost! If you choose to get someone else to install your green roof, then the additional costs would depend on your contractor. But, as an idea, you can have a fully functioning 19m2 extensive wildflower green roof for a total cost of between £600 - £1000.
The cost of a green roof constructed using PermaSEAL Sedum Roof Trays is easy to calculate as everything needed is contained within each unit, so it's just a case of multiplying the cost of the tray by the area of the roof.
Our sedum trays measure 460mm x 495mm x 80mm. For every 4.5 trays purchased, you'll cover a 1m² area. Each tray costs £96.50 ex. VAT but regardless if you have 1 tray or 45 trays (full pallet), you will have to pay £80 ex VAT for the pallet delivery so factor this in. As a living product, the trays have to be transported on a pallet for safety. If you live close to Bristol, you can save the delivery cost by collecting from our Avonmouth site.
Green Roof Kits
At Permagard, we have an extensive range of green roof products alongside ultra-convenient kits that contain all you need to get started. Our aim is to make it easy for you to build the green roof of your dreams without having to source lots of different products. Our premium sedum is grown in Ireland and our green roof range only contains high-quality professional products.
Head to our green roof products page, and you'll find a wealth of information about our different products along with information about which green roof products kits will best suit your needs.
Maintaining your green roof
Once you have installed your green roof, you'll need to look after it. The great thing about green roofs is that in the main they self-regulate. This means you can enjoy their benefits pretty much as soon as they're built, without having to spend too much time looking after them.
But there are some things you'll need to do to keep them happy, healthy and thriving. Different seasons, changes in the weather and other environmental factors can all take their toll on your green roof, so some maintenance will be needed as the years go on.
To maintain your green roof, you'll need to do things like:
Manage plant encroachment
Water your green roof through extended periods of no rain
Occasionally use a fertiliser on certain plants
Identify common problems and solve them
We've written a full guide on how you can look after your green roof throughout the year. Head to our green roof maintenance guide for intensive and extensive green roofs.
Permagard – Providing Solutions. Inspiring Confidence.
If you have any questions about green roof systems, talk to the experts at Permagard. Our technical team would be happy to advise you on everything from green roof construction to maintenance.
Give us a call on 0117 982 3282. You can also browse our full range of green roof products.
Looking for more garden inspiration? Check out our guide to sunken garden design and drainage.