External tanking is the process of sealing the outside of a building or substructure in order to protect it from water ingress, flooding and other water damage. External tanking is usually carried out using "type A" waterproofing systems, a term defined under BS 8102:2022 as products that are fully bonded to the structure such as self adhesive membrane sheets, liquid applied membranes,tanking slurries or a combination of all.
The process of external tanking is often carried out when a new structure is being built and requires the protective tanking layer to be installed before the structure is developed further. On the other hand, pre-existing buildings may require remedial external tanking where an existing system has failed or was never installed when the structure was built.
In this piece, our expert technical team will give a comprehensive overview of external tanking. We'll include a rundown of the various material methods used to externally tank a built structure.
The importance of tanking external walls below ground level
External tanking is nothing new and for below ground structures it's more complex than just keeping water out. Factors like high water tables mean that below ground structures are subject to hydrostatic pressure from groundwater.. Freak occurrences such as burst water mains can also add to pressure exerted on a building.
External tanking is important because it acts as a barrier between the ground and the outer layer of masonry. It prevents moisture from forcing its way into the masonry through weak areas such as wall floor junctions or construction joints.
If the building doesn't have an internal waterproofing system apart from the obvious flooding that could occur, there is also the knock on effect of rotting timbers, structural damage and other damp related issues.
How to tank an external wall
There are many different methods used to tank external walls, each with their own specific combinations of tanking products. A 'Type A' external tanking system needs to bond to the surface of the substrate it is protecting. Depending on whether the construction style is modern or old, a substrate material can be different and will require a binder that will bond the tanking membrane to the structure.

Using a self adhesive external tanking membrane on ICF
An ever increasing number of new commercial and residential buildings are constructed using ICF (Insulated Concrete Formwork) blocks. This is because they enable quick build times whilst offering acoustic and thermal insulation qualities.
ICF is made from manufactured polystyrene which needs a water based ICF primer to effectively bond the self adhesive tanking system to the ICF blockwork. Cementitious tanking slurry would not be able to bond with an ICF surface and would also cause damage and abrasions. Remmers Multi Tight MB 2K+ with its excellent adhesive capabilities would be an alternative option to the self adhesive membrane and can also protect against radon.

ICF primer
An ICF friendly primer will prepare the surface adding extra tack for the self adhesive membrane to bond more effectively. This must be a water based primer such as PermaSEAL ICF, which can be sprayed, brushed or roller applied to the surface. Bitumen based primers will deteriorate the polystyrene and cause the membrane to debond and fail. It will take about 1.5 hours for the primer to dry and the membrane would be applied within 24 hours of priming the surface. It's important to try and limit the amount of dust or debris that could stick to the primer before the membrane has been applied. Excessive dust or debris won't brush away easily, at which stage another coat of primer would need to be applied.
Find our more about ICF block waterproofing systems.

Fillet sealing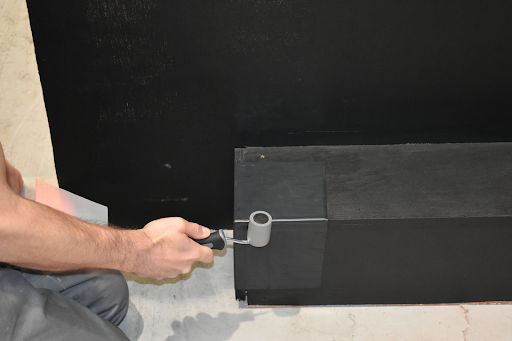 Fillet sealing the 90 degree angle where the wall joins the foundation is key as this area is prone to failure and water ingress and needs to be reinforced. Whether a concrete foundation or ICF foundation, a coved fillet should be created.
When creating a fillet seal for an ICF wall, a mixture of Remmers Multi Tight MB 2K+ and quartz aggregate should be used. For extra reinforcement, vulnerable junctions alongside the structure should be detailed with 300mm strips of self adhesive membrane.
The self-adhesive membrane
Once the primer layer has dried and not been affected by too much dust, dirt or debris, apply the self adhesive membrane as per the instructions. Our self-adhesive tanking membrane can be applied by peeling back the base tape and applying it vertically down from the top of the wall. This will provide the system with an impermeable barrier that will prevent water ingress, as well as resist acidic decay and water soluble salts.

Geodrain membrane and land drain system
With the primary waterproof barrier fitted, the tanking system needs a drainage membrane layer.. PermaSEAL 8 Geodrain Membrane allows water to pass through its geotextile filter layer, into the studded cavity and then drop down to a suitable and maintainable land drain system, for quick relief of water pressure.
Find out more about external waterproofing with Geodrain membranes.

Outer protection board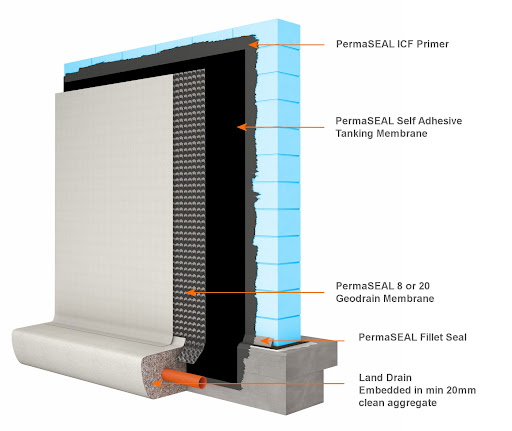 In cases where the excavation will be mechanically backfilled and there is a risk of the drainage membrane being damaged, a suitable protection board can be installed in front of the membrane. Thick bitumen sheets or sometimes even a sacrificial piece of plywood are often used.
External wall tanking on masonry
Although ICF structures are becoming more and more popular with the growing need for more sustainable, energy efficient construction, concrete and masonry builds still make up a good amount of new build construction. Currently there are still more available waterproof tanking products for concrete than ICF. The most common being liquid applied membranes, self adhesive membranes and fully bonded tanking slurries. All of these create a continuous bond and barrier to the structure.
Historically, external wall tanking on masonry has consisted of a bitumen based product but this is gradually changing as more modern alternatives are introduced that are friendlier to use. Fully bonded bitumen systems are only compatible on masonry walls and not ICF. Cementitious tanking slurries are also another type of product that aren't compatible with ICF.
Our preferred systems for masonry walls are Multi Tight MB2K+ with Kiesol MB Primer (protected and drained with PermaSEAL 8 Geodrain Membrane) and PermaSEAL Self Adhesive Tanking Membrane with bitumen primer (also protected and drained with PermaSEAL Self Adhesive Tanking Membrane). Multi Tight MB2K+ has the added benefit of radon protection and resistance to extreme temperatures. As with ICF, it's still very important to create a coved fillet at the wall/floor junction.

An external insulation layer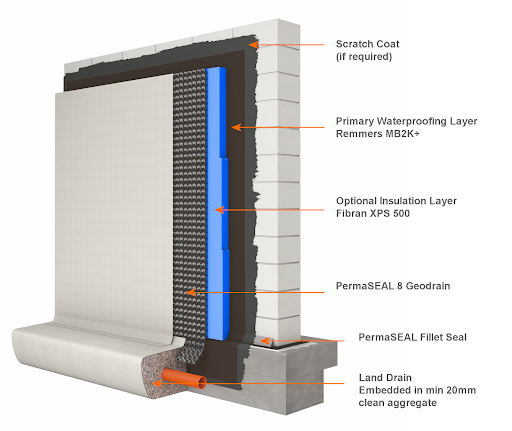 One of the major disadvantages of masonry walls compared to ICF is that insulation is essentially a pre-built feature of locked ICF blocks. Masonry walls on the other hand are notorious for heat transfer and therefore need to be insulated separately. This is where optional insulation is layered over the external primary tanking system before the cavity drain membrane. Adding insulation as part of the external tanking system is often the preferred method over a positive installation (on the interior of the structure) as this saves room on the inside.
External tanking products at Permagard
At Permagard we manufacture and supply the most highly recommended external tanking products on the market. Our ranges are always in stock and ready to be shipped in bulk, making us the ideal supplier for commercial projects that involve external waterproofing. Our online store will provide you with everything you need for your external tanking project no matter how big, or small.
Drainage membrane for external walls
External primary waterproofing products
External insulation
Permagard - Providing Solutions, Inspiring Confidence
Getting external tanking right is critical when it comes to a structure's ability to resist water ingress and enjoy longevity. Quality external tanking products that are easy to use and have a reputation therefore are a must. Permagard maintains a constant stock of external tanking supplies in quantities suitable for large external tanking products. We offer rapid delivery in one to three days while providing our professional customers unrivalled technical support.
Are you working on a professional external tanking project? Call our dedicated team for a consultation today on 0117 982 3282.