Home cinemas have turned from a distant fantasy into a reality. With the quality of equipment available and its relative affordability, home cinemas are now an attainable dream on a range of budgets. Whether it's a bachelor pad or a family room, a cultural retreat or a place for blockbuster escapism, a cinema room allows you to focus on entertainment exclusively. It's a bubble to escape reality and indulge yourself.
There is no better place for your home cinema than a converted basement. Separate to the living room, it provides a dedicated space for entertainment. You benefit from an immersive experience that does not interfere with other rooms whilst making the most out of an underused space. However, creating a true cinematic experience in your basement requires you to consider a whole range of points beyond just picking the right equipment. That's where this guide comes in – providing you with all of the basic information on home cinema design and installation, allowing you to work on aspects of the project yourself and better understand the process.
Contents
Before Getting Started & Key Considerations
Design - Home cinema design ideas / inspiration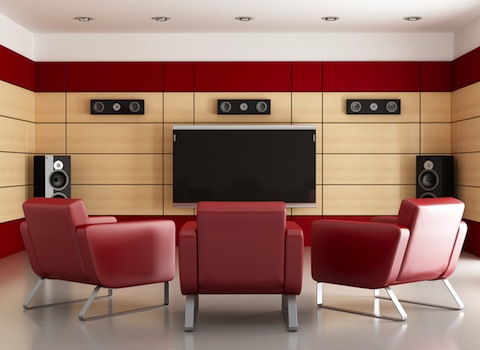 Before Getting Started
There are some major considerations with any basement conversion for a home cinema.
Do I need to Convert my Basement?
Do you already have a converted basement? Or do you need to convert an existing cellar / basement space to be inhabitable? A basement conversion is a big project. If you need to extend the space to accommodate a home cinema then there is planning permission to consider.
Do I have the Budget? 
Later on in this guide we explore the costs involved in both converting your basement and creating a home cinema. It is important to be aware of all of the potential outgoings and have a budget in mind to see what you can achieve.  
Do I have enough Space?
You need to make a decision as to if you have enough space to create your home cinema. What you can achieve is limited by available space and to some extent shape. When it comes to basement spaces, you ideally want a rectangular space. Square rooms can still work but are not ideal. It's important to remember that ceilings and walls may need to be built on, reducing the overall internal space.
The size needs to comfortably accommodate the number of people you want in a position that allows them to view the screen. With this in mind, ask yourself Do I need to extend the basement? Do I need to lower the basement floor to comfortably accommodate equipment and furniture?
I am going ahead…
How to Convert a Basement into a Home Cinema
Basements are often prone to damp and you must take measures to avoid any form of water ingress. The solution is to install a basement waterproofing system – if installed correctly it will ensure that any water is taken away to a safe evacuation point. You can read our guide on Basement Conversions that covers everything you need to know including costs, regulations, key considerations and more.
Once your basement has a waterproofing system in place you then need to ensure it is insulated, plastered and soundproofed so it is suitable for your home cinema. Wires can be hidden in walls and under flooring so consider this at this early planning stage too. 
Planning Permission and Building Regulations
As with most basement conversions where a basement already exists and you don't plan to extend, you do not need planning permission. However, it's worth getting in touch with your local council to confirm there are no conversion guidelines in place.
When it comes to building regulations, you will need approval even if it only involves a change of use of an existing cellar. These Regulations will ensure your newly converted basement is safe and energy efficient, covering fire escape routes, ventilation, ceiling height, damp proofing, electrical wiring and water supplies. 
Read more on Basement Building Regulations.
Ventilation for Home Cinemas
You will need to ventilate your basement as they tend to suffer from damp and condensation. Proper ventilation will reduce humidity as well as improve the air quality by removing stale air and replacing it with fresh air. When considering ventilation in your home cinema, you want it to be quiet so that it does not disturb your film. Many systems can be whisper quiet but you may also want to consider some soundproofing steps around the ventilation units. It's also important that any ventilation system does not produce any drips that could damage your equipment.
You can read more on your ventilation options here.
Insulation for Home Cinemas
Insulation helps create an energy efficient moisture-free home cinema. With internal basement insulation, focus on the walls rather than the ceiling.
When it comes to interior basement wall insulation there are a number of affordable options. They include:
Blanket (batt and roll) insulation - the space between the studs is filled with fiberglass insulation covered with a vapour barrier
Foam board insulation – high water resistance and very low water absorption. Foam board insulation can be fixed to a cavity drainage membrane.
Loose-fill insulation - cheaper than batt and roll insulation.
Sprayed foam insulation – a good option for finished basements. 
Acoustics and Sound Proofing for Home Cinemas
Acoustics for Home Cinema
Basements often feature hard surfaces, usually concrete, which forces sound to bounce off them and reverberate around the room. This will negatively impact the audio experience in your home cinema. You will therefore need to consider all surfaces in your basement and how these may impact the acoustics. As a guiding principle, you need to look at absorbing sound rather than reflecting it.
This can be achieved in two main ways:
1) Using acoustic / soundproofing products such as Acoustic Plasterboard and Acoustic wall panels. 
2) Using fabrics to reduce echo
Acoustics are improved by reducing the echo off of hard surfaces – the most common method is using thick carpet for the flooring. If this is not an option, a large rug can help. Any further use of fabric such as in furniture or upholstered or carpeted walls can help absorb sound.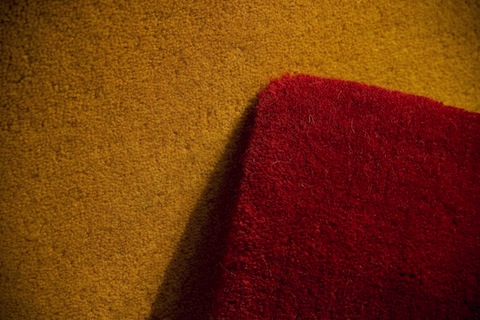 Sound Proofing for Home Cinemas
As well as considering acoustics and ensuring the best sound quality for your home cinema, you need to make sure that sound does not escape from the basement into the rest of your home or disturbs your neighbours. Sounds, especially bass, can leak through the ceiling. There are a few options here. You can insulate around the speakers and subwoofer, employing some soundproofing materials. When it comes to ceilings, you are often limited due to basement ceilings tending to be lower. Look for thin acoustic tiles to prevent sound leakage.
Soundproofing can become very expensive, especially if you are aiming for no noise transmission, so it's important to make sure it is fit for purpose. If you hire a professional be prepared for very high costs. 
Lighting for Home Cinemas
Basements are ideal for home cinemas because of their lack of natural light. Too much light can drastically affect your picture quality so it's important to get lighting right.  If you do have windows in your basement, then you will need to use blackout fabric or specialist blinds and curtains to ensure that light does not enter.
You will of course need some form of lighting in your basement. Hanging lights of any kind aren't a good idea due to lower ceilings. When it comes to home cinema lighting, indirect light is advisable so recessed lighting, including recessed spotlights, are the best option along with uplighting lamps on the walls.
You also want to be able to control the light levels with ease for that cinematic experience – this means that dimmable lights are a must. Some intelligent lighting systems allow you to programme moods and access them at the touch of a button – this allows you to have a before, during and after film lighting preset to create the ideal ambiance.
Home Cinema Design 
Home Cinema Design Layout
When it comes to your home cinema layout, start by planning it out on graph paper or using an online program. It's best to start with the positioning of your screen and then plan the rest of the room around this. Surround sound is also important so be sure to plot the position of speakers too.
Seating Layout
When it comes to home cinemas, one of most important aspect is the seating. The first thing you need to decide is how many people you want to seat and then see how many seats you can comfortably fit into the space. If the number of people is eight or more then you may want to consider rows of seats. Otherwise reclining chairs or couches are ideal.
In terms of seating layout, it is vitally important that everyone has a great view of the screen. The positioning of your seating is therefore crucial to the overall success of the project.
HomeBuilding provide the following advice on Calculating Seating Position:
"Two lines should be drawn from the seated position to the edges of the screen; this is the viewing angle.
Ideally this angle should be 35° — any greater than 40° and the experience will be impressive but feel far too big for the room, making you feel that you are too close to the screen.
On the other hand, a viewing angle below 30° will mean the rest of the room enters your peripheral vision, affecting your view."
If opting for two rows of seats then you need to build a platform to elevate the second row – this can be an issue with low ceilings.
Colour Schemes for Basement Cinema Rooms
You want the walls and ceiling to be as dark as possible without being oppressive.
Paula Robinson offers the following room planning tips from the Telegraph: "Ensure that your wall and floor finishes have interest. A lack of daylight, a plain floor and walls can make a basement feel like a cell. Play with texture and colour, but avoid anything too vivid."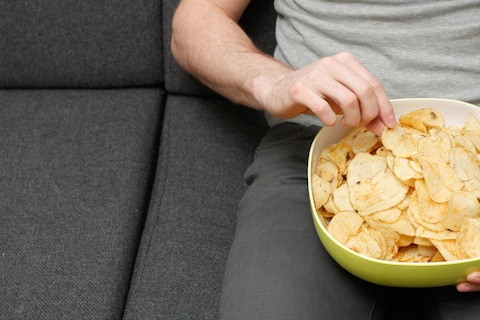 Home Cinema Furniture
Seats
It's essential that the seating is comfortable. As well as comfort, you also want to feel that you have sufficient space. You can get reclining chairs that move forward into the room rather than backwards, which is great for smaller spaces.
Other Furniture
You may want surfaces where you can place drinks, snacks and controllers.
Storage 
You are likely to have a lot of equipment in your home cinema and this means that you need to consider storage. Most people like to keep as much equipment out of sight so concealed storage is the preferred options – consider floor to ceiling cabinets and cupboards with built-in shelves. One important point to remember with any storage units is that electronic equipment will heat up with use and therefore needs to be kept cool.
Home Cinema Equipment
When it comes to choosing your home cinema equipment you have two main options – buy a home cinema system that contains everything you need or source each item individually. Both options have their pros and cons. All-in-one systems are convenient as they come complete with everything you need but opting for separates allows you to be more selective over performance. If opting for separates, it can cost more as you will need an amplifier, speakers, and a media player such as a DVD or Blu-ray player, as well as a screen.
This article from Digital Spy takes you through the equipment required and looks at three different budget packages.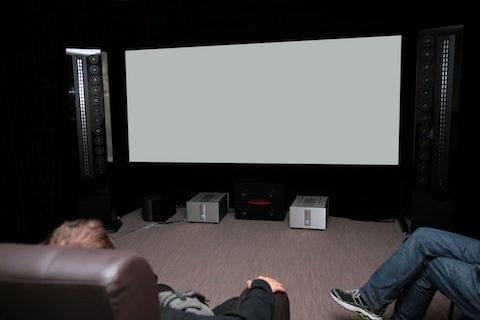 SCREEN
One of the first and most important decisions you need to make for your home cinema is whether you go for a TV or Projector Screen.
You can easily mount a large plasma screen or LED TV on the wall to provide full HD quality. TVs make more sense for everyday use too. However, for that true home cinema experience you will want a larger screen, and a ceiling-mounted projector and screen makes sense. These are also cheaper but you will need to ensure the lighting is spot on.
Tip - The noise of the projector is an important consideration – larger, more high end projectors can be noisy and may require their own extraction  due to the heat they generate.
Tip – Take measurements of the distance between projector and screen as this will be a consideration when considering your options.
SOUND
Once you've got the visuals sorted, next comes the audio experience. Surround-sound is pretty much a must for any home cinema as you want great sound quality and a genuinely immersive experience.
When it comes to surround sound you have a number of options. The most common surround sound options is a 5.1 system – this involves three speakers around the screen, two rear speakers and a subwoofer. You can also get 7.1 systems which provides two further rear speakers - if you have the space and budget to go high end then this can offer an enhanced audio experience but otherwise 5:1 is perfectly adequate.
Check that your receiver can play surround sound and that there are no compatibility issues with your other equipment.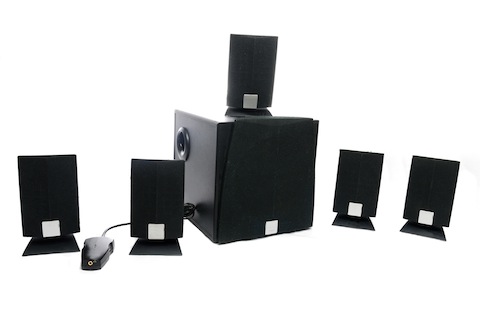 Should I go wireless?
Going wireless with your surround sound system means that you don't have to worry about speaker cables but it can also be more expensive.
RECEIVER
A receiver is required to amplify the audio signal from your source to the speakers. Check that your receiver can play surround sound and that there are no compatibility issues with your other equipment.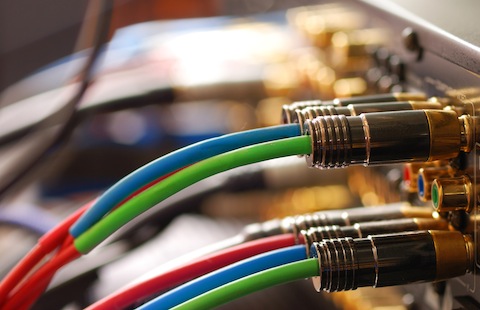 PLAYER
When it comes to how you will play your media, you have the following options:
Blu-ray player
DVD player
HD source devices - Sky HD, Virgin HD, Apple TV, Chromecast, Amazon Fire
Games consoles - Microsoft Xbox; Sony PlayStation support Dolby digital surround sound
It is best to opt for Blu-ray when it comes to home cinemas, as the picture quality is HD and the sound is also designed for digital surround sound.You need to pick high quality cables to get the best signal from your source to the projector or TV -HDMI or DVI are recommended. 
CONTROL
When it comes to your home cinema, you want to make sure you can control every aspect of your home cinema space from one central place – whether this is a wall mounted keypad, an app from your Smartphone or Tablet or an All-in-One remote. As well as control over your entertainment, you ideally want control over lighting, temperature and ventilation too. All features should be easy-to-control from one central control.
Ensuring that all of your audio and video products work together without any glitches will take some thought.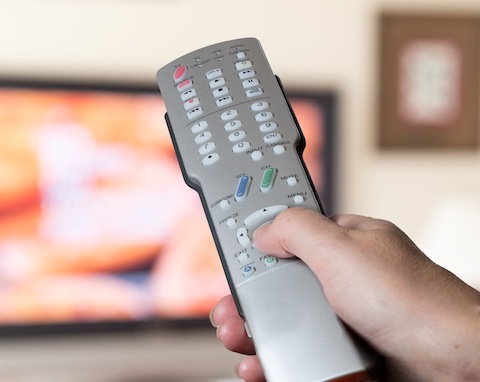 Hiding Equipment
When done properly home cinemas require a lot of equipment. Most people will be keen to keep as much of this hidden so that it does not detract from the feel of the room. Here are some tips for concealing or reducing equipment:
Use a drop-down screen and projector
Opt for wireless speakers
Cut channels into the floor for cabling
Plaster speakers into the wall
Invest in purpose built cabinets
Home Cinema Costs
The costs involved in the project will depend on the works involved, the standard of equipment and general finish. When looking at costing the project you need to consider the following:
Basement Conversion
Installation of Home Cinema
Electronics equipment
Furniture 
The costs of converting a basement are not cheap but often add value to your property as well as a definite wow factor.
The basic equipment and furnishings can be picked up for a couple of thousand pounds but high-end equipment and furnishings can see the costs rise dramatically.
Permagard – a Family Business with expert knowledge
Permagard are experts in basement conversions, providing all you need to ensure you have a waterproofing solution that is fit to purpose. We also provide technical expert advise whenever you need it. Call us today to find out more our browse our basement waterproofing section.
Further Reading
Read our round-up of Basement Conversion Ideas.
How to Turn Your Basement into a Movie Room article from Houzz
How to Build a Home Movie Theater Room on a Budget By Jason Steele 
Cedia - the international trade organisation for the home technology industry with over 3500 member companies worldwide. It also has this blog on Basement Home Theatres.