When it comes to the end of summer, many people's minds turn to making sure their house is in as good a condition as possible. With wet weather around the corner, our considerations naturally focus on keeping it dry, warm, cosy and an enjoyable space to spend time.
There are number of things worth doing to the outside of your home to make sure your property stays as dry as possible. In this guide, we look at cleaning gutters and the benefits of a gutter that is free of the debris that accumulates during the autumn season. Many people wait until it's too late to get this job done – when the weather is good is the ideal time to get it sorted.
Why is it Important to Clean the Gutter?
When gutters take rainwater away from the house, they are essentially preventing a build up of water in areas you least want it. Excess water in certain areas can wreak havoc on the structural integrity of your property. Often it will ingress through the walls and into your house. Blocked gutters can be a cause of penetrating damp
Replacing gutters if you have neglected to clean them out can also be expensive. Often, the weight of debris, leaves and twigs in gutters is heavy enough to break them off. They can also cause quite a lot of damage on the way down!
Cleaning a Gutter – Where to Start
To clean a gutter you need to ensure that firstly you're safe and secondly, you have the right equipment to clean out the gutter properly. Set a ladder at arms length from the wall and ascend with caution. Keep sharp objects out of your pocket and make sure someone is with you.
Once you get to the gutter you'll need something to put the mulch in – black bin liners, rubble sacks or plastic bags are great but if necessary throw into a pile on the floor and rake up when complete. Don't attempt to take buckets up a ladder as it can become pretty precarious. Always drop the bags to the ground when each one is full. Additionally, never attempt to reach further than arms length when on the top of a ladder. The leaves and debris that settle in the gutter can be very heavy and therefore difficult to manage at height.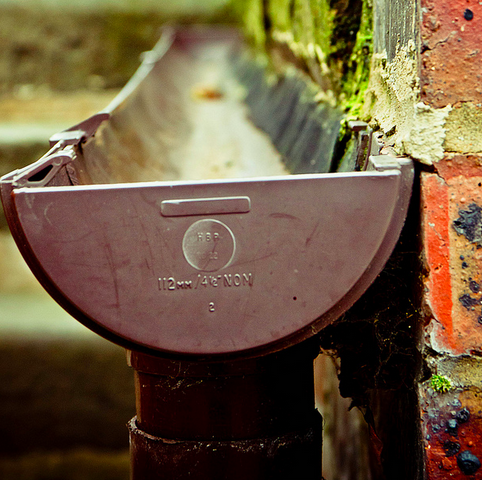 Cleaning Up
One of the latter stages of cleaning a gutter is to make sure that you clear out the residuals once the main debris is out the way. Getting a hose is a great way of doing this. Spray water down the gutter and down spouts first to clear away any bits you missed, but also to ensure water flows normally again without getting clogged.
Once this is done, it's a great chance to make any other amends to the outside of your property. Consider a fresh lick of paint or repair any damaged render. Alternatively, you could take the opportunity to ensure the garden is prepared for the low season.
View our article on how to waterproof a shed or browse our garden wood treatments.
Here to help
Permagard has more than 30 years' of experience in the industry. We can recommend and advise on a wide range of home renovation and damp proofing products. If you are experiencing issues with penetrating damp and water penetration then browse our range of water repellents or get in touch. Contact us for more information.