What is water ingress? And what can I do about it? At Permagard and across the building industry you may see and hear the term water ingress along with phrases like penetrating damp. To certain people this means something, to others it's not entirely clear exactly what's being referred to. In this article, we aim to solve all that by taking a look at what water ingress is in buildings, its common causes as well as how to prevent and treat water ingress.
What is water ingress?
Water ingress is when water makes its way into a building.
Any water coming into your home or a building is bad news. It can cause immediate damage as well as lead to further and more expensive problems down the line. This includes damage to decoration, fungal decay, and long term issues with damp – it can even have a negative impact on your health. It's important to take measures to prevent water ingress or deal with the root cause as soon as possible.
What is water ingress in buildings?
Water ingress is when water from outside makes its way into a building. It can occur in properties in a number of different ways and for many different reasons. Some water ingress is referred to as penetrating damp - this is because the water penetrates through the walls to make its way into the property.
Causes of Water Ingress
The most common cause of water ingress is a building fault or defect. Over time building materials can deteriorate. Below-standard workmanship can also lead to water ingress. There is a whole range of building defects that will allow water in and lead to water ingress, but we've covered some of the more common below:
Roofs – missing or broken tiles or slates, 'defective surfacing to valley gutters and flat roofs', faulty flashing around chimneys. Ideally, you will get a professional to carry out a thorough inspection of the roof to identify any damage or issues.
Blocked or faulty gutters

Walls – cracked render or deteriorating mortar, a bridged cavity wall or bridged damp proof course(DPC), missing DPC, blocked air-bricks, damaged or broken pipework, along with faulty internal plumbing.
Windows - faulty flashing around window frames (throats to sills).
Rising damp – a failed or bridged damp proof course or no dpc can be a cause of water ingress.
Flooding – if you live on a floodplain or by a body of water, then flooding is a risk that can result in water ingress.
Faulty plumbing – leaks within your house can also lead to water ingress.
You can read more on water ingress on the Property Care Association website.

Photo by Annie Spratt on Unsplash
How do I know if I have water ingress?
You can carry out your own inspection to identify any of the common signs of water ingress.
Sometimes you will spot the outside fault before seeing any evidence of water ingress internally.
There are some warning signs that you should look out for:
Damp patches on walls
Mould growth on walls
Peeling paintwork
Damp and musty smell
Water ingress issues
If water is making its way into your property then you may experience some of the following water ingress issues:
Damp plasterwork
Increased heat loss
Damp musty smells
Wet rot
Dry rot
Damp is the most common issue that you will face.


Water ingress above ground
Water ingress through walls
Water ingress through walls is relatively common. Brick walls can be prone to water penetration and water ingress through brickworkcan occur even if they are cavity walls. Stone walls can also experience water ingress.
The main causes are as follows:
Building faults – damaged or deteriorating mortar can lead to water ingress through the render. Any cracks in the brickwork or substrate will also allow water to get in. This can occur for a number of reasons including more serious structural issues. Any remedial work to the walls such as the addition of cladding and insulation, re-rendering can all cause issues that may lead to water ingress.
Wind and rain – driving rain can lead to water being absorbed by bricks, and eventual water ingress.
Cavity wall ties - Water ingress can occur in cavity walls where wall ties have been incorrectly installed. If the ties are angled down towards the inner leaf or if insufficient or toomuch mortar was used in installation this can encourage water ingress. If metal wall ties were used then these can corrode over time and cause cracks. Water ingress from wall tie issues is usually more visible as you can see damp around the location of the ties. For more on detecting wall ties and remedial wall tie installation read our guide.
Rising damp – Most buildings have a damp proof course (DPC) to prevent water rising up. Physical DPCs can fail over time and some older houses may not have any at all. Sometimes the DPC can remain intact, but become bridged. DPC bridging means moisture from the ground can travel up past the DPC because of a construction fault. This can occur due to debris in the wall cavity or subfloor void, internal or external renders / plasters overlapping the DPC or external ground levels being raised above the DPC. You can find out more about rising damp and bridged cavity walls.
You can read more about water ingress and how exactly moisture penetrates in Building.co.uk.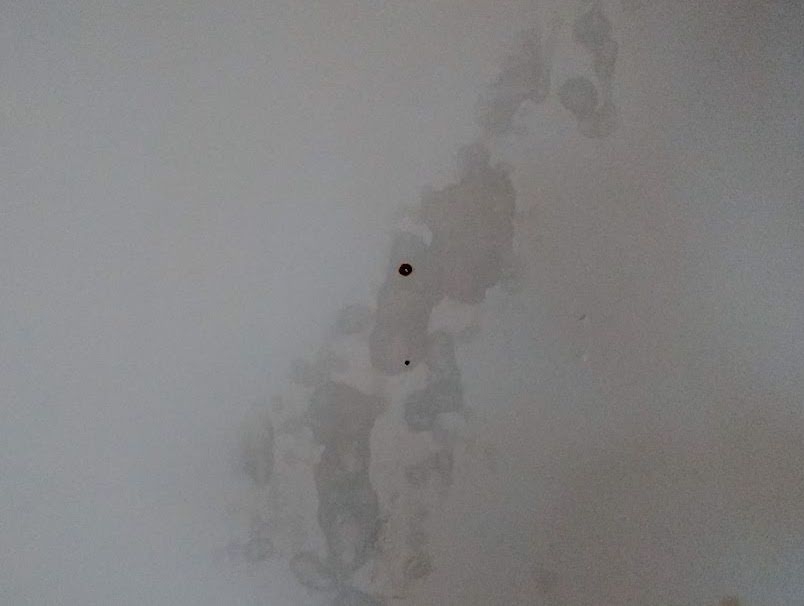 Water ingress around windows
Leaking windows are a fairly common problem in houses with water ingress occurring around windows. The window unit can move over time, creating gaps around the window frame where water can enter. Incorrect installation of flashing can also lead to water ingress. Even the latest UPVC windows can experience issues. You want to make sure that the leak is definitely down to a defect with the window and not a roof, wall or plumbing issue. Lintel failure can also lead to water ingress – see our guide to lintel repair for more information.
Water ingress above windows is often down to the fascia boards being incorrectly angled. They should be angled outward to direct rain water away from the unit.
According to Ecoline Windows, "If the window leak is visible in the area where the window sash meets the jamb, or on the window frame, chances are the problem is in the window itself."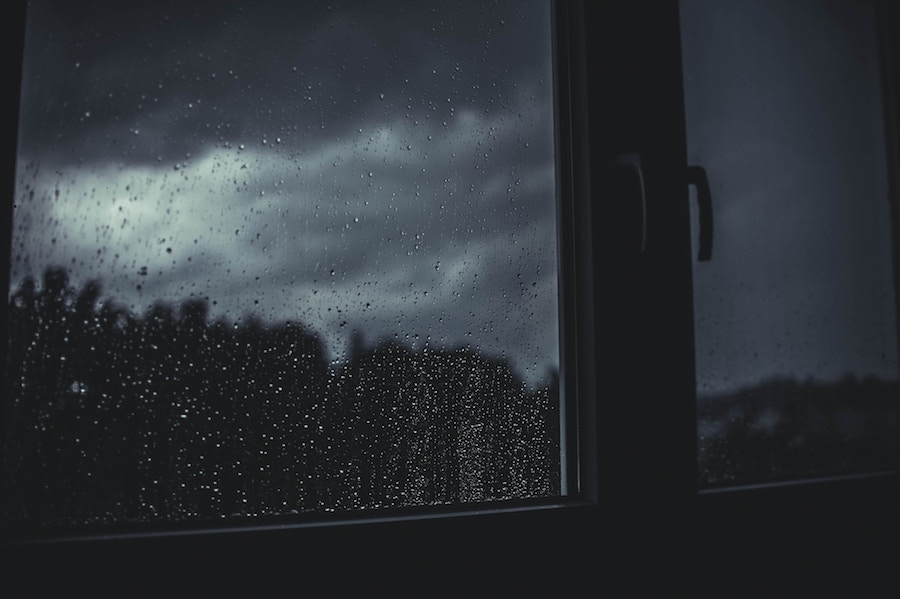 Photo by Glenn Carstens-Peters on Unsplash
Water ingress below ground
Water Ingress in basements
Structures below ground such as cellars and basements experience hydrostatic pressure. This is the pressure exerted by moisture in the external ground / soil. If your home is on a flood plain, in an area with a high water table or has saturated ground for any other reason, more hydrostatic pressure is exerted. This means that any defect in the basement structure, even a tiny crack, is vulnerable and can lead to water ingress.
What to do about water ingress in a cellar or basement?
Water ingress in cellars and basements is understandably a major concern and is therefore often considered in the design phase. External waterproofing is often installed to protect the structure from hydrostatic water pressure. Internally 'Type C waterproofing systems: drained protection - provide drainage solutions so that if water ingress does occur then the water is safely dealt with. These systems feature cavity drainage membranes and sump pumps. Other methods include tanking your basement space to prevent water ingress.
If you have a basement and do not have a suitable basement waterproofing system then you may experience water ingress. At Permagard, we specialise at preventing and dealing with water ingress with our complete PermaSEAL waterproofing systems. Call our team for advice on 0117 982 3282.
Water Ingress in Apartments and Flats
Apartments and flats can also experience issues with water ingress. These tend to be down to plumbing leaks including burst pipes. One of the complications in a large apartment complex is that pipework can be inside the wall cavities and not always just in your flat itself or the flat above. This makes it harder to find the root cause and get it fixed. Access is often a major issue.
Deteriorating grout and sealant in bathrooms is quite a common cause of water ingress in flats. It means that water gets through – you'll usually see evidence on the ceilings directly below their bathroom.
As with a house, roof leaks are also a common cause of water ingress.
Water ingress prevention and treatment
How to prevent water ingress
Water ingress prevention is all about keeping on top of the maintenance of your property. You should carry out regular checks to identify any defects early and stop water ingress.
There are a number of products you can use to provide additional protection to your home. To prevent water ingress through brickwork you should use a water repellent or façade cream such as PermaSEAL Facade Cream, Remmers Funcosil or Microshield Ultra. These products penetrate into brick, stone or concrete to provide long-lasting water repellency to building façades. You can browse our full range of Water Repellents.
It's also worth pointing out again, the importance of acting quickly if you do spot signs of water ingress. Don't wait for it to get worse.
If you have a basement space and are concerned about water ingress then contact Permagard without delay.
Water ingress solutions: how to treat water ingress
To treat water ingress, you need to take the following steps:
Uncover the root cause of the water ingress and solve the issue.
Allow the areas effected to thoroughly dry out.
Carry out repairs.
Permagard – Providing Solutions. Inspiring Confidence.
At Permagard, we provide ways of preventing water ingress as well as dealing with the issues it creates – such as damp. If you want any advice on basement waterproofing, damp proofing and protecting your home from water ingress then contact us today on 0117 982 3282.
Header image by James Francis via Unsplash.