It's vitally important to make sure you install foundation waterproofing correctly and first time. It's difficult to fix any issues retrospectively - although it can be done. You want to give yourself and the homeowner peace of mind that their basement will be waterproof for decades to come.
This article takes you through the components of a foundation waterproofing system and then provides step by step instructions on how to waterproof your foundation walls.
What is foundation waterproofing?
Foundation waterproofing is the process of preventing water from entering a basement from outside. It involves installing a system that can prevent water ingress into the structure as well as effectively deal with hydrostatic pressure.
You need to have a waterproofing system that keeps water away from your walls but also allows any water to drain away safely. There are a few foundation waterproofing options available, with different systems and related products to choose from. In order to satisfy insurance companies, you need to combine two waterproofing methods to ensure full protection. More on this later.
What is a foundation wall?
To start with, it's worth defining what a foundation wall is - this makes it easier to understand the waterproofing options.
Foundation walls are the part of a structure that is below ground and earth-retaining, in other words in contact with soil. They are usually constructed from concrete or masonry. Foundation walls can also be known as basement walls if there is a basement or cellar on the other side of them. In new construction, they are built upon the slab or footings and are usually around two metres in height.
Foundation walls can also refer to the section of a property's wall that is below ground but doesn't create a habitable space. This is more common in older properties, where walls extend a metre or so into the ground. These earth-retaining sections of wall can lead to damp issues that require remedial work. More on this later too.

Why is foundation waterproofing important?
Foundation waterproofing is important because it protects any below-ground structure from water ingress as well as potential Radon protection with the right type of products. By preventing water and ground gases from entering a property, you mitigate the risk of significant damage to belongings and protect the health of inhabitants. It's even more important for properties located in areas at risk from flooding or with high water tables. It is also a requirement of BS: 8102 that earth-retaining structures are protected by at least two waterproofing methods. These can be the following:
Type A barrier protection - internal or external tanking

Type B waterproofing (constructing your foundation walls from waterproof concrete)

Type C drained protection (internal cavity drainage system)
If your foundation walls aren't constructed from waterproof concrete, then it is a requirement of BS8102: 2009 to install an external foundation waterproofing system.
It's essential to complete the foundation waterproofing in a correct way and ensure it is given the respect it deserves during the construction process.
Foundation waterproofing systems
Foundation waterproofing systems are designed to provide complete protection from water ingress. The best exterior foundation waterproofing systems are made up of a primary and secondary waterproofing layer, with an initial priming stage. The specific waterproofing technique depends on the system and products used - we will take you through the PermaSEAL foundation waterproofing system.
Our foundation waterproofing system has four main components:
Primer - prevents moisture passing through the foundation wall

Primary waterproofing layer - forms a watertight barrier

Secondary waterproofing - an external cavity drain membrane to remove hydrostatic water pressure from the structure

A drain with inspection ports - moves water away to a safe point
Any foundation waterproofing system needs to start with priming - you want to apply Kiesol MB Primer - to the concrete or masonry foundation walls. This primer helps ensure a good bond with the primary waterproofing layer.
Next, you need a primary waterproofing layer of Multi Tight MB 2K Plus - this specially-designed coating is watertight even under high hydrostatic water pressure. It also protects against radon. MB2K+ is flexible which means that it can cope with expansion as well as bridging any cracks that may occur.
The final part of the foundation waterproofing system is a Geodrain cavity drainage membrane and drain system. This allows any water surrounding the building to drain freely through a cavity created by a unique stud profile. Any water then drains down to the land drain or French drain situated below floor level, which then transports the water to a suitable soak away or sump chamber.
Foundation Waterproofing Membrane - Secondary Waterproofing
As part of the foundation waterproofing system, you need to install a foundation waterproofing membrane. This works by channeling water away from your foundation walls as well as protecting the primary waterproofing layer. It also prevents water pressure from bearing against the structure and causing damage. There are some key considerations when choosing a foundation membrane.
The foundation wall membrane is normally made from plastic and features a stud profile that creates a cavity for any water to drain down. The water can then enter a French drain or land drain where it can be channeled away to an appropriate place.
You want to opt for a membrane that has an integral fabric layer to prevent any fines from entering the foundation drainage system and cause blockages and other issues.
As an added benefit, these foundation wall membranes protect your primary waterproofing layer. We cover the installation of foundation waterproofing membranes as well as drainage in more detail later.
By employing the above foundation waterproofing system, you have both a primary and secondary waterproofing barrier. By using these methods together, you greatly minimise the risk of defects.
Both waterproofing methods are also highly flexible. This gives you confidence that as the building settles or moves in the future that the external masonry waterproofing will move with it and remain watertight.
Foundation Wall Drainage
With your foundation waterproofing system, you will need to provide a drainage system to remove any water safely. There are a few drainage options for foundation walls.
Foundation wall drainage is all about efficiency and capacity - both are important when it comes to quickly and safely removing water to alleviate hydrostatic pressure against the structure.
The foundation drainage - a land or french drain - should be laid around the perimeter of the basement at slab level. This can then channel any water from the Geodrain membrane to a suitable evacuation point like a sump chamber with pump, mains drain or a soak away point.
This foundation wall drainage system needs to be fully maintainable so make sure that your plans include an accessible sump chamber - this could be a concrete chamber for the sump pump with step access. You will also need to include access and jetting points for maintenance. These will allow you to flush out the drainage channels if required.

Foundation Waterproofing Products
There are a number of foundation waterproofing products required, covering everything from membranes to drains to primers. We will cover how to use them but here is a list with links to our full range:
It is also possible to add insulation to improve thermal performance as well as providing another protection layer for the primary waterproofing.
Can I do foundation waterproofing myself?
Foundation waterproofing is not a DIY task and requires a professional. You shouldn't attempt to do your own foundation waterproofing unless you are fully qualified and confident. Foundation waterproofing in new build construction is a skilled job that has a key role to play in a much larger construction project. This will likely involve architects, builders and others on site - this also comes with risks making it relatively dangerous.
How to waterproof a foundation wall
Foundation Waterproofing - New Construction
Most foundation waterproofing takes place in new construction. You will usually be waterproofing concrete foundations too.
Preparing your foundation walls for waterproofing
Before priming you need to make sure that the concrete foundation wall is fully cured and ready to take the foundation waterproofing system. It should also be free of any loose material, debris, mud, dust and in particular cement laitance (which will need mechanical removal). These will all prevent your waterproofing materials from sticking to it. Be sure to sweep off the walls and the slab, and ideally keep other site workers away from the area.
Priming Foundation Walls
You will need to spray your chosen primer - Kiesol MB Primer - across your foundation wall. Make sure that you apply it in sections, horizontally from top to bottom. Just one thorough application should be sufficient.
Primary waterproofing for foundation walls
The primary waterproofing layer for a foundation wall is usually a liquid applied membrane. We recommend applying two layers of an external waterproofing product like Multi Tight MB 2K Plus from Remmers. It can be applied up to three metres under the ground using a brush, brush/trowel or airless spray method.
Installing secondary waterproofing for foundation walls
You need to install the Geodrain external waterproofing membrane to the foundation wall.
If the foundation wall is less than two metres in height it is possible to fix PermaSEAL Geodrain horizontally with no overlapping. For walls over two metres, you should fix PermaSEAL 8 Geodrain in vertical sheets with the Geotextile fabric layer facing the backfill and the black drainage layer against the wall being waterproofed.
PermaSEAL 8 Geodrain is supplied in two metre wide rolls. Secure the PermaSEAL 8 Geodrain to the wall with PermaSEAL Quick Plugs at the top of the sheet at approximately 500mm spacings. Ensure that the membrane is fitted level by laser levelling the wall beforehand.
Drill 10mm holes into the substrate to a depth of 80mm and hammer home the plugs. When required, overlap subsequent sheets of PermaSEAL 8 Geodrain ensuring that the filter fabric of the next sheet overlaps the previous studded core - a section of filter fabric is separated from the drainage core for this purpose. We suggest one to three rows of studs are interlocked. You should also aim to keep the rolls running in line. Seal the edges of your foundation membranes using the 60mm flat flange at the edge of each sheet using PermaSEAL Tape.
Once the foundation membrane is fixed, you should cap off the open top edge of the membrane using Geodrain Capping Strips. This stops debris and back-fill from entering the cavity between the drainage core and the filter fabric. If you have a layer of Fibran XPS 500 50mm Insulation Boards between the primary and secondary waterproofing, you will need to create your own capping detail with lead flashing or similar.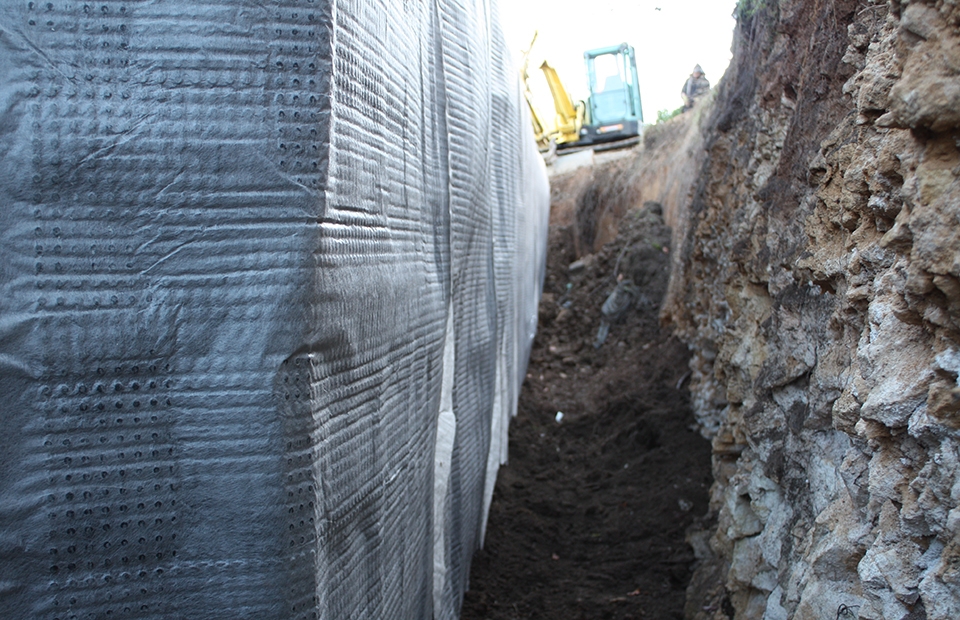 Installing a French drain
Place the slotted drainage pipe or land/French drain at the base of the foundation so that the top of the drain is below the top of the internal slab level. This should be 200mm below the basement floor level. Place the drain within a bed of clean graded 20mm stone surrounded by a sheet of Geotextile filter fabric ensuring that enough Geotextile fabric is available to lap to the PermaSEAL 8 Geodrain to give continuity of the filter fabric.
Finishing
For a neat finish PermaSEAL Geodrain Capping Strip should be used to cap the top of the membrane at ground level. It's important to take care during backfilling and ideally you should protect the PermaSEAL Geodrain external foundation membrane with a backfill protection board if you are mechanically backfilling to a depth.
Installing a fillet seal
In order to avoid issues with any weak spots, you will need to install a fillet seal where the foundation wall meets the footing.
Foundation Waterproofing Detail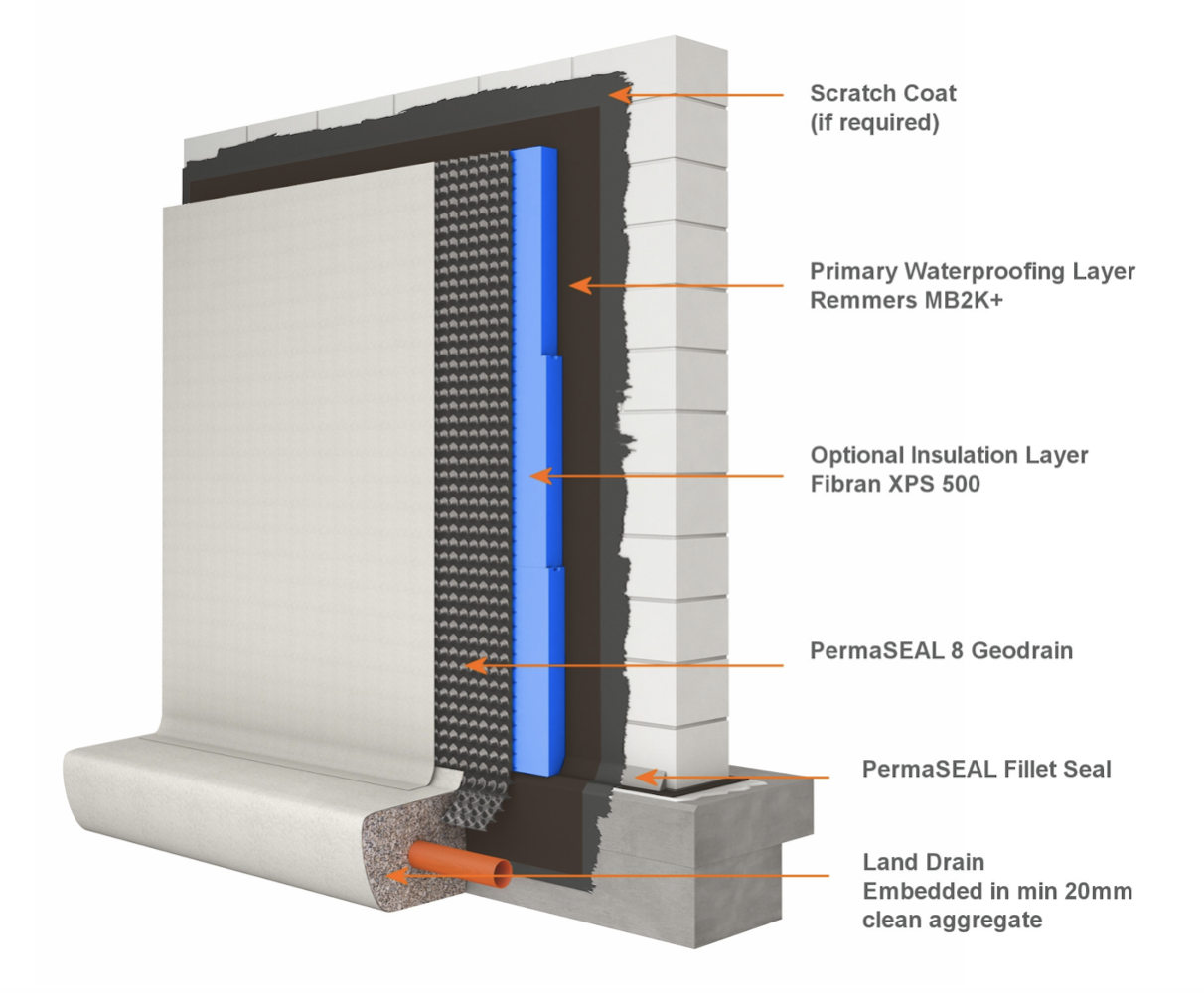 Foundation Waterproofing Remedial
Outside of new construction, there are two areas worth discussing in terms of remedial foundation waterproofing.
Firstly, if water ingress is occurring in a basement structure you should consider Type A and Type C drained protection rather than attempting to install foundation waterproofing as described above. Interior foundation waterproofing or foundation waterproofing from 'the inside' covers both tanking and cavity drainage systems. Read our full guide on basement conversions and cavity drainage systems.
The second situation relates to a foundation wall without a basement structure. This is likely to be a solid wall of a property that extends around a metre into the ground. You find this in older properties such as Victorian terraced houses. These foundation walls aren't usually waterproofed. What can happen is that water gets in and causes joists (those that exist beneath a dpc) to rot. In this circumstance, you should excavate to the level of walls and apply MB2K+. Potentially you will want to do this along with the installation of a new dpc and timber wrapping to provide further protection.
Foundation Waterproofing Cost
There are too many variables that make it impossible to provide foundation waterproofing costs. All we can reassure you is that Permagard works hard to provide our professional products at low trade prices, without ever compromising on quality.
Permagard - Providing Solutions. Inspiring Confidence.
Permagard have excellent stock availability across our range of foundation waterproofing products and Geodrain membranes. We offer delivery within one to three days.
If you're looking for foundation waterproofing supplies near you, then we have a depot just off the M5 where you can click and collect from our trade counter. Our team is also on-hand to help you with any technical enquiries.
Further Reading
External & Foundation waterproofing products
External waterproofing guide for new build basements
Complete Guide to Basement Conversions