A basement can be a treasure trove of space that allows you to really open up your home and make the most of all available space. If you're lucky enough to have a basement or cellar in your home, you will want to ensure that it stays dry and is protected against flooding.
If you're looking at converting your basement into a new living space then you should start by reading our Complete Guide to Basement Conversions. It contains all the answers to the most frequently asked questions as well as some practical advice.
If you've made the decision to upgrade your basement or opted for a basement conversion, the first step is to keep the water out. This guide looks at the options available to you to protect your basement from water ingress and flooding.
Causes of basement flooding
Basement flooding can be devastating and a costly problem for homeowners. In order to prevent flooding and keep your basement dry, it's key to understand why flooding happens in the first place.
Because the majority of basements and cellars are partially, if not fully, below ground level they are naturally prone to water ingress - the act of water infiltrating something.
Living in a high water table area
If your house is built on a low-lying or a high water table area, basement flooding can be a common problem. As the ground surrounding the property is already highly saturated with water, even small amounts of rainfall can cause big problems.
Poorly installed drainage systems
Sometimes drainage systems are installed incorrectly, such as gutter downpipes leading to soak aways close to foundation walls of the basement. This results in added pressure and can cause water to penetrate the foundation walls of your property.
Poor construction methods
Other times a lack of sufficient waterproofing during the construction or following an alteration to the basement can result in water entering the space. It's also possible that due to the age of the building that waterproofing was not considered or carried out.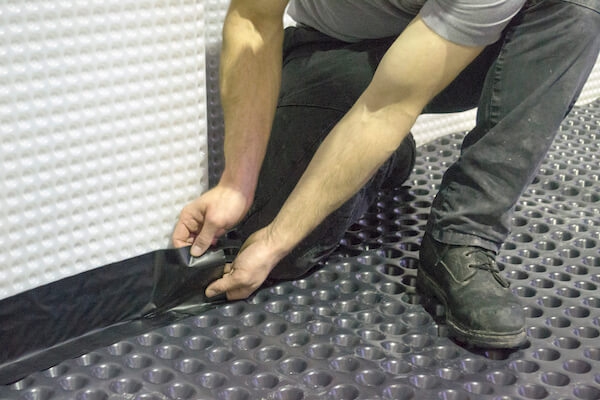 How to keep your basement dry
There are two main areas to look at when waterproofing your existing basement; external and internal waterproofing.
The first is barrier protection waterproofing, also known as tanking. This is a form of internal and external basement waterproofing where a waterproof barrier is applied to the internal or external surfaces that are exposed to ground water. This can be in the form of a tanking slurry or a waterproof coating that is fully bonded to the surface.
The second basement waterproofing option is drained protection. This is an internal form of basement waterproofing also referred to as cavity drainage waterproofing or Type C waterproofing.
This guide looks into how a cavity drainage system works and why it is a preferred solution to prevent basement flooding and give you peace of mind.
What is a cavity drainage system?
Simply put, a cavity drainage system provides protection by means of water management via drainage channels and a specially designed chamber and pump system called a sump pump.
More technically speaking, the BS8102:2022 Code of practice for protection of below ground structures against water ingress defines cavity drainage waterproofing as a system where:
"The structure itself provides primary resistance against water penetration and incorporates a drained cavity within the basement structure. There is permanent reliance on this cavity to collect groundwater seepage through the structure and direct it to drains or a sump for removal by drainage or pumping.
How does a cavity drainage system work?
Cavity drainage systems use specially designed basement waterproofing membranes that have egg-cup profiles. This unique profile creates a gap or cavity that allows any water entering the basement structure, having penetrated the external walls, to travel down the wall into a drainage channel. This drainage channel then diverts the water to a sump pump system. The water fills the sump chamber and is then pumped to a safe and suitable external drainage point.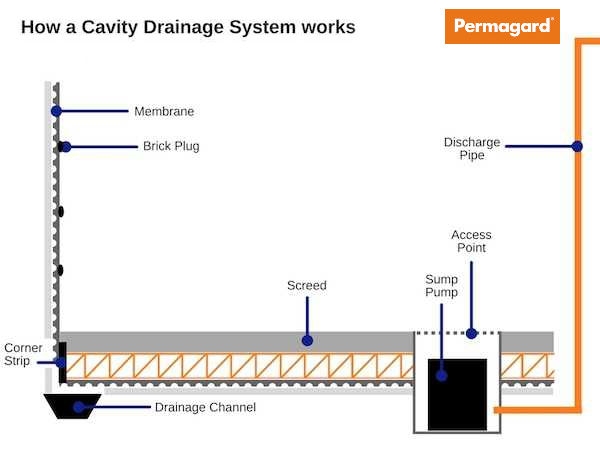 How much does a cavity drainage system cost?
Installing a cavity drainage system isn't cheap, but it is highly effective at protecting your home and valued belongings. The overall cost will depend on the size of your basement or cellar, as well as what you want to use the space for. It's worth pointing out that the value a basement can add to your home far outweighs the initial costs. There are two costs that you will always need to account for: the right products and the right waterproofing contractor.
Cavity drainage waterproofing products
As well as specific tools and accessories, the main products needed when installing a cavity-drained system are:
Installing a cavity wall drainage system
Hiring a professional waterproofing contactor with experience and qualifications in basement waterproofing is crucial. The correct products, specification and expert installation are essential for a cavity drain system to work effectively and to last a lifetime. Whereas a novice DIYer can do some waterproofing jobs, installing an important system like this should be passed to an expert.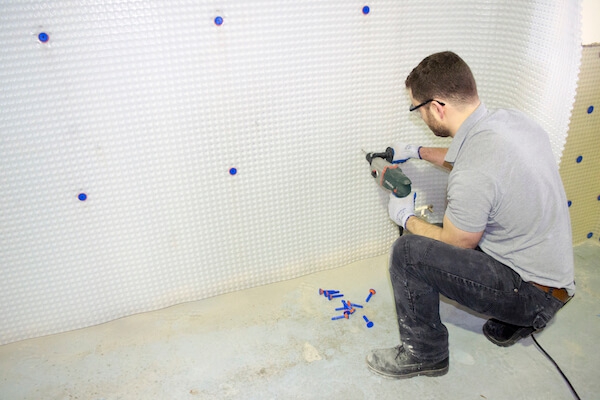 What maintenance is needed for a cavity drainage system?
Regular servicing and maintenance is key to a cavity drainage system's long-term success.
Drained waterproofing systems should be inspected and serviced at least annually if not more frequently in the first year. It is advisable to schedule the first service visit within three months of the system being installed and commissioned. This will give the waterproofing contractor access to any problems and allow for the removal of debris that may have been deposited in the drainage channels during the construction phase.
Not maintaining a cavity drainage system including the sump pumps could result in lime and sediment build up, blockage and ultimately system failure and flooding.
Basement drainage FAQs
What happens to the sump pump during a power cut?
If you live in a rural area, experiencing power cuts can be a common occurrence. If you're worried about power outages, select a Sump Pump with a compatible battery backup system, which engages if the mains power is unavailable. These batteries can on average supply power for 40 hours dependent on the pump size and activation frequency.
Can a cavity drainage system fail?
Regular servicing is required to remove silt, lime and any debris from the drainage channels. The pumps require servicing yearly without fail as they are the heart of any cavity drain system. For peace of mind, invest in a high level water alarm which will alert you to high water levels which may mean pump failure of a higher than usual ingress of water.
I live in a listed building, can I install a cavity drainage system?
If you live in a listed or historic building then you can still benefit from a cavity drainage system. There are some products available that are fully compliant with the Listed Building Requirements. Some membranes require very little preparation and limited fixings. Please check with local building control.
How long will a cavity drainage system last?
All the membranes we supply from PermaSEAL, Newton and Platon are of high quality and are expected to last a minimum of 30 years however when fully protected from damage and UV light they can last over 50 years. Pumps will have a good service life when regularly serviced and maintained.
Permagard – Basement Waterproofing at Low Trade Prices
If you have any unanswered questions around how to prevent basement flooding then call our technical team for free advice on 0117 982 3282.
To find out more about cavity drainage membranes and how they work please feel free to contact us too. We are more than happy to share our 30 years+ of waterproofing knowledge.