As a landlord, the issue of damp can be a real headache. This is especially so during the colder months with tenants complaining about wet windows, musty smells, black mould and damp walls. Although damp can be caused by a building fault or, in some rare cases, rising damp, the most common cause is condensation.
In situations where condensation is the root cause of the damp, your tenants have a larger impact than they may realise. There are also measures that you can take as a landlord to adequately ventilate your property to reduce condensation. The costs can be considerably less than you might think. It's well worth taking some affordable and proactive steps for both you and your tenants.
This guide looks at these preventative methods to reduce condensation and the overall risk of damp, as well as methods to restore a property that has issues with damp and mould.
What are a landlord's responsibilities when it comes to damp?
When it comes to your responsibilities as a landlord around damp, we must of course consider the relevant legislations.
The UK government lists the standards that you should adhere to:
Housing Act 2004
Environmental Protection Act 1990
Homes (Fitness for Human Habitation) Act 2018
Landlord and Tenant Act 1985
Decent Homes Standard
Minimum Level of Energy Efficiency standard
We'll go into detail about some of these below.
New landlord rules 2023: controlling damp in your rental property
In 2023, new legislation was introduced which meant that landlords now play a more active role in reducing damp and mould in rental accommodation. As per the Decent Homes Standard - which previously only applied to social housing - landlords must ensure that their properties are clear of 'category one' hazards, which include damp conditions. These being listed in this category indicates the health risks posed by mould.
Secretary of State Michael Gove stated that damp and mould are not the result of 'lifestyle choices' made by tenants, and it is up to landlords to provide homes that are correctly ventilated and structurally sound, and always taking measures to find and sort the source of the issue. In other words, you must take action to ensure that your property is a safe space for tenants.
Landlords must also do what they can to ensure that their properties are energy efficient. While there was no direct mention of damp within the Minimum Level of Energy Efficiency standard, it's known that the more efficient a building is, the less likely it is to be affected by condensation, damp or mould. You should also maintain 'thermal comfort', as per the Decent Homes Standard, to alleviate these risks further. Read more about improving the thermal efficiency of a home here.
Homes (Fitness for Human Habitation) Act
The Homes (Fitness for Human Habitation) Act 2018 came into force on 20 March 2019, with further provisions made in 2023. It is the legislation that covers the rented housing sector and outlines the minimum standards you must meet to let a domestic property. It is an amendment to the Landlord and Tenant Act 1985, and the key Section 11 that deals with landlord responsibilities.
There are two criteria that relate to damp that are covered in the act:
there's a serious problem with damp

there's not enough ventilation
These need to be resolved so that the property is deemed fit for human habitation - this is true from the beginning of the tenancy and throughout the lease.
Dampness is the responsibility of the landlord if it is due to a repair problem - building faults such as issues with the walls or roof, structural defects such as inadequate ventilation, poor insulation or faulty heating. Damp is also the landlord's responsibility if it is affecting the tenant's health and safety.
Beyond your legal responsibility to provide a property fit for human habitation, we strongly believe that it makes sense to proactively minimise issues with condensation and damp from the start. Damp and mould in rented property is all too common, especially considering the preventative products available.
Causes of damp in your rental properties
There are three causes of damp that you might experience in your properties:
Penetrating damp: Penetrating damp is caused by water passing through walls or a roof. It is usually caused by building faults and structural problems, such as faulty guttering, leaking pipes, a damaged roof or issues with the exterior walls. You may also have plumbing issues that lead to water damage and damp.
It's advisable that when preparing the property for rental you check for any building faults. You may also want to consider applying a facade cream to the external walls to prevent any potential issues with driving rain and penetrating damp.
Condensation: Condensation occurs when warm moist air condenses on cold surfaces such as walls and windows. This is particularly common in rooms such as kitchens and bathrooms where high levels of moisture are created. Condensation quite often occurs in bedrooms during the night due to the moisture created by the occupants breathing. Many common household tasks generate moisture such as drying clothes, showering, and cooking. In multiple occupancy dwellings, the amount of moisture generated increases dramatically.
Rising damp: Rising damp is caused by ground water moving up through a wall. This is usually stopped by a damp proof course (DPC). However if the DPC is bridged, damaged or non-existent, it can allow water to rise up through the masonry.
Read our guide for more on diagnosing and treating rising damp.
If one of your properties has been professionally diagnosed with rising damp then it is your responsibility to resolve it as it relates to a structural issue. The easiest method is the injection of a DPC cream - you can install a new liquid DPC by following our guide.
Condensation solutions for landlords
Condensation is the most common issue experienced in rental properties. Let's take a closer look at what causes it and what you as a landlord can do, as well as guidance you can provide your tenants.
How does condensation cause damp?
Condensation occurs when moist air comes into contact with colder surfaces like windows and outside walls. Warm air in a property holds more moisture than cold air. When it comes into contact with cold surfaces, it deposits the moisture. This often results in wet walls that can lead to black mould growth.
This is also a common occurrence in places where there is limited airflow such as behind wardrobes, headboards, sofas and other furniture.
Reducing condensation with ventilation systems
Condensation can be controlled through preventative methods that focus on improving ventilation in the property. There are a variety of ventilation methods and systems that can focus on single problem rooms or be installed to ventilate whole homes.
It's important to point out that there are several things that your tenants can and should be doing to reduce condensation and ventilate the property. Click for more tenant condensation advice.
Low-cost ventilation systems – Perma-Vent
The most affordable ventilation system is the Perma-Vent. These vents are environmentally friendly and contain no moving parts - meaning there is no maintenance required. The Perma-Vent is a form of passive ventilation and allows warm air carrying moisture to escape outside the building while encouraging airflow through a property.
Perma-Vents are easy to install and can be installed in as many rooms as required. They can also be installed in kitchens and bathrooms however should not take the place of a good quality mechanical extraction fan. The unit contains a vapour permeable membrane. This allows vapour to leave the building without allowing a draught back inside, ensuring your tenant's home stays draught free.
Benefits of the Perma-Vent:
Most affordable ventilation system

Easy to install

Maintenance free

Environmentally friendly

Used by professionals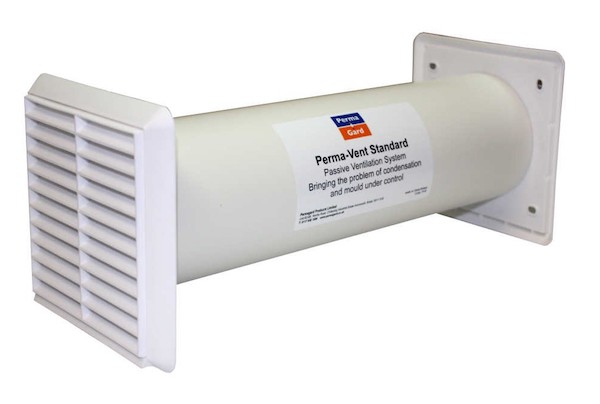 Heat recovery ventilation systems - Kair Heat Recovery Ventilation Unit
The Kair Heat Recovery Room Ventilator continually extracts moist air from the property and replaces it with fresh, filtered air from outside. During times of increased moisture, such as during showering or cooking, the unit automatically switches to boost mode. Once the moisture levels have returned to normal, the Monsoon unit automatically returns to standard mode, making this supply and extract fan much more economical than a standard extraction ventilation unit.
The system has an in-built heat exchange unit to ensure that as the moist internal air is drawn out, it passes over a heat exchanger. This traps up to 86% of the heat in order to warm the incoming fresh air. This makes it energy efficient, keeping the property warm.
Benefits of the Kair Heat Recovery Unit:
Easy to install
Very cheap to run
Built-in sensors
Dramatically improves indoor air quality
Guaranteed for 5 years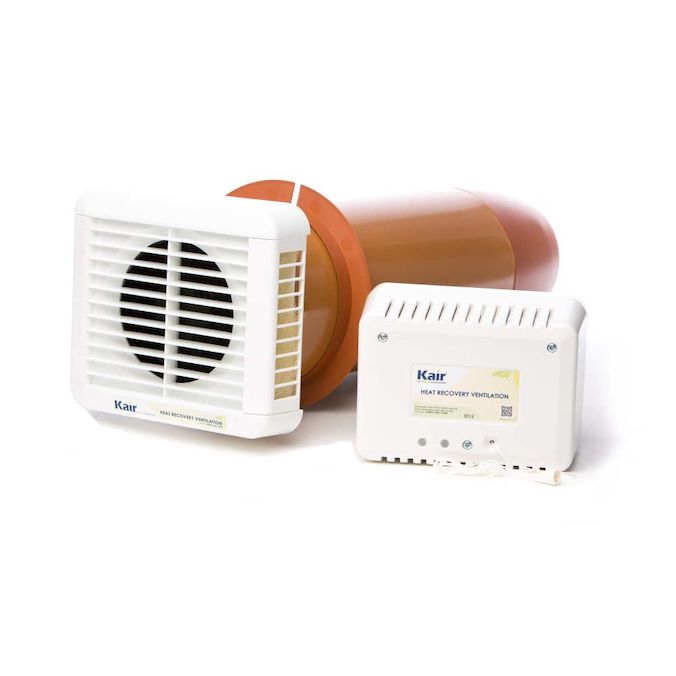 Whole house ventilation systems - Nuaire Drimaster ECO Heat Unit
The Drimaster Eco Unit is a low-energy, whole-house ventilation system. It uses a Positive Input Ventilation (PIV) system which continuously pulls fresh, filtered air into the home at a continuous rate.
PIV systems are installed in the loft and draw air through the filters. They then return fresh air into the property via a diffuser located in the hallway ceiling. A qualified electrician will be required to wire the unit into the mains power supply however additional sensors and controls can be installed by you or a handyman.
Benefits of the Nuaire Drimaster ECO PIV Unit:
Cures condensation & damp throughout the whole property*
Most popular solution with landlords
Easy to install
Extremely energy efficient
Low maintenance
7 year warranty
Meets part F & L of Building Regulations
*Will not work in properties with fire doors with seals.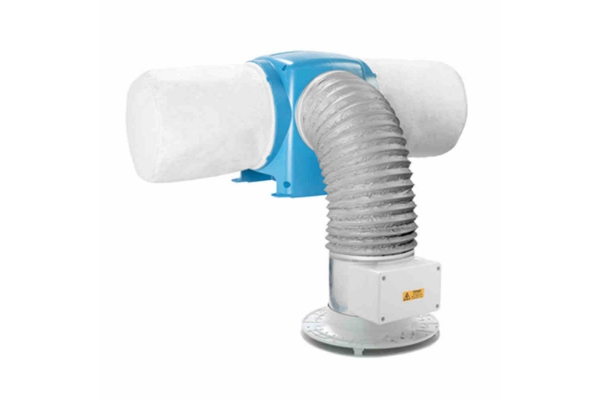 Dealing with damp & mould as a landlord
If damp and mould have been a problem in a property you own or manage, you will need to fix this while your tenants still live there, or before the house is put back on to the rental market. Tenants are becoming increasingly savvy when looking for evidence of damp before signing up for a property, so you will want to ensure that the problem has been fully eradicated.
Once you have dealt with the root cause of the damp, you can look at making good. You may well have installed ventilation units as outlined above to prevent issues with condensation. Our range of PermaPROTECT anti-mould products are ideal for making good and are both affordable and simple to use. Each product that features in the range have been favourites of our customers for years, providing peace of mind when it comes to creating healthy, safe homes for all.
Use PermaPROTECT Mould Wash Concentrate to remove black mould, fungi, mildew and algae from affected surfaces including window frames, skirting boards, tiles and painted walls.
Once the surfaces are clean and mould free, you can use PermaPROTECT anti condensation paint to prevent the mould from coming back, even in areas of persistent condensation. It works by raising the temperature of internal walls to prevent condensation from forming. This cost-effective method is easy to use.
PermaSEAL damp proof paint can also be used to create an impermeable membrane against water ingress.
Permagard has also put together a PermaPROTECT Mould Removal Kit that contains a mould wash concentrate, anti-mould paint additive as well as the equipment needed to safely apply the products.
Ways your tenants can reduce condensation
There are many things that we do every day that can cause an increase in condensation and ultimately result in damp. It is advisable to include information within the tenancy agreement around what tenants themselves should and shouldn't do in order to reduce this risk. Lifestyle issues to advise your tenants about:
Use the extractor fan in the kitchen when cooking
Cover pans when cooking
Avoid drying clothes indoors, especially on radiators
Open windows, in particular at opposite sides of the property to allow for cross-ventilation
Keep heating on constantly at a low temperature throughout the colder months
Keep bathroom and kitchen doors shut when showering or cooking
Don't block air vents or ventilation points
These may seem too simple to work but trust us, they work! It's important to point out that you can't make 'unreasonable demands' of your tenants when it comes to reducing condensation.
By putting these simple and affordable preventative and corrective measures in place you will no longer need to deal with unhappy tenants.
Permagard: The condensation experts
Do you have a question about reducing condensation or removing mould from your rental property? Looking at a basement conversion to increase inhabitable space, we can help there too. Contact us and our damp proofing experts will be happy to help you find a solution.
Visit our Condensation Control section and PermaPROTECT range for more information and our range of products available to help reduce condensation in your rental properties.